Shenzhou 10 docks with Chinese space lab in orbit
BY STEPHEN CLARK
SPACEFLIGHT NOW
Posted: June 13, 2013


China's Shenzhou 10 spacecraft flew an automated rendezvous with the Tiangong 1 space lab Thursday, docking with the prototype space station and delivering three astronauts for nearly two weeks of experiments.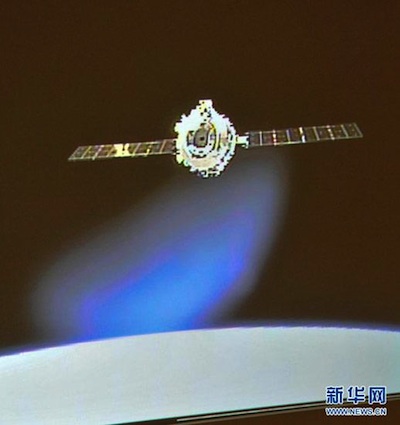 Image of the Shenzhou 10 spacecraft captured from video recorded at the Beijing Aerospace Command and Control Center. Credit: CCTV/Xinhua

The manned space capsule docked with Tiangong 1 at 0511 GMT (1:11 a.m. EDT; 1:11 p.m. Beijing time) and mechanisms pulled the two spacecraft together for tight seal seven minutes later, according to a report by China's state-run Xinhua news agency.
Shenzhou 10's three astronauts - commander Nie Haisheng, Zhang Xiaoguang and Wang Yaping - were expected to enter Tiangong 1 through a 31-inch-diameter passageway later Thursday.
The astronauts have a busy schedule of medical, physiological and technology experiments over the next 12 days aboard Tiangong 1 before departing the mini-space station and returning to Earth, closing out a 15-day flight in orbit.
Wang, a 33-year-old Chinese military transport pilot and China's second female astronaut, will give a lecture in physics and science to Chinese students sometime during the mission.
Thursday's automated rendezvous began at 0248 GMT (10:48 p.m. EDT; 10:48 a.m. Beijing time). The Shenzhou 10 craft used laser and radar sensors to guide itself to Tiangong 1's docking port, where the spacecraft linked together with a docking system similar to the Russian-designed APAS system, which was used in the joint U.S.-Soviet Apollo-Soyuz Test Project, the assembly of the Russian space station Mir and by space shuttles visiting the International Space Station.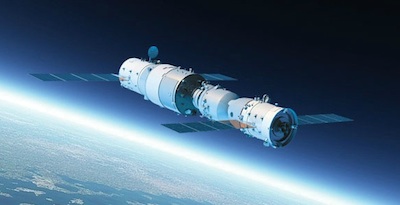 Artist's concept of the Tiangong 1 and Shenzhou 10 spacecraft docked in orbit. Credit: CASC

Chinese officials previously stated the Shenzhou 10 mission would pioneer a new path to docking, approaching Tiangong 1 from underneath instead from behind.
Thursday's docking was not broadcast on Chinese state television - a break from previous precedent - so the rendezvous profile could not be confirmed.
Later in Shenzhou 10's mission, the crew will temporarily depart Tiangong 1 and approach the space lab a second time under manual control. Nie, Shenzhou 10's 48-year-old veteran commander, will pilot the spacecraft to a second docking with Tiangong 1.
When docked together, the vehicles form a pairing stretching more than 60 feet long and up to 13 feet in diameter, bigger than a double-decker bus. The combo has an interior habitable volume of about 700 cubic feet.
Tiangong 1, which launched in 2011, controls the orientation of the docked complex with six gyroscopes, and the two craft share electrical resources generated by solar arrays.
Shenzhou 10 blasted off aboard a Long March 2F rocket on Tuesday from China's Jiuquan space base - a launching center in China's northwestern Gobi desert.
China says the mission is scheduled to last 15 days, and Shenzhou 10 would become the country's longest spaceflight since becoming the third nation to launch humans into space in 2003.
The Shenzhou 10 mission's objectives will advance China's ambition to construct a large 200-ton space station in low Earth orbit by 2020, practicing orbital rendezvous techniques, testing life support systems and proving other technologies required to sustain crews in space for long-duration flights.