Chinese Shenzhou spacecraft set to launch in mid-June
BY STEPHEN CLARK
SPACEFLIGHT NOW
Posted: June 3, 2013


Chinese engineers transferred a 191-foot-tall Long March rocket to the launch pad Monday as officials gear up for liftoff of China's next human spaceflight in mid-June, state media reported.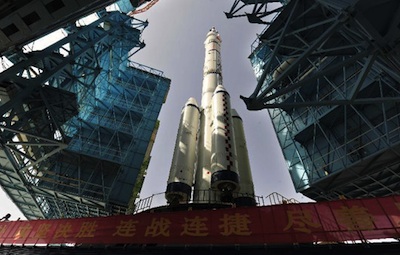 Photo of the Long March 2F rocket on the launch pad. Credit: Xinhua

The Long March 2F rocket rolled about one mile from an assembly building to the launch pad at the Jiuquan space center, a military-run base in northwest China's Gobi desert.
It took an hour to complete the rollout, according to China's state-run CCTV television network. Sitting atop a mobile launch platform, the Long March 2F was towed along dual rail tracks amid throngs of employees and guests at the remote launch base.
The rocket and China's Shenzhou 10 spacecraft reached the launch pad at about 10:15 a.m. Beijing time, according to an update posted online by the China Aerospace Science and Technology Corp.
The Shenzhou 10 spacecraft, fixed atop the two-stage Long March rocket, will ferry three astronauts into orbit on a 15-day mission, the longest manned flight so far in China's space program.
The astronauts will reach the Tiangong 1 space lab two days later, entering the pressurized module for scientific experiments, engineering tests and public outreach programming aimed at Chinese school children.
China's previous record-duration spaceflight was Shenzhou 9, in which a trio of astronauts spent 13 days aloft and accomplished the country's first piloted docking with Tiangong 1 in June 2012.
Tiangong 1 launched in September 2011, and China says the module is a prototype for components and resupply vehicles to service a future space station.
The rocket will take off in mid-June, state media reported, but China has not disclosed a target launch date.
Rocket rollouts ahead of previous Shenzhou missions have occurred about one week before launch. Final testing of the Shenzhou 10 spacecraft and Long March rocket is planned in the next few days, along with fueling of the launcher's two stages and four strap-on boosters with hydrazine and nitrogen tetroxide propellants.
Tracking of Tiangong 1's orbit by Robert Christy, a respected space analyst, indicates the space module is in position for the launch and docking of Shenzhou 10 every other day, pointing to June 9 or June 11 as candidate launch dates.
Shenzhou 10 will dock with the Tiangong 1 space lab two days after liftoff and spend about 12 days attached to the module, forming a 60-foot-long scientific complex during the mission.
Shenzhou 10 may also make a flyaround of Tiangong 1, an activity not attempted on the Shenzhou 9 flight.
The identities of two of Shenzhou 10's three crew members have also not been announced. One of the astronauts will be Wang Yaping, a 35-year-old pilot in the Chinese Air Force set to become China's second woman in space.
Shenzhou 10 will be China's fifth human spaceflight since 2003, when the country became the third nation to independently send a person into space.