Spaceflight Now +





Subscribe to Spaceflight Now Plus for access to our extensive video collections!
How do I sign up?
Video archive

Endeavour rolls to VAB

Shuttle Endeavour is transported from its hangar to the Vehicle Assembly Building for joining with a fuel tank and boosters for launch on STS-118.

Play

Welcome home, Atlantis

The Shuttle Carrier Aircraft touches down on Kennedy Space Center's Runway 15 on July 3, delivering Atlantis back to its homeport after a two-day coast-to-coast ferry flight.

Landing | Tow

Atlantis heads home

Nine days after landing at Edwards Air Force Base to conclude the STS-117 mission, Atlantis begins its cross-country ferry flight back to Florida.

Taxi | Takeoff

Dawn preview movie

Learn more about the upcoming Dawn mission that will use an ion engine propulsion system to visit two of the largest objects in the asteroid belt.

Play

Complex 36 demolition

The two mobile service towers at Cape Canaveral's Complex 36 that had supported Atlas rockets for decades are toppled to the ground with 122 pounds of explosives.

Play

Atlas 5's NRO launch

The United Launch Alliance Atlas 5 rocket lifts off June 15 from Cape Canaveral's Complex 41 on the classified NROL-30 mission for the U.S. National Reconnaissance Office.

Full Coverage

Booster cameras

Hitch a ride up and down on the twin solid rocket boosters that launched shuttle Atlantis last week. Each booster was outfitted with three cameras to give NASA upclose footage of the vehicle's ascent.

Full Coverage

Become a subscriber
More video







Cassini scientists wring out details on spongy Hyperion
CICLOPS NEWS RELEASE
Posted: July 4, 2007


Scientists on NASA's Cassini mission to Saturn now have a better understanding of why the odd moon Hyperion has such an unusual appearance.

The crucial factor in creating the strange, sponge-like appearance of Hyperion appears to be its extremely low density, say Cassini scientists in a research paper being published in the July 5 issue of the journal Nature. The researchers examined Cassini spacecraft images and other data on the moon's mass acquired during encounters with Hyperion over the past three years.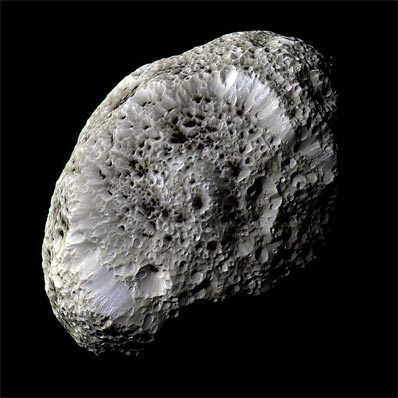 Credit: NASA/JPL/Space Science Institute
Download larger image version here



Hyperion is covered by a large number of medium-sized, well-preserved craters. "Careful mapping of features showed that its bizarre appearance probably results from a convergence of rather routine effects," said Dr. Peter Thomas, a Cassini Imaging Team member working at Cornell University in Ithaca, New York.

Cassini's closest encounter with Hyperion, in September 2005, allowed accurate measurement of the moon's mass and size, which showed it is only slightly more than half as dense as water.

"The close flyby produced a tiny but measurable deflection of Cassini's orbit. Therefore, the orbit determination, carried out by our Italian colleagues, allowed us to estimate the mass with fairly good accuracy," said Cassini radio science deputy team leader Nicole Rappaport of the Jet Propulsion Laboratory in Pasadena, Calif. "Combined with the determination of Hyperion's volume from imaging data, this provided an accurate computation of its density."

Initial conjectures about the origin of Hyperion's strange surface invoked dark materials accumulating on crater floors that subsequently got warmed by sunlight and melted deeper into the surface. However, the new analyses have shown that the moon's low density, and therefore low surface gravity, may cause craters to form differently from those on other, denser bodies that have been explored in the Solar System.

According to the researchers, impactors smacking into Hyperion's porous outer layers form craters more by compressing the surface than by blasting out material, as they do on denser bodies. Additionally, the moon's low gravity means that any material ejected from craters on Hyperion has a good chance of escaping completely and not re-impacting the surface, making Hyperion's craters look sharper and less blanketed by debris than on other bodies.

These new results about Hyperion's craters accompany another paper in the same journal issue which details the moon's composition. Both are important to understanding this unique moon's history and evolution.

"With time, we are coming to understand the various planetary processes that shape the bodies in our solar system," said imaging team leader Carolyn Porco. "And this latest work on Hyperion is a beautiful demonstration of that."

The Cassini-Huygens mission is a cooperative project of NASA, the European Space Agency and the Italian Space Agency. The Jet Propulsion Laboratory (JPL), a division of the California Institute of Technology in Pasadena, manages the Cassini-Huygens mission for NASA's Science Mission Directorate, Washington. The Cassini orbiter and its two onboard cameras were designed, developed and assembled at JPL. The imaging team consists of scientists from the U.S., England, France, and Germany. The imaging operations center and team leader (Dr. C. Porco) are based at the Space Science Institute in Boulder, Colo. The Cassini radio science instrument is distributed between the spacecraft and the stations of the Deep Space network. The elements of the radio science instrument onboard the spacecraft were developed via an international agreement between NASA and the Italian Space Agency.