Spaceflight Now +





Premium video content for our Spaceflight Now Plus subscribers.

Delta 4 pad camera 1
The first Boeing Delta 4-Heavy rocket ignites and lifts off from pad 37B at Cape Canaveral Air Force Station on its demonstration test flight as seen through this sequence of images from a sound-activated still camera.
Play video

Delta 4 pad camera 2
A second sound-activated still camera placed at pad 37B by Spaceflight Now photographer Ben Cooper provides a different view of the Delta 4-Heavy rocket launch.
Play video

Atlas 5 soars
This sequence of images from a sound-activated still camera fitted with a fisheye lens was stitched together to provide a unique perspective of the Lockheed Martin Atlas 5 rocket blasting off from Complex 41 with the Inmarsat spacecraft.
Play video

Become a subscriber
More video







Serenity of Saturn
CASSINI PHOTO RELEASE
Posted: March 21, 2005


As if drawn by an artist, this sublime scene speaks of the powerful beauty in the outer solar system: the domain of giant planets encircled by rings and orbited by small cratered moons of ice.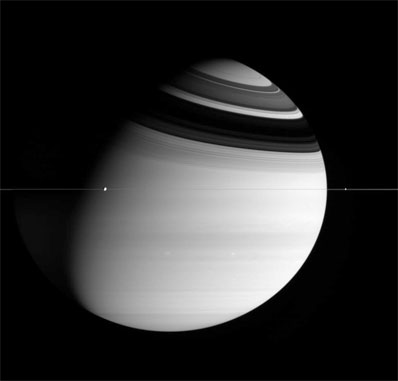 Credit: NASA/JPL/Space Science Institute
Download larger image version here



In this view, Dione (1,118 kilometers, or 695 miles across, on the left) and Enceladus (505 kilometers, or 314 miles across, on the right) orbit the mighty ringed planet Saturn, while two bright storms swirl in the atmosphere below. This vantage point shows that the deceptively expansive rings are actually paper-thin in comparison--only tens of meters thick.

The image was taken in visible blue light with the Cassini spacecraft wide-angle camera at a distance of approximately 2.6 million kilometers (1.6 million miles) from Saturn. The image scale is 154 kilometers (96 miles) per pixel.

The Cassini-Huygens mission is a cooperative project of NASA, the European Space Agency and the Italian Space Agency. The Jet Propulsion Laboratory, a division of the California Institute of Technology in Pasadena, manages the mission for NASA's Science Mission Directorate, Washington, D.C. The Cassini orbiter and its two onboard cameras were designed, developed and assembled at JPL. The imaging team is based at the Space Science Institute, Boulder, Colo.