Spaceflight Now +





Premium video content for our Spaceflight Now Plus subscribers.

Day of Remembrance
NASA pays tribute to those lost while furthering the cause of exploration, including the Apollo 1, Challenger and Columbia crews, during this Day of Remembrance memorial from agency headquarters on Jan. 27. (38min 58sec file)

Play video:
Dial-up | Broadband

Download audio:
For iPod

Spacewalk highlights
The Expedition 10 conducts a successful spacewalk outside the International Space Station to mount a German robotic arm and Russian science package to the Zvezda service module's exterior. (5min 07sec file)
Play video

Huygens science update
One week after the Huygens probe landed on Saturn's moon Titan, scientists hold a news conference to announce additional results and describe more pictures from the mission. (69min 02sec file)

Play video:
Dial-up | Broadband

Become a subscriber
More video







Cassini's radar spots giant crater on Titan
CASSINI PHOTO RELEASE
Posted: February 16, 2005


A giant impact crater the size of Iowa was spotted on Saturn's moon Titan by NASA's Cassini radar instrument during Tuesday's Titan flyby.

Cassini flew within 1,577 kilometers (980 miles) of Titan's surface and its radar instrument took detailed images of the surface. This is the third close Titan flyby of the mission, which began in July 2004, and only the second time the radar instrument has examined Titan. Scientists see some things that look familiar, along with scenes that are completely new.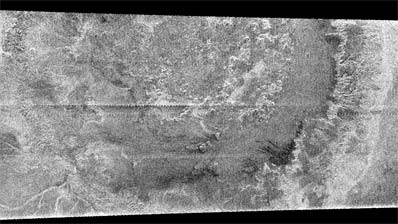 Credit: NASA/JPL
Download larger image version here



"It's reassuring to look at two parts of Titan and see similar things," said Dr. Jonathan Lunine, Cassini interdisciplinary scientist from the University of Arizona, Tucson. "At the same time, there are new and strange things."

This flyby is the first time that Cassini's radar and the imaging camera overlapped. This overlap in coverage should be able to provide more information about the surface features than either technique alone. The 440-kilometer-wide (273-mile) crater identified by the radar instrument was seen before with Cassini's imaging cameras, but not in this detail.

A second radar image released today shows features nicknamed "cat scratches". These parallel linear features are intriguing, and may be formed by winds, like sand dunes, or by other geological processes.

On Thursday, Cassini will conduct its first close flyby of Saturn's icy moon Enceladus (en-SELL-uh-duss) at a distance of approximately 1,180 kilometers (730 miles). Enceladus is one of the most reflective objects in the solar system, so bright that its surface resembles freshly fallen snow.

The Cassini-Huygens mission is a cooperative project of NASA, the European Space Agency and the Italian Space Agency. The Jet Propulsion Laboratory, a division of the California Institute of Technology in Pasadena, manages the Cassini mission for NASA's Science Mission Directorate, Washington, D.C. JPL designed, developed and assembled the Cassini orbiter.