Spaceflight Now +





Premium video content for our Spaceflight Now Plus subscribers.

Day of Remembrance
NASA pays tribute to those lost while furthering the cause of exploration, including the Apollo 1, Challenger and Columbia crews, during this Day of Remembrance memorial from agency headquarters on Jan. 27. (38min 58sec file)

Play video:
Dial-up | Broadband

Download audio:
For iPod

Spacewalk highlights
The Expedition 10 conducts a successful spacewalk outside the International Space Station to mount a German robotic arm and Russian science package to the Zvezda service module's exterior. (5min 07sec file)
Play video

Huygens science update
One week after the Huygens probe landed on Saturn's moon Titan, scientists hold a news conference to announce additional results and describe more pictures from the mission. (69min 02sec file)

Play video:
Dial-up | Broadband

Become a subscriber
More video







Outsider moon
CASSINI PHOTO RELEASE
Posted: February 15, 2005


Reflected light from Saturn dimly illuminates the night side of the cratered moon Mimas in this Cassini image. Above, the outer edges of the planet's main rings show some interesting details. Mimas is 398 kilometers (247 miles) across.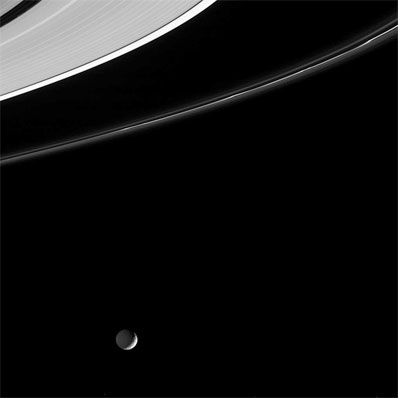 Credit: NASA/JPL/Space Science Institute
Download larger image version here



Several thin ringlets comprising the F ring are nicely visible here, and the bright core of the ring displays a few twisted knots. Perhaps less noticeable are kinks in one of the thin ringlets of material visible within the Encke Gap near the upper left corner. The outer edge of the A ring appears notably brighter than the ring material on the other side of the narrow Keeler Gap. Finally, numerous gravitational resonances give the A ring a grooved or striped appearance in this view.

The image was taken in visible light with the Cassini spacecraft narrow angle camera on Jan. 17, 2005, at a distance of approximately 1.2 million kilometers (746,000 miles) from Saturn. The image scale is 7 kilometers (4 miles) per pixel.

The Cassini-Huygens mission is a cooperative project of NASA, the European Space Agency and the Italian Space Agency. The Jet Propulsion Laboratory, a division of the California Institute of Technology in Pasadena, manages the mission for NASA's Science Mission Directorate, Washington, D.C. The Cassini orbiter and its two onboard cameras were designed, developed and assembled at JPL. The imaging team is based at the Space Science Institute, Boulder, Colo.