Spaceflight Now +





Premium video content for our Spaceflight Now Plus subscribers.

Huygens mission science
After entering orbit around Saturn, the Cassini spacecraft will launch the European Huygens probe to make a parachute landing on the surface of the moon Titan. The scientific objectives of Huygens are explained by probe project manager Jean-Pierre Lebreton. (3min 14sec file)
Play video

Saturn's moon Titan
Learn more about Saturn's moon Titan, which is believed to harbor a vast ocean, in this narrated movie. (4min 01sec file)
Play video

Relive Cassini's launch
An Air Force Titan 4B rocket launches NASA's Cassini spacecraft at 4:43 a.m. October 15, 1997 from Cape Canaveral, Florida. (5min 15sec file)
Play video

Deep Impact overview
Rick Grammier, NASA's Deep Impact project manager from the Jet Propulsion Laboratory, provides a detailed overview of the spacecraft and its mission. (4min 54sec file)
Play video

Science preview
Deep Impact principal investigator Michael A'Hearn explains how the comet collision will occur and what scientists hope to learn. (7min 11sec file)
Play video

Pre-flight news briefing
The pre-flight news conference is held at NASA Headquarters on December 14 to preview the Deep Impact mission to intercept a comet and blast a projectile into it. (54min 19sec file)
Play video

Mars rover update
Steve Squyres of Cornell University, the rovers' principal investigator, discusses the latest discoveries from Spirit and Opportunity.
Play video

Become a subscriber
More video







Pictures show active world shaped by cryogenic liquids
BY WILLIAM HARWOOD
STORY WRITTEN FOR CBS NEWS "SPACE PLACE" & USED WITH PERMISSION
Posted: January 14, 2005


Initial pictures of Saturn's moon Titan snapped by Europe's Huygens probe during its historic atmospheric descent and touchdown today show an active world likely carved by the flow of cryogenic liquids that may still pool on its frigid surface, a leading planetary scientist says.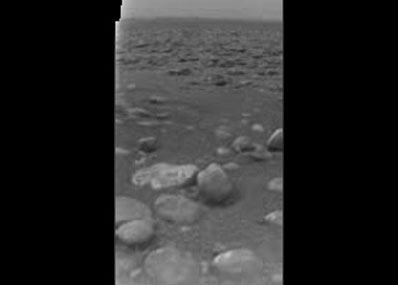 This raw image was returned by the Descent Imager/Spectral Radiometer camera onboard the European Space Agency's Huygens probe after the probe descended through the atmosphere of Titan. It shows the surface of Titan with ice blocks strewn around. The size and distance of the blocks will be determined when the image is properly processed. Credit: ESA/NASA/University of Arizona



Larger than Pluto and Mercury, Titan is the only moon in the solar system with a thick atmosphere and researchers expected Huygens to find a truly alien landscape under the smoggy haze. They got what they wanted.

"Surprises are always the things that get you," said Torrence Johnson, a member of NASA's Cassini imaging team at the Jet Propulsion Laboratory in Pasadena, Calif. "We'd hoped for a strange surface, it's always nice to see something like a science fiction movie or whatever, but this is exceeding our expectations.

"I mean, this is not a landscape filled with impact craters and a few ridges and hills. It's an active, living place that's interacting with its atmosphere just like Earth and ancient Mars did. And yet it's doing this in a completely different environment, where it's not water and rain from clouds of water that are doing things. You're dealing with what we would regard as cryogenic things here on the Earth, cold liquid gases, basically, and yet it's producing a place that looks strangely familiar."

The European Space Agency released three images from Huygens' camera late today, showing the looming surface from 10 miles up, from five miles and finally, from the surface itself. The first image shows what appear to be erosion-carved gullies snaking down through light-shaded terrain to what looks like a long shoreline bordering a dark, featureless plain. Or lake.

Scientists speculated for years that ethane and methane should exist in liquid form on Titan's surface because of the nature of its nitrogen-dominated atmosphere, low temperatures and other factors. But recent ground-based observations seemed to rule out the possibility of global oceans. Initial data from the Cassini orbiter that carried Huygens to Titan found no definitive evidence of smaller bodies of liquids.

But the Huygens photo indicates liquids almost certainly flowed in the past, if not the present. They also show light-shaded areas seen in Cassini orbiter photos likely are slightly elevated and that darker areas are relatively flat, lower-lying features. The latter are candidates for past or present lakes or flood plains.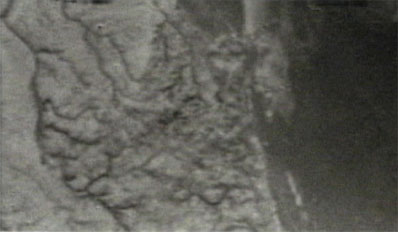 This is one of the first raw images returned by the ESA Huygens probe during its successful descent. It was taken from an altitude of 16.2 kilometres with a resolution of approximately 40 metres per pixel. It apparently shows short, stubby drainage channels leading to a shoreline. Credit: ESA/NASA TV



"This picture, many people have told me, that looks something like the Earth, sort of like Mars," Johnson said. "The reason it has that impression to you is that is an eroded surface, you see things that look like channels and so forth. When you look at the moon, when you look at the uplands of Mars, you don't see that, you see barren landscapes with impact craters on them. So this is telling us for sure, this is an active area.

"It also implies very strongly that the light area is, in fact, slightly elevated because you don't have stream channels that run up hill. They all run downhill, and it looks like a lot of that darker area is, in fact, smooth, dark area. Now, we don't know whether that's liquid now, but it certainly looks like liquid and in this case, water is not what we're talking about. On Mars, when you're talking liquid and liquid erosion, you're talking water. On Titan, what you're talking about with the temperatures at Titan's surface, less than 300 degrees below zero Fahrenheit, the only thing that's liquid is natural gas. And that's coming out of the atmosphere, liquid ethane and methane.

"So these channels have probably been cut in slightly elevated ice, which is playing the role of rock, and then producing tarry substances that run down hill and make these smooth areas," Johnson said. "How long ago that occurred, whether there's still liquid in some of those areas, we don't know. But a picture like that can really start unlocking some of the mysteries we've been debating about looking at the data from the orbiter. And in turn, that means we can take the orbiter data and get a much better global perspective about what's going on on Titan."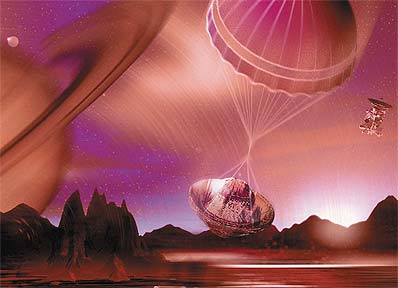 An artist's concept shows Huygens parachuting to Titan after deployment from the Cassini orbiter. Credit: EADS Astrium



The picture Huygens snapped on the surface of Titan showed what looks like rocks strewn over a plain stretching away to a hazy horizon. The scene looked remarkably similar to pictures taken by the Mars rover, Spirit, in Gusev Crater. But Huygens didn't spot silicon-based rocks like those on Earth.

"It's probably ice, water ice," Johnson said. "Water ice is a really good rock at the temperatures at Titan's surface. Again, to a geologist, that shouts erosion and you see the blocks are rounded like rocks in the bottom of a stream bed on Earth."

While no liquids are visible in the picture, "I think most of my geological colleagues would agree that what's happened here, we're probably looking at an area that's flowed out from someplace that has been eroded by these ethane, methane liquids, it carried ice boulders of water ice with them, rounded them in the process and left them in sort of an outwash plain."

Johnson said the data seen today represents "the tip of the iceberg."

"These are just a few snippets out of the data set from the images alone," he said. "We also have a vast array of chemical data about the atmosphere. ... In the next few days, we'll start getting detailed read outs about what's in the atmosphere, what's raining down on the surface and what that surface looks like in great detail."

Stay tuned!


Video coverage for subscribers only:


VIDEO: THE FIRST PICTURE FROM HUYGENS IS REVEALED QT


VIDEO: HUYGENS POST-LANDING NEWS BRIEFING DIAL-UP


VIDEO: STATUS REPORT DURING DESCENT DIAL-UP | BROADBAND


AUDIO: TODAY'S STATUS REPORT DURING DESCENT FOR IPOD


VIDEO: HUYGENS PRE-ARRIVAL NEWS BRIEFING DIAL-UP | BROADBAND


AUDIO: HUYGENS PRE-ARRIVAL NEWS BRIEFING FOR IPOD



VIDEO: OVERVIEW OF HUYGENS PROBE'S SCIENCE OBJECTIVES QT


VIDEO: JULY NEWS BRIEFING ON CASSINI'S PICTURES OF TITAN QT


VIDEO: PICTURES SHOWING TITAN SURFACE FROM OCT. FLYBY QT


VIDEO: WHAT'S KNOWN ABOUT TITAN BEFORE THE FIRST FLYBY QT


VIDEO: NARRATED MOVIE OF CLOUDS MOVING NEAR SOUTH POLE QT


VIDEO: OCT. BRIEFING ON RADAR IMAGES OF TITAN SURFACE QT


SUBSCRIBE NOW