Spaceflight Now +





Premium video content for our Spaceflight Now Plus subscribers.

Huygens mission science
After entering orbit around Saturn, the Cassini spacecraft will launch the European Huygens probe to make a parachute landing on the surface of the moon Titan. The scientific objectives of Huygens are explained by probe project manager Jean-Pierre Lebreton. (3min 14sec file)
Play video

Saturn's moon Titan
Learn more about Saturn's moon Titan, which is believed to harbor a vast ocean, in this narrated movie. (4min 01sec file)
Play video

Relive Cassini's launch
An Air Force Titan 4B rocket launches NASA's Cassini spacecraft at 4:43 a.m. October 15, 1997 from Cape Canaveral, Florida. (5min 15sec file)
Play video

Deep Impact overview
Rick Grammier, NASA's Deep Impact project manager from the Jet Propulsion Laboratory, provides a detailed overview of the spacecraft and its mission. (4min 54sec file)
Play video

Science preview
Deep Impact principal investigator Michael A'Hearn explains how the comet collision will occur and what scientists hope to learn. (7min 11sec file)
Play video

Pre-flight news briefing
The pre-flight news conference is held at NASA Headquarters on December 14 to preview the Deep Impact mission to intercept a comet and blast a projectile into it. (54min 19sec file)
Play video

Mars rover update
Steve Squyres of Cornell University, the rovers' principal investigator, discusses the latest discoveries from Spirit and Opportunity.
Play video

Become a subscriber
More video







First Huygens images show strange new world
BY WILLIAM HARWOOD
STORY WRITTEN FOR CBS NEWS "SPACE PLACE" & USED WITH PERMISSION
Posted: January 14, 2005


The European Space Agency unveiled the first raw images from the Huygens Titan probe today, black-and-white pictures showing ice blocks strewn across the surface and hard-to-interpret features resembling drainage channels and, possibly, a frigid shoreline of sorts.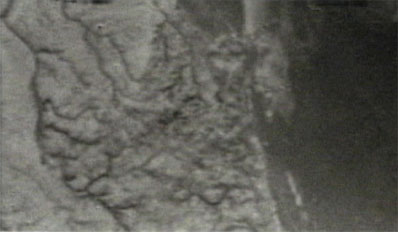 This is one of the first raw images returned by the ESA Huygens probe during its successful descent. It was taken from an altitude of 16.2 kilometres with a resolution of approximately 40 metres per pixel. It apparently shows short, stubby drainage channels leading to a shoreline. Credit: ESA/NASA TV



As of 3 p.m. EST (2000 GMT), more than 350 images from the Huygens main camera were on the ground, shot at altitudes above and below the haze layer that marks Titan's thick nitrogen atmosphere. The first picture shown to reporters was shot at an altitude of about 10 miles with a surface resolution of about 50 feet.

"I think it's pretty clear you see things that look pretty much like drainage channels, maye not like drainage channels like on rivers on the Earth, but perhaps stubby box canyons with seepage out of the walls, flowing down towards what looks very much like a shoreline," said Martin Tomasko, principal investigator for Huygens' descent imager.

"We suspected there would be liquid on the surface of Titan, we suspected we would see things that looked like drainage channels and shorelines, but we've never been able to see them with this clarity."

A second photo showed the surface of Titan surrounding the Huygens probe after it touched down on the frigid moon. The scene resembled recent photos from NASA's Mars rovers, showing a rock-strewn plain stretching away toward a hazy horizon.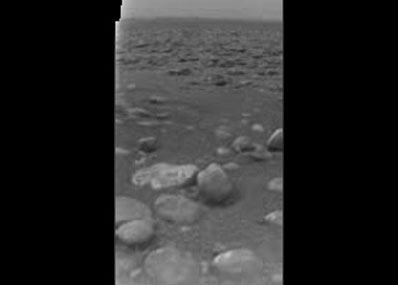 This raw image was returned by the Descent Imager/Spectral Radiometer camera onboard the European Space Agency's Huygens probe after the probe descended through the atmosphere of Titan. It shows the surface of Titan with ice blocks strewn around. The size and distance of the blocks will be determined when the image is properly processed. Credit: ESA/NASA/University of Arizona



Said European Space agency science chief David Southwood: "I am just delighted. I just wanted to know that there was complexity down there, that this really was a world that was going to yield totally new science. I'm now convinced we're going to do it. it's the end of a wonderful day, I'm going to remember it for the rest of my life."

Despite Tomasko's off-the-cuff interpretation of the initial picture, it was not immediately clear whether the images did, in fact, show liquid ethane or related compounds theorized to exist on the surface.


Video coverage for subscribers only:


VIDEO: THE FIRST PICTURE FROM HUYGENS IS REVEALED QT


VIDEO: HUYGENS POST-LANDING NEWS BRIEFING DIAL-UP


VIDEO: STATUS REPORT DURING DESCENT DIAL-UP | BROADBAND


AUDIO: TODAY'S STATUS REPORT DURING DESCENT FOR IPOD


VIDEO: HUYGENS PRE-ARRIVAL NEWS BRIEFING DIAL-UP | BROADBAND


AUDIO: HUYGENS PRE-ARRIVAL NEWS BRIEFING FOR IPOD



VIDEO: OVERVIEW OF HUYGENS PROBE'S SCIENCE OBJECTIVES QT


VIDEO: JULY NEWS BRIEFING ON CASSINI'S PICTURES OF TITAN QT


VIDEO: PICTURES SHOWING TITAN SURFACE FROM OCT. FLYBY QT


VIDEO: WHAT'S KNOWN ABOUT TITAN BEFORE THE FIRST FLYBY QT


VIDEO: NARRATED MOVIE OF CLOUDS MOVING NEAR SOUTH POLE QT


VIDEO: OCT. BRIEFING ON RADAR IMAGES OF TITAN SURFACE QT


SUBSCRIBE NOW