Spaceflight Now +





Premium video content for our Spaceflight Now Plus subscribers.

Deep Impact arrives
NASA's Deep Impact comet spacecraft arrives at the Astrotech Space Operations Facility near Kennedy Space Center to begin final launch preparations for blastoff December 30 aboard a Boeing Delta 2 rocket. (2min 53sec file)
Play video

Swift preview
Mission scientists preview NASA's Swift gamma-ray burst detection satellite being readied for launch into Earth orbit. (39min 49sec file)
Play video

Cassini science update
Radar imagery of Saturn's moon Titan and other new data from the Cassini spacecraft is presented during this JPL news conference on Thursday. (54min 48sec file)
Play video

Post-flyby briefing
Scientists and mission officials discuss the initial pictures and data obtained during Cassini's flyby of Titan during this JPL news conference on Wednesday. (55min 18sec file)
Play video

First pictures
The first pictures taken by Cassini during this close encounter with Titan are received at the Jet Propulsion Laboratory to the delight of the mission's imaging leader. (2min 21sec file)
Play video

Images flood in
A Cassini mission scientist provides analysis as the raw images taken of Titan's surface flood into the Jet Propulsion Laboratory. (29min 29sec file)
Play video

Flyby explained
Detailed animation illustrates Cassini's flyby of Titan and how the probe's instruments will study this moon of Saturn. Expert narration is provided by a project official. (3min 09sec file)
Play video

Become a subscriber
More video







Saturn's ring gap
CASSINI PHOTO RELEASE
Posted: December 2, 2004


An intriguing knotted ringlet within the Encke Gap is the main attraction in this Cassini image. The Encke Gap is a small division near the outer edge of Saturn's rings that is about 300 kilometers (190 miles) wide. The tiny moon Pan (20 kilometers, or 12 miles across) orbits within the gap and maintains it. Many waves produced by orbiting moons are visible.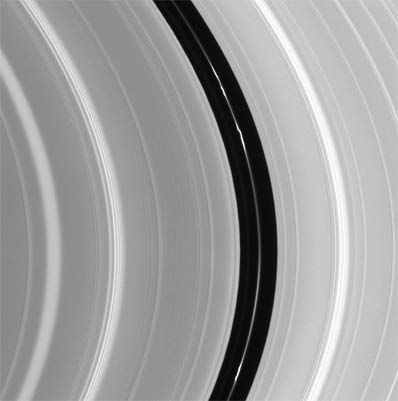 Credit: NASA/JPL/Space Science Institute
Download larger image version here



The image was taken in visible light with the Cassini spacecraft narrow angle camera on Oct. 29, 2004, at a distance of about 807,000 kilometers (501,000 miles) from Saturn. The image scale is 4.5 kilometers (2.8 miles) per pixel.

The Cassini-Huygens mission is a cooperative project of NASA, the European Space Agency and the Italian Space Agency. The Jet Propulsion Laboratory, a division of the California Institute of Technology in Pasadena, manages the Cassini-Huygens mission for NASA's Office of Space Science, Washington, D.C. The Cassini orbiter and its two onboard cameras, were designed, developed and assembled at JPL. The imaging team is based at the Space Science Institute, Boulder, Colo.