Spaceflight Now +





Premium video content for our Spaceflight Now Plus subscribers.

Deep Impact arrives
NASA's Deep Impact comet spacecraft arrives at the Astrotech Space Operations Facility near Kennedy Space Center to begin final launch preparations for blastoff December 30 aboard a Boeing Delta 2 rocket. (2min 53sec file)
Play video

Veterans Day
Aboard the International Space Station, commander Leroy Chiao offers his thoughts in this downlinked message in honor of Veterans Day.
Play video

Delta rocket lofts GPS
The Boeing Delta 2 rocket lifts off Saturday morning with the GPS 2R-13 satellite from pad 17B at Cape Canaveral, Florida.
Play video

Launch in full
This longer-length clip follows the Delta 2 rocket during its late-night ascent carrying the latest Global Positioning System satellite. (2min 25sec file)
Play video

Swift preview
Mission scientists preview NASA's Swift gamma-ray burst detection satellite being readied for launch into Earth orbit. (39min 49sec file)
Play video

Cassini science update
Radar imagery of Saturn's moon Titan and other new data from the Cassini spacecraft is presented during this JPL news conference on Thursday. (54min 48sec file)
Play video

Post-flyby briefing
Scientists and mission officials discuss the initial pictures and data obtained during Cassini's flyby of Titan during this JPL news conference on Wednesday. (55min 18sec file)
Play video

First pictures
The first pictures taken by Cassini during this close encounter with Titan are received at the Jet Propulsion Laboratory to the delight of the mission's imaging leader. (2min 21sec file)
Play video

Images flood in
A Cassini mission scientist provides analysis as the raw images taken of Titan's surface flood into the Jet Propulsion Laboratory. (29min 29sec file)
Play video

Flyby explained
Detailed animation illustrates Cassini's flyby of Titan and how the probe's instruments will study this moon of Saturn. Expert narration is provided by a project official. (3min 09sec file)
Play video

Become a subscriber
More video







Cassini sees Atlas, Pandora and Janus orbiting Saturn
CASSINI PHOTO RELEASE
Posted: November 17, 2004


Saturn hosts its own miniature solar system, with an entourage of more than 30 moons. This image shows Saturn's A and F rings, along with three of the moons that orbit close to them.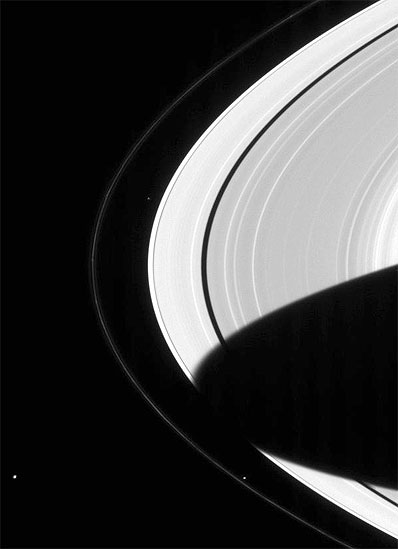 Credit: NASA/JPL/Space Science Institute
Download larger image version here



From innermost to outermost, tiny Atlas (32 kilometers, or 20 miles, across) orbits just outside of the bright A ring and is seen above center in this view. Prometheus (102 kilometers, or 63 miles, across) is visible near lower right. Prometheus and its smaller cohort, Pandora, shepherd the thin, knotted F ring. Finally Janus (181 kilometers, or 112 miles, across) can be seen near lower left. Janus shares its orbit with the moon Epimetheus.

Density waves due to Janus cause some of the bright bands seen in the A ring in this image. Prometheus and Atlas also produce waves in the rings, but their wave regions are too narrow to be seen here. The interactions of the moons with each other and the rings are a major target of study for the Cassini mission.

The planet's shadow stretches all the way across the main rings in this view. The shadow has an oval shape at present, but over the next few years will become more rectangular as the planet orbits the Sun and the angle at which sunlight strikes the rings decreases.

The image was taken with the Cassini spacecraft narrow angle camera on Oct. 6, 2004, at a distance of 6.4 million kilometers (4 million miles) from Saturn through a filter sensitive to wavelengths of visible red light. The image scale is 38 kilometers (24 miles) per pixel.

The Cassini-Huygens mission is a cooperative project of NASA, the European Space Agency and the Italian Space Agency. The Jet Propulsion Laboratory, a division of the California Institute of Technology in Pasadena, manages the Cassini-Huygens mission for NASA's Science Mission Directorate, Washington, D.C. The Cassini orbiter and its two onboard cameras were designed, developed and assembled at JPL. The imaging team is based at the Space Science Institute, Boulder, Colo.



Cassini poster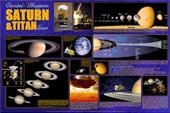 Just in time for the Cassini spacecraft's arrival at Saturn, this new poster celebrates the mission to explore the ringed planet and its moons.


U.S. STORE

U.K. & WORLDWIDE STORE

2005 Calendar

The 2005 edition of the Universe of the Hubble Space Telescope calendar is available from our U.S. store and will soon be available worldwide. This 12x12-inch calendar features spectacular images from the orbiting observatory.


U.S. STORE

Moon panorama

Taken by Apollo 14 commander Alan Shepard, this panoramic poster shows lunar module pilot Edgar Mitchell as a brilliant Sun glare reflects off the lunar module Antares.


U.S. STORE

Mars Rover mission patch
A mission patch featuring NASA's Mars Exploration Rover is now available from the Astronomy Now Store.


U.S. STORE

U.K. & WORLDWIDE STORE