Spaceflight Now +





Premium video content for our Spaceflight Now Plus subscribers.

Cassini science update
Radar imagery of Saturn's moon Titan and other new data from the Cassini spacecraft is presented during this JPL news conference on Thursday. (54min 48sec file)
Play video

Post-flyby briefing
Scientists and mission officials discuss the initial pictures and data obtained during Cassini's flyby of Titan during this JPL news conference on Wednesday. (55min 18sec file)
Play video

First pictures
The first pictures taken by Cassini during this close encounter with Titan are received at the Jet Propulsion Laboratory to the delight of the mission's imaging leader. (2min 21sec file)
Play video

Images flood in
A Cassini mission scientist provides analysis as the raw images taken of Titan's surface flood into the Jet Propulsion Laboratory. (29min 29sec file)
Play video

Flyby explained
Detailed animation illustrates Cassini's flyby of Titan and how the probe's instruments will study this moon of Saturn. Expert narration is provided by a project official. (3min 09sec file)
Play video

Titan knowledge
Knowledge about the mysterious moon Titan prior to this first close encounter is described by the Cassini mission's imaging leader. (6min 46sec file)
Play video

Moving clouds
Clouds near the south pole of Titan can be seen moving in this collection of pictures from Cassini as narrated by the mission's imaging leader. (2min 12sec file)
Play video

Become a subscriber
More video







Two views of Titan's haze
CASSINI PHOTO RELEASE
Posted: October 28, 2004



Credit: NASA/JPL/Space Science Institute
Download larger image version here



These images show two views of Titan's planet-wide stratospheric haze just before (left) and after (right) Cassini's first close encounter with the shrouded moon.

The image on the left was taken on Oct. 25, 2004, through an ultraviolet filter, which is sensitive to scattering of sunlight by small haze particles. It shows the high-altitude haze at the north pole (top) illuminated above a surface blanketed in darkness during this winter season. Numerous striations are visible in the haze, indicating either waves passing through the layer or the presence of multiple layers. The pixel scale of this image is 2.8 kilometers (1.7 miles).

The image on the right was taken on Oct. 26, 2004, and shows Titan's night-side backlit by the Sun after Cassini's closest approach to the moon. The haze layer ringing the planet is illuminated because the small particles scatter significant sunlight in the forward direction. Variations in haze concentration and thickness around the globe are also evident and seem to be symmetric around the north pole (upper left). The pixel scale of this image is 6.6 kilometers (4.1 miles).

The Cassini-Huygens mission is a cooperative project of NASA, the European Space Agency and the Italian Space Agency. The Jet Propulsion Laboratory, a division of the California Institute of Technology in Pasadena, manages the Cassini-Huygens mission for NASA's Science Mission Directorate, Washington, D.C. The Cassini orbiter and its two onboard cameras were designed, developed and assembled at JPL. The imaging team is based at the Space Science Institute, Boulder, Colo.



Cassini poster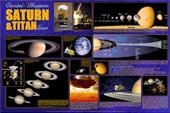 Just in time for the Cassini spacecraft's arrival at Saturn, this new poster celebrates the mission to explore the ringed planet and its moons.


U.S. STORE

U.K. & WORLDWIDE STORE

2005 Calendar

The 2005 edition of the Universe of the Hubble Space Telescope calendar is available from our U.S. store and will soon be available worldwide. This 12x12-inch calendar features spectacular images from the orbiting observatory.


U.S. STORE

Moon panorama

Taken by Apollo 14 commander Alan Shepard, this panoramic poster shows lunar module pilot Edgar Mitchell as a brilliant Sun glare reflects off the lunar module Antares.


U.S. STORE

Mars Rover mission patch
A mission patch featuring NASA's Mars Exploration Rover is now available from the Astronomy Now Store.


U.S. STORE

U.K. & WORLDWIDE STORE