Spaceflight Now +





Premium video content for our Spaceflight Now Plus subscribers.

Re-entry trail
A space station camera captured this incredible view of the Soyuz's fiery trail during re-entry in the predawn morning sky. (1min 46sec file)
Play video

Hatch opening
Russian recovery forces at the landing site work to open the Soyuz capsule hatch and roll the craft on its side in preparation for the crew's exit. (2min 23sec file)
Play video

Commander exit
Expedition 9 commander Gennady Padalka is pulled from the Soyuz capsule following landing in Kazakhstan. (1min 38sec file)
Play video

Fincke returns
Expedition 9 flight engineer Michael Fincke rests in a reclining chair and speaks to the media about the importance of spaceflight just after exiting the Soyuz. (2min 46sec file)
Play video

This date in history
Space shuttle Columbia launches on the STS-52 mission on October 22, 1992 carrying the LAGEOS laser ball and package of microgravity research experiments. (2min 59sec file)
Play video

Full launch experience
This longer-length broadband movie covers the launch of Columbia from T-minus 3 minutes through jettison of the external fuel tank after reaching space. (12min 43sec file)
Play video

Change-of-command
The International Space Station's Expedition 9 and 10 crews hold their change-of-command ceremony. (3min 51sec file)
Play video

Public Service Announcements
The space station's new commander, Leroy Chiao, urges Americans to vote in these Public Service Announcements recorded inside the Destiny Laboratory module. (2min 30sec file)
Play video

Become a subscriber
More video





NewsAlert





Sign up for our NewsAlert service and have the latest news in astronomy and space e-mailed direct to your desktop.


Privacy note: your e-mail address will not be used for any other purpose.







Eyes on Xanadu
CASSINI PHOTO RELEASE
Posted: October 25, 2004


This image taken on Oct. 24, 2004, reveals Titan's bright "continent-sized" terrain known as Xanadu. It was acquired with the narrow angle camera on Cassini's imaging science subsystem through a spectral filter centered at 938 nanometers, a wavelength region at which Titan's surface can be most easily detected. The surface is seen at a higher contrast than in previously released imaging science subsystem images due to a lower phase angle (Sun-Titan-Cassini angle), which minimizes scattering by the haze.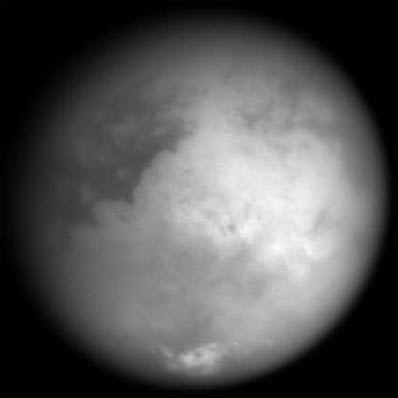 Credit: NASA/JPL/Space Science Institute



The image shows details about 10 times smaller than those seen from Earth. Surface materials with different brightness properties (or albedos) rather than topographic shading are highlighted. The image has been calibrated and slightly enhanced for contrast. It will be further processed to reduce atmospheric blurring and to optimize mapping of surface features. The origin and geography of Xanadu remain mysteries at this range. Bright features near the south pole (bottom) are clouds. On Oct. 26, Cassini will acquire images of features in the central-left portion of this image from a position about 100 times closer.

The Cassini-Huygens mission is a cooperative project of NASA, the European Space Agency and the Italian Space Agency. The Jet Propulsion Laboratory, a division of the California Institute of Technology in Pasadena, manages the Cassini-Huygens mission for NASA's Science Mission Directorate, Washington, D.C. The Cassini orbiter and its two onboard cameras were designed, developed and assembled at JPL. The imaging team is based at the Space Science Institute, Boulder, Colo.