Spaceflight Now +





Premium video content for our Spaceflight Now Plus subscribers.

Genesis recovered
Workers recover the Genesis solar wind samples from the impact crater and take the equipment into a facility for examination. (2min 08sec file)
Play video

Post-impact news briefing
Officials hold a post-landing news conference in Utah a couple hours after Genesis returned to Earth on Sept. 8. (40min 52sec file)
Play video

Capsule first spotted
Powerful tracking cameras spot the Genesis capsule for the first time a couple hundred thousand feet above Earth, prompting applause in the control centers. But just moments later, that joy turned to heartbreak. (1min 02sec file)
Play video

Genesis crash lands
The Genesis sample return capsule tumbles through the sky and impacts the desert floor in Utah after its speed-slowing chute and parafoil failed to deploy for a mid-air recovery by a helicopter. (2min 29sec file)
Play video

Slow-motion
This slow-motion video shows the Genesis capsule slamming into the ground. (1min 06sec file)
Play video

Aerial views of crater
Aerial views show the Genesis capsule half buried in the Utah desert floor after its landing system suffered a failure. (1min 53sec file)
Play video

Become a subscriber
More video





NewsAlert





Sign up for our NewsAlert service and have the latest news in astronomy and space e-mailed direct to your desktop.


Privacy note: your e-mail address will not be used for any other purpose.







Herding the Saturn's rings
CASSINI PHOTO RELEASE
Posted: September 26, 2004


Saturn's moon Prometheus is seen shepherding the inner edge of Saturn's F ring. Prometheus is 102 kilometers (63 miles) across and was captured in a close-up view by the Cassini spacecraft near the time of orbital insertion at Saturn. A number of clumps are visible here along the arcing F ring.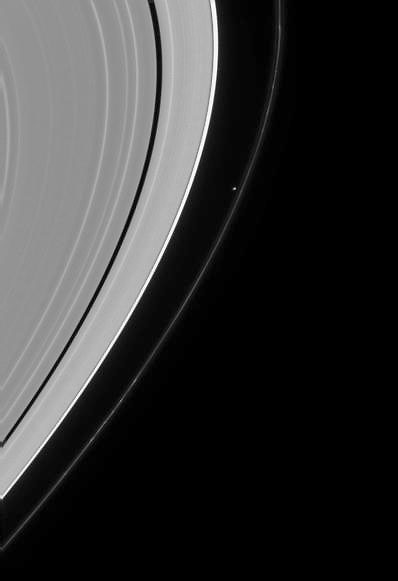 Credit: NASA/JPL/Space Science Institute
Download larger image version here



The image was taken with the Cassini spacecraft narrow angle camera at a distance of 8.2 million kilometers (5.1 million miles) from Saturn through a filter sensitive to visible green light. The image scale is 49 kilometers (33 miles) per pixel. Contrast was slightly enhanced to aid visibility.

The Cassini-Huygens mission is a cooperative project of NASA, the European Space Agency and the Italian Space Agency. The Jet Propulsion Laboratory, a division of the California Institute of Technology in Pasadena, manages the Cassini-Huygens mission for NASA's Office of Space Science, Washington, D.C. The Cassini orbiter and its two onboard cameras, were designed, developed and assembled at JPL. The imaging team is based at the Space Science Institute, Boulder, Colo.