Spaceflight Now +





Premium video content for our Spaceflight Now Plus subscribers.

Rover's stuck RAT
A problem with the Opportunity rover's Rock Abrasion Tool is explained in detailed by JPL mission manager Chris Salvo. (4min 14sec file)
Play video

New water clues
Spirit's examination of rock outcropping at Gusev Crater has yielded new clues about the history of water there, as explained by Doug Ming, a rover science team member from Johnson Space Center. (5min 59sec file)
Play video

Spirit on a hill
A stunning new picture from the Mars rover Spirit taken from the hillside shows the sweeping plains of Gusev and the crater's rim on the distant horizon. Expert narration is provided by Steve Squyres, the rover lead scientist. (1min 22sec file)
Play video

Update on Opportunity
Steve Squyres, the rover lead scientist, descibes Opportunity's ongoing work inside Endurance Crater and narrates new pictures that includes clouds moving across the Martian sky. (5min 50sec file)
Play video

Latest Mars briefing
Scientists and mission officials explain the latest findings and exploration by the Spirit and Opportunity rovers during this news conference on August 18. (49min 40sec file)
Play video

Become a subscriber
More video





NewsAlert





Sign up for our NewsAlert service and have the latest news in astronomy and space e-mailed direct to your desktop.


Privacy note: your e-mail address will not be used for any other purpose.







Streaking away from Dione
CASSINI PHOTO RELEASE
Posted: August 22, 2004


Saturn's crescent moon Dione hangs before the Cassini spacecraft in this magnified image. The icy moon shows a hint of the bright, wispy features that mark its surface.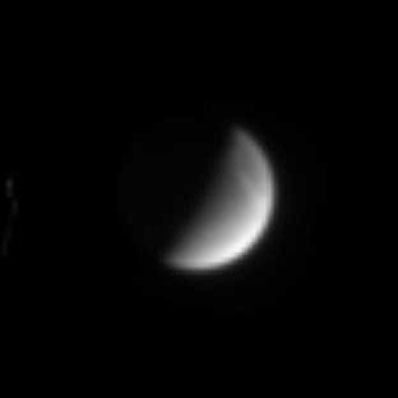 Credit: NASA/JPL/University of Arizona



The image was taken in visible light with the Cassini spacecraft narrow angle camera at a distance of 6.2 million kilometers (3.9 million miles) from Dione, and at a Sun-Dione-spacecraft, or phase angle, of 96 degrees. The image scale is 37 kilometers (25 miles) per pixel. The image has been magnified by a factor of four to aid visibility.

The Cassini-Huygens mission is a cooperative project of NASA, the European Space Agency and the Italian Space Agency. The Jet Propulsion Laboratory, a division of the California Institute of Technology in Pasadena, manages the Cassini-Huygens mission for NASA's Office of Space Science, Washington, D.C. The Cassini orbiter and its two onboard cameras, were designed, developed and assembled at JPL. The imaging team is based at the Space Science Institute, Boulder, Colo.