Spaceflight Now +





Premium video content for our Spaceflight Now Plus subscribers.

Titan up close
Scientists reveal stunning pictures of Saturn's moon Titan and other results during this news conference from July 3. (38min 17sec file)
Play video

Saturn ring pictures
Cassini's stunning close-up images of the rings around Saturn, taken just after the craft entered orbit Thursday morning, are presented with expert narration by Carolyn Porco, the mission imaging team leader. (8min 39sec file)
Play video

Become a subscriber
More video





NewsAlert





Sign up for our NewsAlert service and have the latest news in astronomy and space e-mailed direct to your desktop.


Privacy note: your e-mail address will not be used for any other purpose.







Odd-looking moon Mimas photographed by Cassini
CASSINI PHOTO RELEASE
Posted: July 26, 2004


Soon after orbital insertion, Cassini returned its best look yet at heavily cratered Mimas (398 kilometers, 247 miles across). The enormous crater at the top of this image, named Herschel, is about 130 kilometers (80 miles) wide and 10 kilometers (6 miles) deep.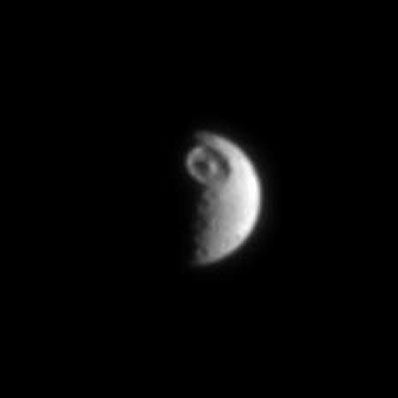 Credit: NASA/JPL/Space Science Institute



The image was taken in visible light with the narrow angle camera on July 3, 2004, from a distance of 1.7 million kilometers (1 million miles) from Mimas and at a Sun-Mimas-spacecraft, or phase, angle of about 102 degrees. The image scale is 10 kilometers (6 miles) per pixel. It has been magnified here by a factor of 2 to aid visibility.

The Cassini-Huygens mission is a cooperative project of NASA, the European Space Agency and the Italian Space Agency. The Jet Propulsion Laboratory, a division of the California Institute of Technology in Pasadena, manages the Cassini-Huygens mission for NASA's Office of Space Science, Washington, D.C. The imaging team is based at the Space Science Institute, Boulder, Colorado.