Spaceflight Now +





Premium video content for our Spaceflight Now Plus subscribers.

Cassini preview
The Cassini spacecraft's arrival at Saturn is previewed in this detailed news conference from NASA Headquarters on June 3. (50min 01sec file)
Play video

Saturn arrival explained
Cassini's make-or-break engine firing to enter orbit around Saturn is explained with graphics and animation. Expert narration is provided by Cassini program manager Robert Mitchell. (3min 33sec file)
Play video

Cassini mission science
The scientific objectives of the Cassini mission to study the planet Saturn, its rings and moons are explained by Charles Elachi, director of the Jet Propulsion Laboratory. (4min 54sec file)
Play video

Huygens mission science
After entering orbit around Saturn, the Cassini spacecraft will launch the European Huygens probe to make a parachute landing on the surface of the moon Titan. The scientific objectives of Huygens are explained by probe project manager Jean-Pierre Lebreton. (3min 14sec file)
Play video

Become a subscriber
More video





NewsAlert





Sign up for our NewsAlert service and have the latest news in astronomy and space e-mailed direct to your desktop.


Privacy note: your e-mail address will not be used for any other purpose.







Cassini getting ever closer to colorful Saturn
CICLOPS/SPACE SCIENCE NEWS RELEASE
Posted: June 3, 2004


As Cassini coasts into the final month of its nearly seven-year trek, the serene majesty of its destination looms ahead. The spacecraft's cameras are functioning beautifully and continue to return stunning views from Cassini's position, 1.2 billion kilometers (750 million miles) from Earth and now 15.7 million kilometers (9.8 million miles) from Saturn.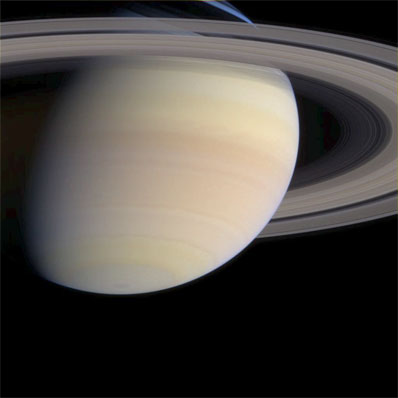 Credit: NASA/JPL/Space Science Institute
Download larger image version here



In this narrow angle camera image from May 21, 2004, the ringed planet displays subtle, multi-hued atmospheric bands, colored by yet undetermined compounds. Cassini mission scientists hope to determine the exact composition of this material.

This image also offers a preview of the detailed survey Cassini will conduct on the planet's dazzling rings. Slight differences in color denote both differences in ring particle composition and light scattering properties.

Images taken through blue, green and red filters were combined to create this natural color view. The image scale is 132 kilometers (82 miles) per pixel.

The Cassini-Huygens mission is a cooperative project of NASA, the European Space Agency and the Italian Space Agency. The Jet Propulsion Laboratory, a division of the California Institute of Technology in Pasadena, manages the Cassini-Huygens mission for NASA's Office of Space Science, Washington, D.C. The Cassini orbiter and its two onboard cameras were designed, developed and assembled at JPL. The imaging team is based at the Space Science Institute, Boulder, Colorado.