United Launch Alliance preparing for its next Atlas 5
BY JUSTIN RAY
SPACEFLIGHT NOW
Posted: Feb. 7, 2014


Assembly of a Atlas 5 rocket kicked off Friday morning at Cape Canaveral to stack a powerful version of the vehicle launching next month.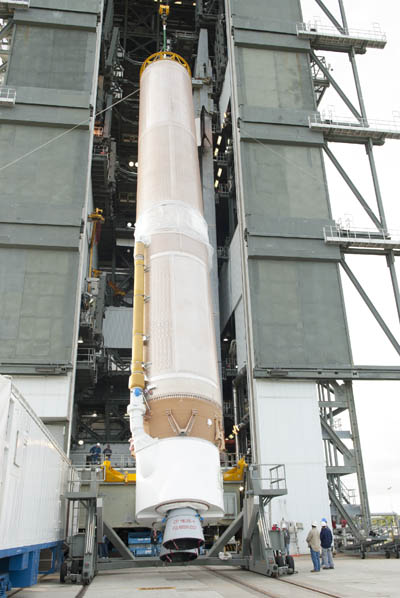 File image of first stage stacking. Credit: NASA-KSC



Liftoff of the Atlas 5-541 configured rocket is planned for March 25. The exact launch time is withheld for security reasons.

The mission will launch the NROL-67 mission for the U.S. National Reconnaissance Office, the secretive government agency responsible for the country's fleet of spy satellites.

The 541 version of the Atlas 5 is nearly the most powerful, with four of five available strap-on boosters employed for added thrust at liftoff. The vehicle also has a five meter nose cone and a single engine Centaur upper stage.

It is the same configuration that hurled NASA's Curiosity rover to Mars in 2011.

The NRO has three missions planned in 2014. NROL-67 will be followed by NROL-33 in May and a California launch of NROL-35 at year's end, all on Atlas 5 rockets.

The stacking work began Friday with erection of the first stage onto the mobile launch platform at the Complex 41's Vertical Integration Facility. The stage is equipped with an RD-180 main engine.

Next week will be spent attaching the solid-propellant boosters. The Centaur and its RL10 cryogenic engine will be installed the following week.

Meanwhile, workers have assembled another Atlas at Vandenberg Air Force Base in California to launch an Air Force weather observatory on April 3.

The Atlas program recently completed its first flight of the year in successful fashion -- the Jan. 23 launch of NASA's Tracking and Data Relay Satellite L.