Payload set for launch aboard next Atlas 5 rocket
BY JUSTIN RAY
SPACEFLIGHT NOW
Posted: July 21, 2014


CAPE CANAVERAL -- The next Global Positioning System satellite was mated atop its booster rocket today, marking a critical step towards the planned July 31 launch into space.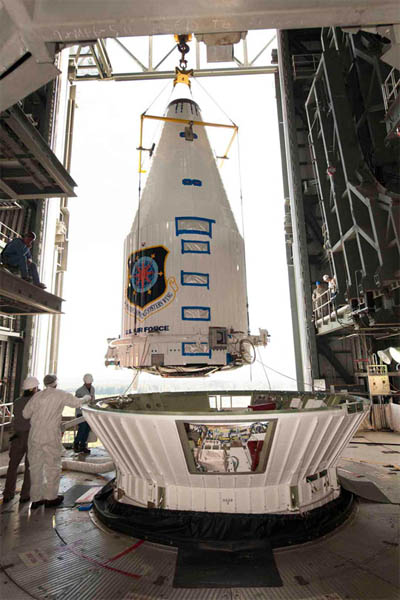 File photo of payload being mated to Atlas 5. Credit: ULA



The GPS 2F-7 satellite will ride a United Launch Alliance Atlas 5 rocket into the navigation network from Cape Canaveral, Florida.

The direct-insertion launch will be possible during a nighttime window of 11:27 to 11:45 p.m. EDT.

"The reliability of our GPS constellation continues to improve as the Air Force systematically replaces aging satellites with more capable satellites and upgrades the architecture that improves capabilities," said Lt. Gen. Jay Raymond, of U.S. Strategic Command's joint functional component command for space.

"These capabilities will reduce the vulnerability of the (Positioning, Navigation and Timing) mission by making the GPS signal more robust/resilient, boosting the power and reliability to users, and providing near real-time command and control to enable space operators to take quick action in the face of growing threats."

Valued at $245 million, it is the 7th of 12 Boeing-built Block 2F satellites that are being launched to form the future foundation of the GPS network for the next 15 years.

GPS 2F-7 will take Plane F, Slot 3 of the constellation in a reshuffling and retirement plan that ultimately bolsters the network.

The satellite currently in that spot -- GPS 2R-2, launched aboard Delta 245 in July 1997 -- will be freed to maneuver elsewhere within the same F Plane and replace the 22-year-old retiring GPS 2A-14, one of the longest serving GPS spacecraft. It went up in July 1992 aboard Delta 211.

"The primary purpose of launching the new GPS 2F satellites is to field increased GPS signal capabilities, more accurate clocks, and reduce overall constellation risk," according to an Air Force spokesperson.

The GPS fleet features six orbital planes with at least four spacecraft in each grouping to generate the minimum 24-satellites needed for the network to function properly.

Early today, the space-bound GPS 2F-7 satellite, already encapsulated in the 39-foot-tall, 14-foot-diameter aluminum nose cone, was hauled to Complex 41 where the two-stage rocket stood inside the Vertical Integration Facility, or VIF.

The fully built-up vehicle will be rolled to the launch pad the day before launch.

The launch will be the 629th for an Atlas vehicle, the 195th Atlas-Centaur, the 47th Atlas 5 rocket and the 23rd to fly in the 401 configuration with a four-meter fairing, no solids and a single-engine Centaur. For United Launch Alliance, it is slated to be the company's 34th flight for the Air Force, the 86th launch overall since 2006 and the 9th just this year.