Atlas 5 rocket set for launch amid cloud of controversy
BY SPACEFLIGHT NOW
Posted: May 19, 2014


CAPE CANAVERAL -- Under siege in recent weeks by critics of its main engine and pricing, an Atlas 5 rocket plans to persevere Thursday with a mid-morning blastoff carrying a classified intelligence cargo into orbit.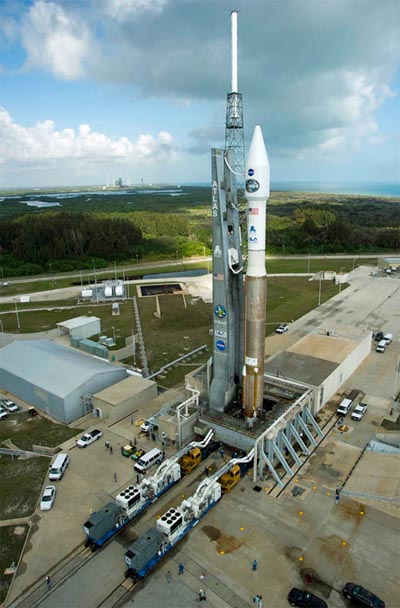 File image of Atlas 5-401 vehicle. Credit: James Murati/Bionetics Photo Services



It is the 10th pairing of Atlas 5 with a payload from the National Reconnaissance Office, the government agency responsible for operating the country's fleet of spy satellites.

In all, it is the 46th flight for the Atlas 5 rocket produced by United Launch Alliance. But the vehicle has come under fire from a competitor and naysayers, including SpaceX and lawmakers in Washington, for the vehicle's use of the Russian-built RD-180 main engine.

Powering the Atlas 5 during the first four minutes of flight is the Russian RD-180 liquid-fueled engine. The liquid oxygen/kerosene powerplant is a two-thrust chamber, two-nozzle engine made by NPO Energomash of Khimky, Russia. It was developed from the RD-170 engine used by Russia's Energia-Buran space shuttle, the Energia-M and Ukrainian Zenit rockets.

The American propulsion firm Pratt & Whitney financed the development of the RD-180 for the Atlas program. NPO Energomash is a partner of RD AMROSS, the joint venture formed to market, sell and distribute the RD-180 engines.

The engine produces nearly one million pounds of thrust and is throttled up and down to ease the stresses the rocket experiences throughout the launch.

The engine has flown 51 times on Atlas 3 and Atlas 5 rockets, all successfully, since 2000.

"All across the government we thought it was an excellent idea for a variety of reasons to bring in Russian engines, not least because we wanted to understand the technology of a clearly superior engine, and learn how to build it ourselves, and one of the absolute constraints on approval of the deal that the policy-levels of government is that we would learn how to coproduce the engine," said Mike Griffin, the former NASA administrator who recently did a Defense Department study on replacing the RD-180.

"Well, the bottom line is the DOD did not invest, industry did not invest, Congress did not make them, and it never happened, and as people have been frank to admit, it was for reasons of money.

"So, then, it is necessary to observe that in fact there is no current alternative. Worldwide, there is no one-million pound-class LOX/hydrocarbon-engine, and anyone who has been out on a test stand testing their own rocket engine knows this is at best a five- or six-year process, and it does not matter if you are returning to production or building your own. So, there is no current alternative and there will not be one for five or six years, best case."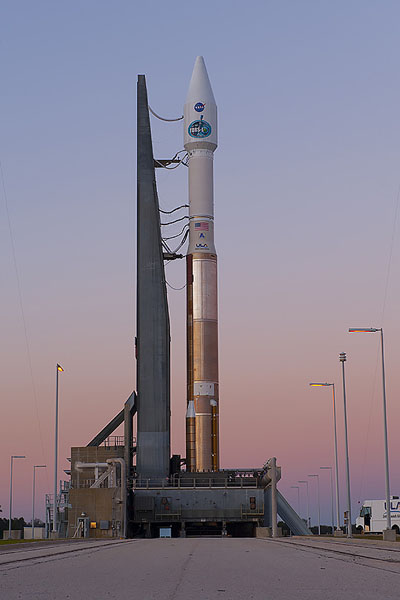 File image of Atlas 5-401 vehicle. Credit: ULA



Thursday's mission, known officially as NROL-33, will head due east on its way to an undisclosed orbit to deploy the clandestine payload.

Liftoff is targeted for 9:05 a.m. EDT in the midst of a 90-minute unclassified "launch period" extending from 8:45 to 10:15 a.m. EDT.

"We are committed to smart acquisition investments and practices to ensure the continued coverage and availability of our vital National Security systems and we work tirelessly to continue to deliver these systems on time and within budget," said NRO Director Betty Sapp.

"It is our highly skilled personnel who go above and beyond to execute our mission to provide 'Innovative Overhead Intelligence Systems for National Security.'"

It is speculated that the launch is carrying a data relay satellite used to transmit information from the NRO's low-Earth orbiting spacecraft back to ground terminals.

If so, it's probably the 19th such launch since the mid-1970s, going up on various Titan, space shuttle, Atlas and Delta rocket flights.

For tips on taking pictures of the launch, see our photography guide.

For details on where the best spots are to see the launch, see the viewing guide.

And if you will be away from your computer but would like to receive occasional updates, sign up for our Twitter feed to get text message updates sent to your cellphone. U.S. readers can also sign up from their phone by texting "follow spaceflightnow" to 40404. (Standard text messaging charges apply.)