Atlas 5 launches payload for intelligence community
BY SPACEFLIGHT NOW
Posted: May 22, 2014


CAPE CANAVERAL -- Completing a pair of missions in one week's time, a feat also performed last month, United Launch Alliance sent an Atlas 5 rocket soaring Thursday morning.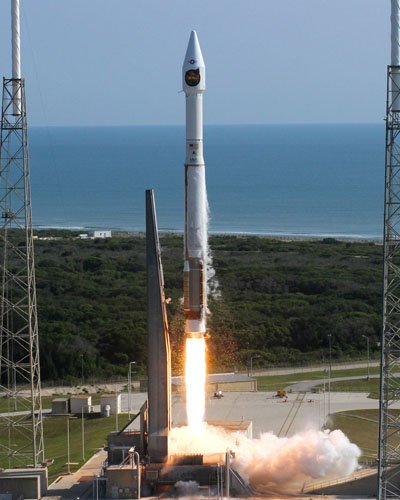 Credit: United Launch Alliance



Liftoff at 9:09 a.m. EDT came just six days after the company's Delta 4 rocket deployed a GPS satellite from Cape Canaveral.

Last month, the Denver-based firm launched an Air Force weather satellite from California and followed that a mere 7 days later with a classified National Reconnaissance Office payload from Florida using a pair of Atlas 5 rockets.

"While these launches may appear routine, their apparent ease is underpinned by a significant amount of work just to get to launch day," said Dr. Walter Lauderdale, mission director of the GPS launch.

"The Air Force along with its industry partners apply rigorous engineering discipline of the build and processing of the flight hardware and software. This approach gives us confidence that the launch vehicle and the satellite are ready to go."

Some similar systems from one launch to the next were scrutinized closely to ensure no problems threatened the subsequent mission.

"We are poised to support this close spacing, evaluating the flight data from the GPS launch to ensure any observations are no concern for the NRO launch that follows," Lauderdale previewed.

The double is planned again in July with another set of Delta 4 and Atlas 5 rockets. A Delta 4 is slated for liftoff July 23 carrying two satellites for the Air Force's Geosynchronous Space Situational Awareness Program. That is due to be followed by an Atlas 5 on July 31 carrying the GPS 2F-7 navigation satellite.

It will mark 7 national security space launches in a five-month span.

"This successful launch helps to ensure that vital NRO resources will continue to bolster our national defense while showcasing why the 45th Space Wing is the world's premiere gateway to space," said Brig. Gen. Nina Armagno, who also served as the mission Launch Decision Authority.

Little to nothing is known about the secretive spacecraft payload launched Thursday for the NRO. But there is plenty of speculation about this being a data relay satellite.

NRO Director Betty Sapp says her agency is all about: "...developing, acquiring, launching, and operating the world's most technically advanced systems."

"This morning's successful launch of NROL-33 is continued evidence of the NRO, the Air Force, and industry partners working as one team with a common mission and commitment to the national security of the United States and its allies. I'm extremely proud of our talented, dedicated, and focused NRO, contractor, and Air Force team!" said Colonel Clint Hunt, USAF, Director, NRO Office of Space Launch.

When the Atlas left the Florida spaceport, the rocket headed eastward and made it a safe bet that the satellite was targeting an orbital perch 22,300 miles above the planet.

The NRO has been sending up so-called Satellite Data System birds since the mid-1970s to receive transmissions from low-orbiting surveillance craft and route the information back to ground stations. The SDS constellation enables the data to reach analysts much quicker than waiting for the spy satellites themselves to pass over the relatively few number of ground antennas.

"The first imagery intelligence satellites took photos on film, which had two drawbacks: the film had to be returned to Earth for processing, often resulting in unacceptable delays in obtaining intelligence; once the film ran out, the satellites became useless," said respected satellite observer Ted Molczan.

"The KH-11 electro-optical satellites, first launched in 1976, solved these problems by doing away with film, and taking their images electronically, much like modern digital cameras. Transmitting their imagery reduced the time required to obtain intelligence, but since KH-11 operates in low-Earth orbit, it is seldom within range of ground stations. One solution would have been to store the data for later transmission, but that would have introduced significant delays. Instead, KH-11 was provided with a set of dedicated relay satellites, called SDS."

It is the modern SDS network that Thursday's Atlas is believed to have supported by launching a replacement satellite into geosynchronous orbit above the equator.

Hobbyists have routinely watched three geosynchronous SDS satellites over the years. The original was launched by the shuttle Atlantis in November 1990. A pair of Atlas 2AS boosters deployed two more in December 2000 and October 2001. Two more were sent up on Delta 4 and Atlas 5 rockets in 2011 and 2012.