Solar array issue will have little impact on DMSP mission
BY STEPHEN CLARK
SPACEFLIGHT NOW
Posted: April 11, 2014


U.S. Air Force officials say a partially deployed solar array boom on a new military weather satellite will have "negligible" impact on the $518 million spacecraft's planned five-year mission.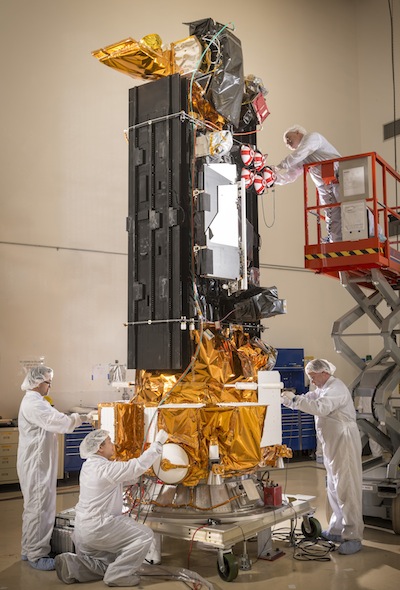 Workers prepare DMSP 19 for launch from Vandenberg Air Force Base, Calif. Photo credit: Lockheed Martin Corp.



The polar-orbiting weather observatory for the Defense Meteorological Satellite Program was shot into space April 3 on an Atlas 5 rocket, but it ran into a problem extending its solar array boom.

The satellite's 10 solar cell panels, affixed on either side of the boom, generate electricity for the spacecraft's systems and weather instruments.

A spokesperson with the Air Force Space and Missile Systems Center's Weather Directorate said Thursday the DMSP Flight 19 spacecraft was halfway through its initial "early orbit test" checkout phase under the management of a joint operations team including Air Force, NOAA and Lockheed Martin Corp. engineers.

"The team is currently working through a single anomaly affecting the solar array boom," the spokesperson said in a response to written questions. "The boom successfully deployed, but stopped approximately 30 degrees short of its nominal position, and did not lock into place."

The Air Force said the spacecraft is generating "ample power" to execute operations, and the ground team overseeing DMSP 19's commissioning is on track to turn over the satellite for routine weather operations by the end of May.

Once operational, DMSP 19 will be controlled by a joint NOAA and Air Force team at NOAA's satellite operations center in Suitland, Md.

Built by Lockheed Martin, the DMSP 19 spacecraft is the latest in a 52-year series of military weather satellites.

It was finished in 1998 and put into long-term storage to be launched when the Air Force deemed it needed the satellite in orbit to replace aging platforms.

Engineers put DMSP 19 through two lifetime extension efforts to raise its in-space life expectancy, upgraded its star trackers and installed a digital gyroscope to improve navigation in orbit. They also replaced materials and lubricants that degraded during storage.

The satellite is fitted with sensors to collect visible and infrared imagery of clouds, measure precipitation, surface temperatures and soil moisture, identify and locate severe weather, form three-dimensional cloud analyses, and monitor space weather, according to a Lockheed Martin fact sheet.

Follow Stephen Clark on Twitter: @StephenClark1.