Launch campaign begins for NASA data relay satellite
BY STEPHEN CLARK
SPACEFLIGHT NOW
Posted: December 13, 2013


Technicians at Cape Canaveral stood up the first stage of an Atlas 5 booster Friday, maintaining a near-continuous string of launch campaigns for United Launch Alliance's workhorse rocket, officials said.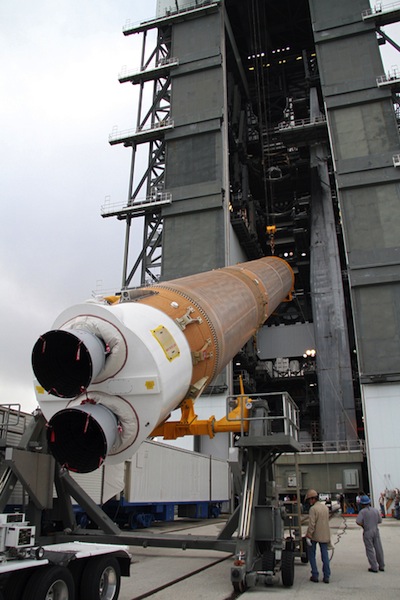 File photo of an Atlas 5 first stage lifted at the Vertical Integration Facility. Credit: NASA/Cory Huston

The bronze first stage was towed from a storage hangar to the Atlas 5's Vertical Integration Facility at Cape Canaveral Air Force Station, then workers used overhead cranes to lift the 106.6-foot-long stage off its trailer and rotate it vertical.
The rocket stage was then placed on the Atlas 5's mobile launch platform. The Atlas 5's Centaur upper stage was supposed to go on top of the first stage Saturday, according to officials from ULA and NASA.
ULA is preparing for the 43rd launch of an Atlas 5 rocket, set to take off Jan. 23 with NASA's next Tracking and Data Relay Satellite, named TDRS L. The 40-minute launch window opens at 9:05 p.m. EST (0205 GMT on Jan. 24).
The start of Atlas 5 stacking was a day later than planned. High winds at Cape Canaveral on Thursday prevented technicians from lifting the rocket, but officials said the one-day delay should not affect the Jan. 23 launch date.
The last Atlas 5 launch from Cape Canaveral's Complex 41 launch pad was Nov. 18, when NASA's Mars Atmosphere and Evolution, or MAVEN, mission blasted off bound for the red planet.
Throughout 2013, ULA launched Atlas 5s from Florida at an average pace of one flight every two months, an unmatched launch rate in the rocket's 11-year history. ULA also flew two Atlas 5 missions from Vandenberg Air Force Base in California.
ULA says it eliminated redundant testing on its launch vehicles, and engineers on most Atlas 5 launch campaigns have opted out of a wet dress rehearsal, a full practice countdown in which the rocket is filled with propellant and exercised to check for problems.
The thinking is any issues with the rocket would show themselves on launch day, and workers altered access platforms inside the Atlas 5 integration building to permit ground crews to more quickly access and resolve problems that could crop up in a launch countdown.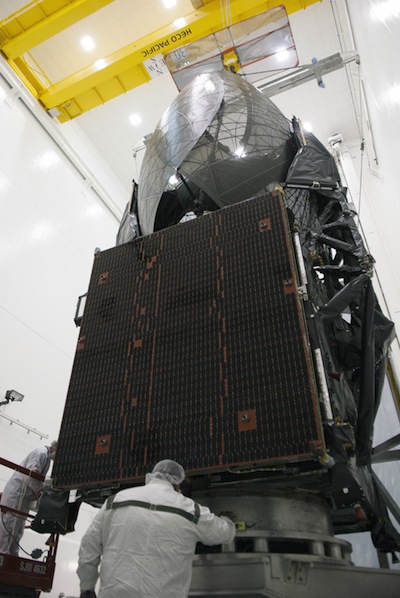 TDRS L inside the Astrotech processing facility near Cape Canaveral. Credit: NASA/Tim Jacobs

NASA and ULA agreed to conduct a wet dress rehearsal on the Atlas 5 rocket assigned to launch MAVEN, since the probe had a tight planetary window to launch in November and December, or else wait until early 2016.
No such rehearsal is planned on the Atlas 5 designated to launch TDRS L.
Built by Boeing Space and Intelligence Systems, TDRS L arrived in Florida on Dec. 6 after a cross-country flight from Los Angeles. Since its touchdown at the Kennedy Space Center, the satellite was trucked to a nearby spacecraft processing complex where technicians are putting the satellite through electrical and propulsion system checks.
TDRS L is poised to become the 12th satellite launched into NASA's tracking and data relay network since 1983. The constellation ensures the International Space Station, the Hubble Space Telescope and many other low-orbiting satellites remain in constant contact with ground controllers.
Follow Stephen Clark on Twitter: @StephenClark1.