Secure communications satellite launched by Atlas 5
BY STEPHEN CLARK
SPACEFLIGHT NOW
Posted: September 18, 2013


A United Launch Alliance Atlas 5 rocket raced away from its launch pad in the Florida wetlands early Wednesday, streaking into a moonlit predawn sky and deploying an ultra-secure, jam-resistant communications satellite in orbit for the U.S. Air Force.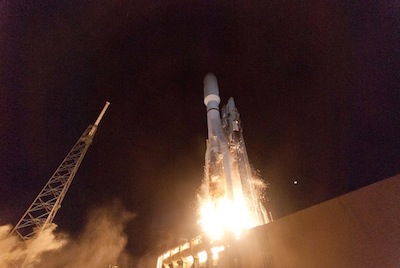 Launch of the Atlas 5 rocket with AEHF 3 occurred at 4:10 a.m. EDT (0810 GMT) Wednesday. Credit: Pat Corkery/United Launch Alliance



The 13,600-pound satellite, built by Lockheed Martin Corp., rode to space inside the bulbous nose cone of the 196-foot-tall Atlas 5 launcher, which blasted off at 4:10 a.m. EDT (0810 GMT) from Complex 41 at Cape Canaveral Air Force Station, Fla.

The launch was delayed more than an hour to overcome a problem with upper level wind data and wait for threatening cumulus clouds to pass over the launch pad.

Fifty-one minutes later, after a boost from a Russian-built RD-180 first stage engine and a hydrogen-fueled Centaur second stage, the rocket released the Air Force's third Advanced Extremely High Frequency communications satellite into an elliptical high-altitude transfer orbit reaching 31,000 miles above planet Earth.

"The United Launch Alliance team is proud to serve alongside our mission partners and privileged that the Air Force has entrusted the ULA team to deliver the critical national security capabilities provided by AEHF 3 to orbit for our soldiers, sailors, airman and Marines around the world," said Jim Sponnick, ULA vice president of Atlas and Delta programs, in a statement.

The successful mission marks the 75th launch conducted by United Launch Alliance, which started operations in December 2006 after the merger of the Atlas and Delta rocket fleets previously managed by Lockheed Martin and Boeing Co.

The $900 million AEHF 3 satellite will circularize its orbit over the next 110 days, according to an Air Force press release. Sixty days of in-orbit testing are planned before control of the spacecraft is passed on to its operators in early 2014 for a 14-year service life.

The satellite's liquid-fueled apogee boost engine and electric thrusters will put AEHF 3 into a geostationary orbit 22,300 miles over the equator. The craft's exact operating location was not disclosed by the military, but its communications payload manufactured by Northrop Grumman Corp. can serve users between 65 degrees north and 65 degrees south latitude, an Air Force spokesperson said.

AEHF 3 joins two nearly identical AEHF satellites launched in August 2010 and May 2012. The fourth AEHF satellite is due for launch in 2016 or 2017, giving the AEHF fleet operational capability, said Air Force Col. Rod Miller, the military's AEHF program manager.

But the AEHF satellites are already at work beaming crucial voice, data and video messages between military commanders and civilian government leadership, joining older-generation Milstar satellites to cover the globe.

"We're furthering Air Force Space Command's legacy of space excellence through delivering world-class communications systems critical in the support of the national leadership and our warfighter," Miller said.

AEHF 5 and 6 are also on contract with Lockheed Martin for launch late this decade.

"The AEHF system will be the backbone for protected and reliable secure communications well into the next decade," Miller said. "Getting [AEHF 3] to geosynchronous orbit and operational will be a major program milestone enabling the DOD's transition from the Milstar system, which is the current legacy system."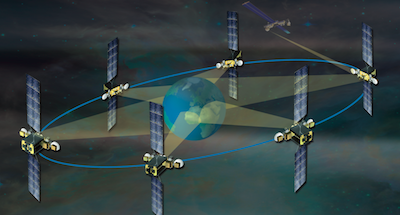 Artist's concept of the six-satellite AEHF network linked with the legacy Milstar system. Credit: Lockheed Martin



Each AEHF satellite has about 10 times the data throughput of a Militar satellite, and a single AEHF platform provides more communications capacity than the entire five-satellite Milstar system, according to Lockheed Martin.

"Milstar gave the war fighter a taste of high-reliability protected SATCOM," said Stuart Linsky, vice president of communications programs at Northrop Grumman. "Advanced EHF - at 10 times the capacity - will change the way war fighters network."

AEHF's new extended data rate capability allows users to transmit information at 8 megabits per second, facilitating reliable communications of video, high-resolution maps and other data-intensive media.

"It means so much to the users, from the president to the forward deployed troops," said Mark Calassa, Lockheed Martin's AEHF program manager.

The AEHF system is a joint program between the U.S. military, Canada, the Netherlands and the United Kingdom.

"This program is the nation's only protected strategic and tactical communications satellite," Calassa said. "Only Advanced EHF provides anti-jam, anti-scintillation SATCOM with low probability of detection and intercept."

Officials say the AEHF satellites could operate even in the hellish scenario of nuclear war, with its communications payload designed to avoid electromagnetic interference from nuclear blasts.

"Today, Advanced EHF is connecting more users in more countries that ever before," Calassa aid. "Our on-orbit operations are providing superior voice and data to terminals at sea, in the air and on the ground. And for the first time this year, we're connecting our allies across multiple platforms to each other using Advanced EHF, which increases data rates five-fold."