GPS satellite fitted to Atlas 5 rocket for upcoming launch
BY JUSTIN RAY
SPACEFLIGHT NOW
Posted: May 6, 2013;
Updated with slight change to launch window


An Atlas rocket and a Global Positioning System satellite were joined together for the first time in 28 years Monday, as the pairing of booster and payload were united for their May 15 launch from Cape Canaveral.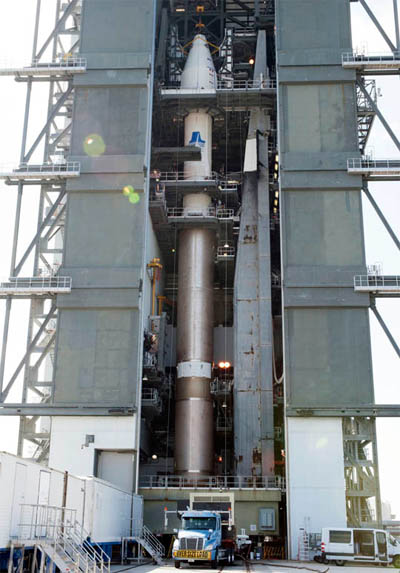 File image of satellite being lifted aboard Atlas 5. Credit: ULA



Already shrouded in the launcher's 39-foot-tall, 14-foot-diameter aluminum nose cone, the spacecraft was hauled to the Atlas assembly building and hoisted atop the Centaur upper stage by United Launch Alliance workers.

The fully assembled rocket, standing 189 feet tall for launch, will be wheeled out to the Complex 41 pad aboard a mobile platform on May 14.

The storied history of GPS to provide precision navigation through a space-based constellation of satellites dates back to the 1970s, and Atlas rockets gave the earliest craft their lift into orbit to prove the novel concept would work.

Atlas boosters conducted 11 launches of the Block 1 series from February 1978 through October 1985 from Vandenberg Air Force Base in California.

The operational GPS satellites that created a worldwide phenomenon and today is used by millions of civilans across the globe relied on the Delta family of rockets for their rides into space beginning in February 1989.

But Atlas is getting back into the game with the upcoming launch of GPS 2F-4, a modernized satellite made by Boeing that features improved accuracy, enhanced internal atomic clocks, better anti-jam resistance and a civil signal for commercial aviation.

The United Launch Alliance Atlas 5 rocket flying in its frequently used 401 configuration, a two-stage vehicle with no strap-on solids and a standard four-meter-wide nose cone, will be used to propel the 3,400-pound payload directly into the GPS network 11,047 nautical miles up.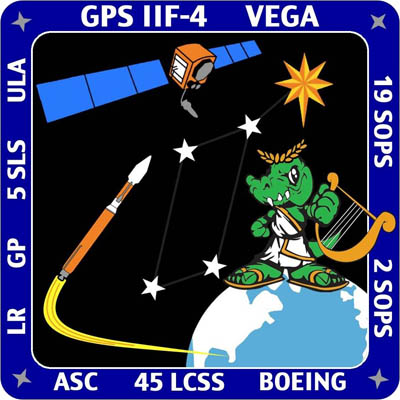 This is the 45th Launch Support Squadron crew patch for the GPS 2F-4 mission, which is Boeing's Space Vehicle (SV) #5. Each SV is a named for a navigation star and its constellation. SV-5 is named Vega, with constellation Lyra. On the patch, they are the large star and constellation in the background of space. The United Launch Alliance Atlas 5 rocket is shown lifting the satellite from the Eastern Launch Site at Cape Canaveral Air Force Station. The Squadron mascot is a gator, and a lyra is a Greek harp. SSgt Thomas Hogan drew a "Toga-Gator" and Lt Ken Stuart did the patch design.



The launch window on May 15 opens at 5:38 p.m. EDT and extends 18 minutes to 5:56 p.m. EDT (2138-2156 GMT).

That timing and the rocket's northeasterly trajectory will put the satellite on course to enter the C-plane of the constellation where this spacecraft will replace an aging GPS bird deployed in 1996.

Having long surpassed its seven-year design life, the GPS 2A-25 satellite was launched by a Delta 2 rocket on March 27, 1996 and entered service on April 9.

But it will relinquish the Plane C, Slot 2 position in the constellation when the new GPS 2F-4 is checked out and ready to become operational later this summer.

"The primary purpose of launching the new Block 2F satellites is to field increased GPS signal capabilities, more accurate clocks and to reduce overall constellation risk," according to a GPS Directorate spokesperson.

The GPS 2A-25 satellite will slide into a backup role within the C-plane for the remainder of its useful life before retirement, Air Force officials said.

The constellation is comprised of six orbital groupings, or planes, that circle the planet at a tilt of 55 degrees inclination relative to the equator, allowing their paths to cover most of the populated globe.

Originally a tool for military troops, aircraft, vehicles, ships and munitions, the GPS utility was opened to civil access and created a global marketplace for transportation, banking, commerce and the quality of life.

The Air Force continues its lead role to maintain and operate the system, developing improved satellites and launching them to keep the network fully functional.

There are 30 operational satellites today, including 8 GPS 2A, 12 GPS 2R, 7 GPS 2R-M and three GPS 2F.

Boeing is building 12 of this current GPS satellite generation, with eight more to deploy starting with 2F-5 this October and 2F-6 next May, both using Delta 4 boosters.

The Atlas 5 and the Delta 4 rockets -- the Evolved Expendable Launch Vehicles -- are designed to carry all of the Air Force's satellite fleets.