Thrift pays for extra science by NASA's MAVEN mission
BY STEPHEN CLARK
SPACEFLIGHT NOW
Posted: November 17, 2013


Citing cost-conscious caution in the early days of the development of NASA's MAVEN mission, scientists say the Mars probe has enough leftover funds to bankroll extra researchers on the MAVEN science team and enhance data analysis models to get the most out of the spacecraft's survey of the Martian atmosphere.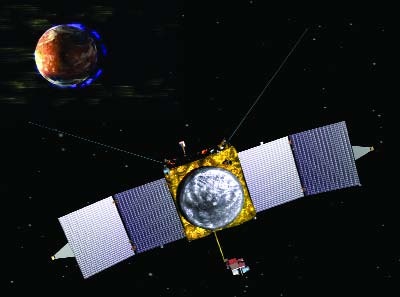 Artist's concept of MAVEN at Mars. Credit: NASA/Goddard

Managers say the MAVEN is on track to come in under its $671 million budget, and NASA had enough confidence in the project's accounting figures to approve the elimination of some of the mission's reserves, which serve as an emergency fund in case engineers run into unexpected trouble.
NASA permitted mission managers to transfer some of the project's development funds into an account known as Phase E, which pays for post-launch operations, according to David Mitchell, project manager for the Mars Atmosphere and Volatile Evolution, or MAVEN, mission at NASA's Goddard Space Flight Center in Greenbelt, Md.
"This allows us to buy more science," Mitchell said. "It provides an ability for the principal investigator to augment his team and data analysis capability to provide more science return."
MAVEN officials hesitate to quote a figure for mission's expected cost until accountants crunch the mission's final budget.
"Although everybody is claiming that we will underrun [our budget], myself included, the reality is that until we're done, the best we can say is that we're on track to underrun," said Bruce Jakosky, MAVEN's principal investigator at the University of Colorado at Boulder. "After launch, we'll know what our actual expenses were and can come up with a realistic estimate of how much under we were."
Jakosky said the mission's robust finances allowed NASA to invest in expanding its scientific impact.
"Over the past year, our financial condition was such that we were able to fund additional science activities out of project reserves," Jakosky said. "Activities that we funded included development of numerical models to be used in data analysis, more elaborate and more capable data visualization and manipulation tools, additional support for the instrument teams and for each investigator so that we have a more robust data analysis program, and additional science team members."
It's not every day an interplanetary mission spends less money than it committed to. NASA's last Mars mission, the Curiosity rover, cost $2.5 billion - nearly $900 million more than NASA originally asked for.
According to Jakosky, he added back one co-investigator to the MAVEN science team when it was clear the mission could afford it. The co-investigator was cut from the mission early on in its development when the budget looked inadequate, Jakosky said.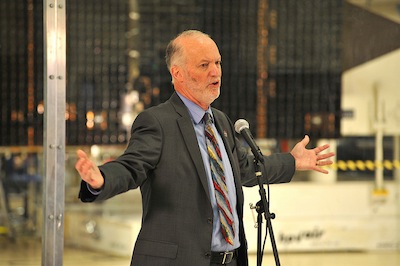 Bruce Jakosky, MAVEN's principal investigator. Credit: Lockheed Martin

Ten participating scientists were also added to the MAVEN team out of the mission's budget reserves, along with several researchers known as "collaborators" who will require little or no NASA funding, according to Jakosky.
Mission planners came up with the idea for MAVEN in 2003, and NASA selected it for funding and flight in 2008 under the agency's Mars Scout program, a line of cost-capped missions with focused objectives.
The mission is devoted to studying the upper atmosphere of Mars, with an aim to learn how and how long ago the red planet's once-thick atmosphere leaked out to space, leaving a tenuous layer of gas hanging over the Martian surface.
When the bulk of the atmosphere was lost, scientists say the potential for life likely went along with it.
The Mars Scout program has been discontinued since MAVEN's selection, with future red planet probes to be developed as flagship missions - the most costly projects in NASA's portfolio - or in the Discovery program, which has an umbrella that covers spacecraft studying the entire solar system.
In order to keep under NASA's strict budget cap, Jakosky convened an experienced team of scientists, institutions and contractors to avoid re-inventing the wheel.
Variations of all of MAVEN's science instruments have flown before, but not all on one spacecraft at Mars. The probe itself was built by Lockheed Martin Corp. and based on the company's long line of interplanetary spacecraft, most recently the Mars Reconnaissance Orbiter and the Jupiter-bound Juno mission.
Lockheed Martin used work on previous missions to MAVEN's benefit, said Guy Beutelschies, the company's MAVEN program manager.
Beutelschies said designers based MAVEN's spacecraft bus, propulsion module and communications systems on the Mars Reconnaissance Orbiter, which launched to the red planet in 2005. And engineers recycled much of the software and avionics used on Juno for MAVEN.
"The structure of MAVEN is almost identical to MRO," Beutelschies said, adding MAVEN is a bit smaller but has a larger fuel tank.
Partially out of cost concerns, Jakosky also said no to a proposal to put a camera on MAVEN.
"We gave serious thought to it, and ultimately the reason for our decision was we're a focused science mission," Jakosky said. "We had to make decisions to include some things and to leave other things off."
MAVEN managers considered adding a student-built camera to MAVEN similar to the MoonKAM payload on NASA's GRAIL lunar gravity probes which launched in 2011. MoonKAM was led by Sally Ride, the first American woman in space, as an outreach tool for middle school students.
"The cost of building it, the cost of integrating it into the spacecraft, and the impact on our data return - because we're a data-limited mission - the complexity of doing it, those won out," Jakosky said. "At the time, we were right up against our cap, and we thought it was not a good use of precious reserves to go down that route."
Follow Stephen Clark on Twitter: @StephenClark1.