Atlas 5 launcher erected for MAVEN's launch to Mars
BY STEPHEN CLARK
SPACEFLIGHT NOW
Posted: October 11, 2013


United Launch Alliance on Friday began assembling the Atlas 5 rocket assigned to launch NASA's MAVEN mission in November and send the orbiter on a 10-month cruise to Mars to help decipher the red planet's thinning atmosphere.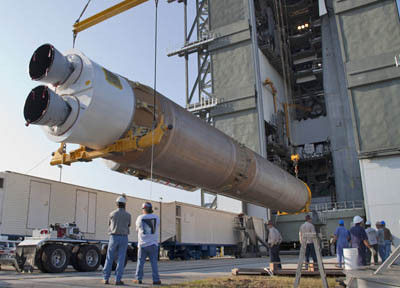 File photo of an Atlas 5 first stage lifted atop its mobile launch platform. Credit: NASA

The Atlas 5's bronze first stage traveled from a storage building at Cape Canaveral Air Force Station, Fla., to the Vertical Integration Facility at Complex 41 early Friday. Cranes hoisted the 106.6-foot-long first stage vertical and deftly placed the rocket atop the Atlas 5's mobile launch table.
Powered by an RD-180 main engine delivering 860,000 pounds of thrust, the first stage is known as the Common Core Booster. It houses tanks to hold 50,000 gallons of chilled liquid oxygen and 25,000 gallons of RP-1 fuel, a highly refined variety of kerosene, for the RD-180 engine's four-minute burn to reach the upper atmosphere.
Technicians planned to add an interstage adapter before hoisting the Atlas 5's Centaur upper stage atop the booster Monday, completing the build-up of the two-stage rocket.
The launch of NASA's Mars Atmosphere and Volatile Evolution, or MAVEN, mission only requires the most basic version of the Atlas 5 rocket. Called the "401" configuration, the Atlas 5 rocket for MAVEN features no solid rocket boosters, a Centaur stage with a single RL10 engine, and a four-meter payload fairing.
ULA can add strap-on boosters, a second RL10 engine and a larger five-meter nose shroud for payloads requiring the extra capability.
The launch of MAVEN will be the seventh Atlas 5 flight of the year, and the sixth from Cape Canaveral's seaside launch pad. ULA workers are in the final stretch of integrating and testing a Delta 4 rocket and its payload, a U.S. Air Force GPS navigation satellite, at Complex 37B for launch Oct. 23, less than 4 miles from the Atlas 5 rocket's launch pad.
Preparations for MAVEN's launch continue despite the partial shutdown of the federal government. After a two-day pause in the spacecraft's processing last week, NASA granted an exemption to resume work on MAVEN, which is in a time crunch to launch in a narrow window between Nov. 18 and mid-December.
Mars missions can only launch when the planets are properly aligned, and the next opportunity to launch MAVEN after December comes in early 2016.
But thanks to its exemption from the government shutdown, MAVEN is on schedule to launch Nov. 18 in a two-hour launch window opening at 1:28 p.m. EST (1828 GMT).
The $671 million mission will reach Mars in September 2014, entering an elliptical orbit dipping into the outermost layers of the Martian atmosphere to sample its composition and measure its response to stimuli from solar activity.
Scientists hope MAVEN will address uncertainties in how Mars evolved from a planet with a warmer, thicker atmosphere with water into the barren world observed today.
Technicians from Lockheed Martin Corp., MAVEN's prime contractor, will load about 3,600 pounds of hydrazine fuel into the spacecraft's propellant tank Oct. 24. The Atlas 5's clamshell-like payload fairing will encapsulate MAVEN on Nov. 5, and workers plan to transport the Mars orbiter to the Atlas 5 launch pad Nov. 7 to top off the 19-story launcher.