No shortage of work and launches for Eastern Range
BY JUSTIN RAY
SPACEFLIGHT NOW
Posted: January 8, 2013


While Kennedy Space Center has shipped out the space shuttles to retirement homes and NASA awaits arrival of its heavy-lift rocket later in the decade, launch pads across the river at Cape Canaveral Air Force Station continue to send boosters to Earth orbit and beyond.
It's a point articulated Tuesday by the Air Force general running the Eastern Range at the Florida spaceport.

Sun rises on the ULA Delta 4-Heavy rocket last June. Credit: Walter Scriptunas II/Spaceflight Now
See photo gallery



"People ask me all the time what I do now that shuttle program is over," said Brig. Gen. Anthony Cotton, commander of the 45th Space Wing. "I launch rockets."

The wing had long supported space shuttle launches and landings at the spaceport, but shutting down the winged spaceplanes left a widespread perception that the Cape went out of business along with the orbiters.

Nothing could be further from the truth, Cotton said, pointing to the accomplishments of 2012 that featured 10 rocket launches from Cape Canaveral Air Force Station -- five Atlas 5s, three Delta 4s and a pair of Falcon 9s -- plus six missiles from submarines off the coastline that were tracked through the resources of the Range.

The team operating this "national asset" of Range infrastructure, which is designed to send national security spacecraft, military and civilan satellites and commercial missions to orbit, and dispatch planetary probes across the solar system, now looks ahead to a 2013 manifest featuring 15 rocket launches and an undisclosed number of classified submarine tests.

Cotton wants the public to know the Cape still is in business, and Tuesday he summoned the press to the rarely-toured Morrell Operations Center, the command and control hub of the Range.

"There's still a viable space business on this coast and it's not going anywhere," Cotton said.

The Air Force operates this vast network stretching from Florida across the Atlantic to track rockets and missiles as they travel downrange, providing the vital telemetry-relay, optical and radar monitoring of a vehicle's flight path and the command destruct authority to protect the public from a wayward booster.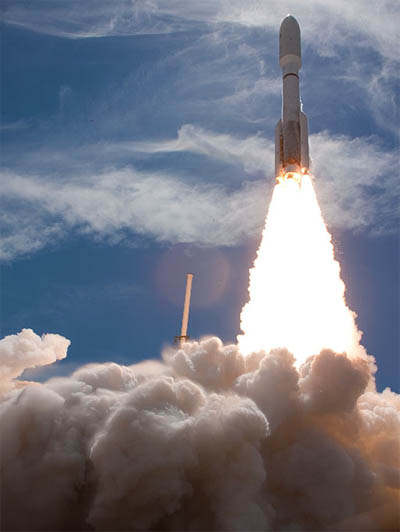 File image of Atlas launching an AEHF satellite. Credit: Justin Ray/Spaceflight Now



It amounts to 15 million square miles of territory covering eastern trajectories to equatorial orbits for geosynchronous satellites, flying northeastward toward highly inclined orbits like the International Space Station and the ballistic missile test corridor.

What's more, a staff of meteorologists provide weather forecasting during pre-flight preparations and on launch day, carefully reviewing conditions against rules protecting rockets from the triggered lightning phenomena, wind criteria, clouds and rain.

There's also surveillance teams that keep the airspace and restricted waters clear when launches occur for the security of the rockets and the wellbeing of the public.

It's all part of the Range and the contribution to sending spacecraft -- and, some day again, humans -- into orbit from Florida's Space Coast.

"So many people say...things thinking that the Space Coast is now in its utter demise because the shuttle program has retired," Cotton said.

"And what the wing is here to tell you is, 'That is absolutely not true.' Our manifest is full. Our manifest is strong. We're launching rockets here from the Space Coast."

The launch season kicks off in three weeks when an Atlas 5 rocket goes up Jan. 29 at 8:52 p.m. EST carrying NASA's Tracking and Data Relay Satellite K (TDRS K) to a geosynchronous transfer orbit from Complex 41.

That two-stage rocket has been stacked by United Launch Alliance at the Vertical Integration Facility and will be fitted with the payload on Jan. 17.

It will be the first of six Atlas 5s planned from the Cape this year, setting a high mark for the rocket in any single calendar year.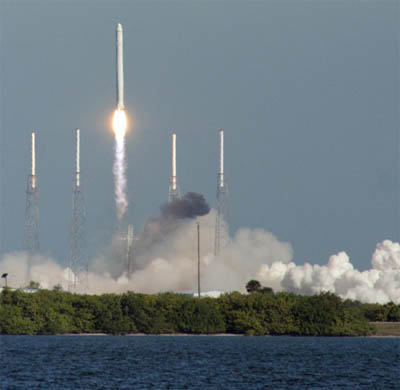 File image of Falcon 9 launch. Credit: Justin Ray/Spaceflight Now



Then comes SpaceX and its Falcon 9 booster to send the next Dragon capsule on a resupply mission to the International Space Station, launching March 1 around 10 a.m. local time.

All of that hardware is inside the horizontal hangar at Complex 40 undergoing final checkout before the stages and spacecraft are mated together.

A March 14 date is planned for Atlas 5 carrying the second geosynchronous satellite for the U.S. military's Space Based Infrared System for missile detection and early warning.

A late-March launch is being targeted for ULA's Delta 4 rocket, pending final closure of the upper stage low-thrust investigation spurred by the vehicle's most recent mission last October. Although that launch reached a nominal orbit for its GPS payload, engineers continue working through the situation before clearing the next Delta 4 to fly.

When it does thunder off Complex 37, the rocket will carry the Air Force's fifth Wideband Global SATCOM communications satellite.

A fourth satellite in the latest generation of upgraded Global Positioning System spacecraft, GPS 2F-4, will ride an Atlas 5 to orbit in May.

Some time this summer, possibly in June, Delta 4 will launch the sixth WGS satellite, this one built in collaboration with Australia.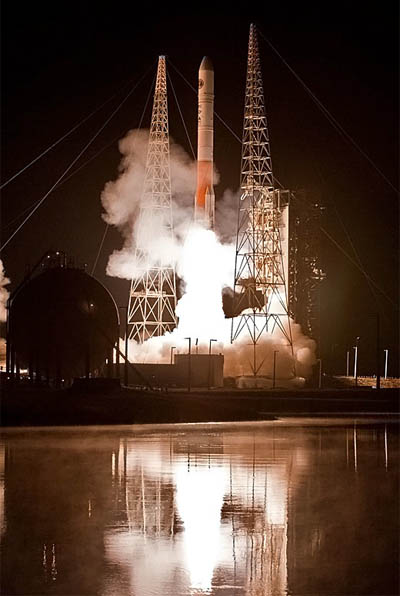 File image of Delta 4 launching a WGS. Credit: Justin Ray/Spaceflight Now



July will see Atlas 5 launch the second of the Navy's new Mobile User Objective System satellites that will construct a global network for rugged cellular telephone-like services to military users on the move.

There's also three commercial Falcon 9s booked on the Range, which are slated to carry the SES 8 spacecraft for direct-to-home broadcasting across the Asia-Pacific region, a launch dedicated to deploying eight Orbcomm satellites for two-way data messaging and the Thaicom 6 telecommunications craft for Thailand.

The Pentagon's fourth use of Atlas 5 just this year is planned for September carrying the Advanced Extremely High Frequency 3 satellite that provides top-tier communications between the United States civilian leadership and military commanders around the world.

Another cargo run to the International Space Station for Falcon 9 and Dragon is scheduled for liftoff on Sept. 30.

November has a Delta 4 planned carrying the GPS 2F-5 navigation bird and its enhanced capabilities to replace an aging satellite in the orbiting constellation.

And Nov. 18 around 2:40 p.m., NASA's Mars Atmosphere and Volatile Evolution probe, or MAVEN for short, will leave Earth atop an Atlas 5 rocket destined to orbit the red planet.

All launch plans are subject to change, of course, but those are the missions and their targeted timeframes on the Eastern Range as of Tuesday.

"More is better, and we can accommodate more," Cotton said, adding that the existing manpower and configuration could support 25 launches a year from the Eastern Range.