Atlas 5 comes together at record pace for NASA launch
BY JUSTIN RAY
SPACEFLIGHT NOW
Posted: January 27, 2013


Assembled for flight quicker than ever before, a United Launch Alliance Atlas 5 rocket is ready for blastoff this week to deploy NASA's newest geosynchronous communications satellite to relay data from low-Earth-orbit spacecraft.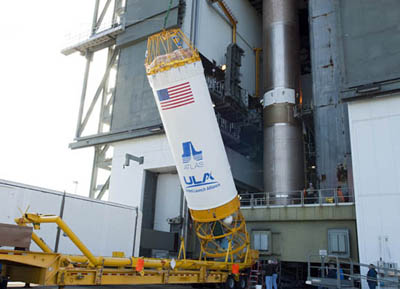 Stacking of the Centaur upper stage to launch TDRS K. Credit: NASA-KSC



If all goes as planned, the 19-story rocket will thunder away from Cape Canaveral Air Force Station's Complex 41 pad on Wednesday at 8:48 p.m. EST (0148 GMT) after a record-setting launch campaign.

"When the Atlas 5 system first started launching over a decade ago, the time span from when the launch vehicle is first erected on the mobile launch platform to launch was typically 60-90 days," said Jim Sponnick, United Launch Alliance's vice president of mission operations.

Maturing of the system, operations team and processes have steadily sped up the campaigns, leading to this one lasting just 27 days. It eclipses the previous mark of 44 days.

"A comprehensive initiative started a year ago to systematically evaluate many candidate span reduction ideas and implement those that could be implemented without compromising mission success. The results of the first 12-month phase of these span reduction improvements are now being realized," Sponnick said.

"These efforts are also resulting in more reliable and repeatable launch campaigns, as well as substantial cost efficiencies that will reduce both near- and long-term launch service costs."

Stacking operations for this launch of NASA's Tracking and Data Relay Satellite began January 3 as the first stage was erected onto the mobile launch platform inside the Vertical Integration Facility. The Centaur upper stage was added two days later, allowing the mechanical and electrical checkout of the vehicle to begin.

See a photo gallery of the Atlas 5 stacking process for TDRS.

The TDRS spacecraft, already shrouded in the nose cone, was added to complete the launcher on January 20.

The mode of operations at Complex 41 sees the rocket stacked and tested inside the 30-story-tall assembly building before rolling out the day before liftoff to the open-air, "clean pad" that is devoid of a service gantry.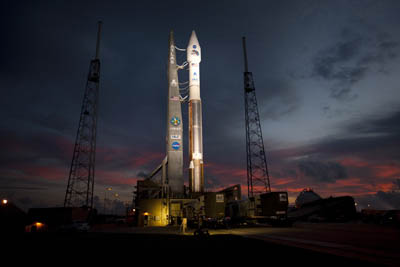 File image of Atlas 5 on the pad. Credit: NASA-KSC



ULA and its government customers last year elected to delete full-up countdown dress rehearsals for certain variants of the Atlas 5 family, like the one launching Wednesday. That move alone has saved a week in the pre-flight schedule.

Known as Wet Dress Rehearsals, the rockets made an extra trip to the pad, rolling out to be fully fueled and put through a complete countdown to uncover any technical problems. Once finished, the booster would be wheeled back to the assembly building to finish pre-launch work and be fitted with the payload.

"With no WDR, there is a small increase in the potential for an anomaly to be detected during launch day cryogenic tanking that would need to be corrected prior to launch. This could have a small impact to schedule, but would not be a risk to mission success," Sponnick said.

Customers could still ask for a WDR, such as NASA planetary missions that have tight windows to launch. The MAVEN probe heading to Mars atop an Atlas 5 this November could see a fueling test conducted as insurance to hitting its limited flight opportunity while the planets are properly aligned.

The deletion of WDRs has been made on the 400-series of Atlas rockets, which feature the four-meter-diameter payload fairings. The 500-series with the bulbous shrouds that also enclose the Centaur upper stage could soon begin opting out of WDRs as well.

"There is currently not a capability to support the Centaur upper stage structurally, which is called putting the stage in stretch, with the spacecraft mated to the launch vehicle for the 500-series Atlas 5 vehicle with the larger payload fairing. This 'stretch capability' is needed to be able to replace certain components should an issue occur during launch day cryogenic tanking," Sponnick explained.

"This stretch capability does exist for the 400-series Atlas 5 vehicle and we are currently developing tooling to implement this same capability for a 500-series vehicle. When this new tooling is completed and validated later this year, we will have the capability to phase in WDR deletion for the 500-series missions."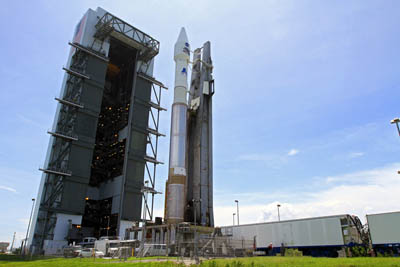 File image of Atlas 5 rolling out. Credit: NASA-KSC



From the outset of the Atlas 5 program, managers had envisioned deleting the need to perform fueling tests.

"The overall system design was a key enabler to eliminating WDR -- the Atlas 5 system design incorporated several features to eliminate cryogenic leaks that were relatively common with previous generation vehicles and these features were critical to eliminating Wet Dress Rehearsals from the launch campaigns. The maturity and continuous design and process improvements implemented over the previous 34 Atlas 5 launches provided the data that confirmed that it is prudent to eliminate WDR at this time," Sponnick said.

The previous quickest Atlas 5 flow, which included a WDR, was 44 days from the start of stacking until launch.

This first phase of "span reductions" enabled an additional Atlas launch to be inserted into the year's manifest. But the initiative is continuing to make operations more efficient while also lowering costs as a result.

"The team has done an excellent job in implementing the first phase of the span reduction and process reliability improvements. Two weeks of processing have been eliminated from the Delta 4 and Atlas 5 launch campaign processing schedules," Sponnick said.

"The next phase of the span reduction and processing reliability improvements is now starting to identify and implement additional efficiencies. As with the last phase, this encompasses continued evolutionary enhancements including more efficient subsystem testing, implementing design and/or screening improvements earlier in the life cycle for certain components and subsystems, and development of additional launch vehicle tooling and more streamlined processes for various operations."