Monday launch to continue Landsat legacy of research
BY JUSTIN RAY
SPACEFLIGHT NOW
Posted: February 8, 2013


VANDENBERG AFB -- Mapping the world and monitoring the changes on planet Earth for four decades, the Landsat series of spacecraft will see its most advanced and capable satellite launched Monday from a pad at Vandenberg Air Force Base in California.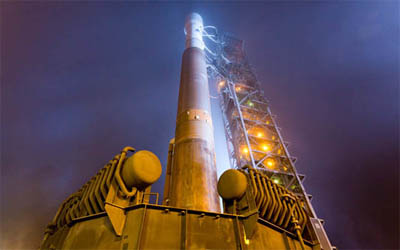 File image of Atlas 5 rocket at SLC 3. Credit: Pat Corkery/United Launch Alliance



The Landsat Data Continuity Mission, or LDCM, is the eighth satellite built in the program and ensures uninterrupted science records of global resources will continue to be written for years to come.

A United Launch Alliance Atlas 5 rocket is poised to carry the 6,133-pound craft into a polar orbit Monday, blasting off from Space Launch Complex 3-East at 10:02 a.m. local time (1:02 p.m. EST; 1802 GMT).

"Everything has gone smoothly up to this point and we expect nothing more than a successful launch," said Capt. T.J. Dinkelman, mission manager from the 4th Space Launch Squadron at Vandenberg.

The public has been invited to a viewing party at Providence Landing Park in Lompoc. Located at 699 Mercury Avenue, the site will open at 8:30 a.m. with a performance by Mobility, the rock band from United States Air Force Band of the Golden West.

"We encourage locals to come on out, have some fun and see a rocket launch," said Larry Hill, 30th Space Wing's community relations chief. "This is our chance to give back to the community for their support."

Officials ask folks to carpool due to limited parking available only at Calvary Baptist Church in Lompoc.

Admission is free.

The two-stage booster will use a pair firings by the Centaur upper stage to deliver the payload into a 421 by 410 statute mile orbit inclined 98.2 degrees to the equator. Deployment is expected an hour and 18 minutes after liftoff.

From there, the Orbital Sciences-built Landsat will maneuver itself into an operational orbit 438 miles high and active its two sensor packages -- the Operational Land Imager built by Ball Aerospace and the Thermal Infrared Sensor built in-house at NASA's Goddard Space Flight Center.

Together, the instruments will study tropical deforestation, urban expansion, natural disasters and subsequent recovery of the landscape, glacial retreat and freshwater resources for agriculture.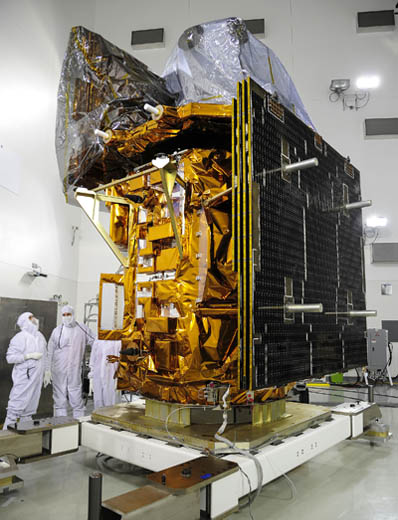 LDCM being readied for launch. Credit: NASA



"LDCM will deliver more data per day than any of the previous Landsat missions," said David Jarrett, the mission's program executive at NASA Headquarters.

The Landsat program, which recently celebrated the 40th anniversary of its first satellite launch, currently has the long-lived and degraded Landsat 7 still in operation. The Landsat 5 was retired last month after 28 years of service.
Landsat 1: 1972-1978
Landsat 2: 1975-1982
Landsat 3: 1978-1983
Landsat 4: 1982-1993
Landsat 5: 1984-2013
Landsat 6: lost during launch in 1993
Landsat 7: 1999-continuing
LDCM will be renamed Landsat 8 once safely commissioned and turned over to the U.S. Geological Survey for operations.
"Once LDCM is on orbit, which is 438 miles above our homes, our satellite will follow the same ground track of previous Landsats. This is to ensure the continuity of the Landsat 40-year data record," said Ken Schwer, the mission's project manager at Goddard.
"LDCM will be the best Landsat satellite launched to date, the best Landsat satellite ever in terms of the quality and quantity of the data collected by the LDCM sensors. While the data will be backward compatible with data from the earlier Landsat satellites, the Operational Land Imager, the OLI, and the Thermal Infrared Sensor, TIRS, both employ technological advances that will make the observations more sensitive to variation of land cover across the landscape and more sensitive to changes in the land surface over time," said Jim Irons, LDCM project scientist at Goddard.
"Additionally, the number of Landsat images downlinked to the ground stations ... will increase to 400 images per day, a rate that exceeds the data collection rate of any of the other Landsat missions."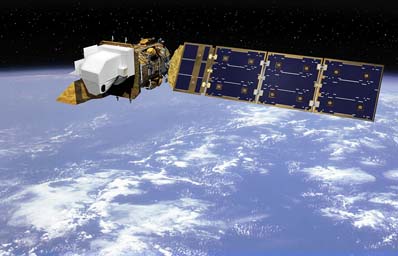 An artist's concept of LDCM. Credit: Orbital Sciences



A policy change implemented in 2008 made Landsat data available for free on the Internet, which dramatically increased the amount of information flowing to users. Landsat users previously paid to download about 15,000 images a year. But, since making the images free, officials say about three million pictures are downloaded annually.

"It's really gone through the roof. What this means is we now have a robust and long dataset available to government, to universities, to the private sector for analyzing land cover, land change, developing applications, scientific and resource management wise, to better manage our Earth resources," said Matthew Larsen, associate director for climate and land use change at the U.S. Geological Survey.

The newest spacecraft is required to collect the 400 scenes every day, an increase from the 250 per day provided by the existing Landsat 7. And its sensitivity should yield higher quality imagery over the predecessors.

"LDCM will increase the depth of that archive and I expect that ultimately hundreds of thousands, even millions of people will directly access these data through the services offered by the USGS. I further believe the investigations and applications enabled by this access to the images will greatly benefit our global society, now increasing beyond seven billion people," Irons said.