Atlas rocket and Landsat joined together for launch
BY JUSTIN RAY
SPACEFLIGHT NOW
Posted: January 25, 2013


Trekking over the hilly landscape of Vandenberg Air Force Base this morning, the next satellite in a four-decade line of Landsat observatories monitoring Earth's resources from space was hauled to its launch pad and mounted atop an Atlas 5 rocket.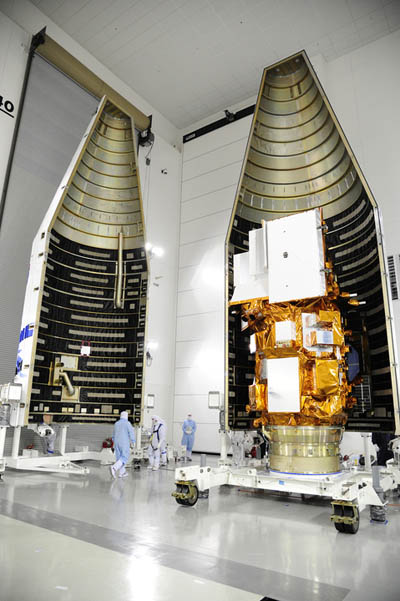 The Landsat spacecraft during encapsulation. Credit: NASA



The Landsat Data Continuity Mission is scheduled for blastoff Feb. 11 at 10:02 a.m. local time (1:02 p.m. EST; 1802 GMT) to further the uninterrupted scientific records dating to 1972.

"There's no other satellite program in the history of our country, or any other country for that matter, that comes close to having the types of information and historical continuity and coverage that the Landsat mission has," said Matthew Larsen, associate director for climate and land use change at the U.S. Geological Survey.

The USGS is partnering with NASA on the LDCM project, which will be renamed Landsat 8 once in its polar orbit.

"LDCM will deliver more data per day than any of the previous Landsat missions," said David Jarrett, the LDCM program executive at NASA Headquarters.

The data will be streaming back from the 6,000-pound craft's two instruments: the Operational Land Imager and the Thermal Infrared Sensor.

The OLI will take visible, near infrared and shortwave infrared pictures of the Earth's surface and coastal waters across the globe. TIRS will measure the temperature of the planet's surface.

The information will be applied to environmental health, agriculture monitoring and water consumption, energy management, urban planning and disaster recovery.

The spacecraft arrived at Vandenberg from Orbital Sciences' factory in Arizona just before Christmas after a road-trip across the southwestern U.S. The satellite was processed inside the Astrotech commercial processing facility on North Base to undergo final testing and the loading of maneuvering fuel. It was lifted onto the launch vehicle's payload adapter system last Thursday, then Wednesday the craft was shrouded into the two-halves of the Atlas 5's 14-foot-diameter aluminum nose cone.

The encapsulated satellite was driven to South Base overnight, arriving at Space Launch Complex 3-East around 6:25 a.m. local time. United Launch Alliance technicians went to work hoisting Landsat into the gantry for attachment atop the two-stage rocket. Initial connections were completed by 11:30 a.m. local.

Integrated testing and final closeouts will be underway in the coming days, leading to the Launch Readiness Review on Friday morning, Feb. 8.

The countdown picks up on launch morning, Monday, Feb. 11, a little after 2 a.m. local.

The available launch window extends from 10:02 to 10:50 a.m. local (1:02-1:50 p.m. EST; 1802-1850 GMT).

The mission will be NASA's first use of the Atlas 5 from the California launch site.