Atlas 5 rocket launch continues legacy of Landsat
BY JUSTIN RAY
SPACEFLIGHT NOW
Posted: February 11, 2013





VANDENBERG AFB, Calif. -- Roaring off the launch pad to build upon a 40-year legacy of monitoring the Earth's environment from space, the latest and greatest satellite carrying the name Landsat successfully arrived in orbit Monday.

"I do not think it hyperbole to suggest that all seven billion of us will benefit from the results of the Landsat Data Continuity Mission," said Jim Irons, the satellite's project scientist.

"We don't call it the Data Continuity Mission for nothing. The whole reason for launching LDCM is to continue the collection of global land observations on a seasonal basis so that we can continue to study the changes in land cover and land use over time."

A United Launch Alliance Atlas 5 rocket, making its first West Coast deployment mission for NASA, ignited the kerosene-fueled main engine at 10:02 a.m. local time (1802 GMT) to begin the 78-minute flight from Vandenberg Air Force Base, California.

Lumbering off Space Launch Complex 3-East and clearing the "classic" pad's umbilical tower, the 19-story-tall booster pitched southward and headed for polar orbit carrying the three-ton, SUV-sized satellite.

Four-and-a-half minutes later, the depleted first stage was jettisoned, the cryogenic Centaur upper stage was lit and the 14-foot-diamater aluminum nose cone shrouding the payload separated as planned.

Within 15 minutes of flight, the upper stage's engine fell silent as the rocket eased into a preliminary orbit that coasted around the South Pole and Africa.

A second burn by Centaur, igniting above Turkey 70 minutes after launch, propelled the rocket into the intended orbit of 420 by 412 statute miles, inclined 98.2 degrees to the equator.

Spacecraft separation to complete this 36th Atlas 5 launch occurred over Sweden, as the 6,133-pound satellite, wrapped with gold-colored thermal blankets, was cast free to begin its life of witnessing the changes on our home planet below.

LDCM's solar wing, measuring 32 feet in length, was extended minutes later to generate 1,351 watts of power for the satellite, which was built by Orbital Sciences in Gilbert, Arizona.

"Go have a bottle of wine, not a glass, a bottle! Or something," NASA Administrator Charles Bolden, who watched the launch from Vandenberg with U.S. Secretary of the Interior Ken Salazar, told to launch team after the successful flight.

After doing through subsystem and instrument activations over the next month and an underfly of the existing Landsat 7 for data cross-checks, LDCM will use small hydrazine thrusters to nudge its way into the operational, sun-synchronous orbit 438 miles high, completing an orbit every 98 minutes.

NASA was responsible for buying the satellite, the instruments and the Atlas 5 rocket, performing overall systems engineering and controlling early orbit operations. The U.S. Geological Survey will take control of the spacecraft once it is commissioned and will be responsible for mission operations, data processing and archiving.

"Landsat is a centerpiece of NASA's Earth Science program, and today's successful launch will extend the longest continuous data record of Earth's surface as seen from space," Bolden said.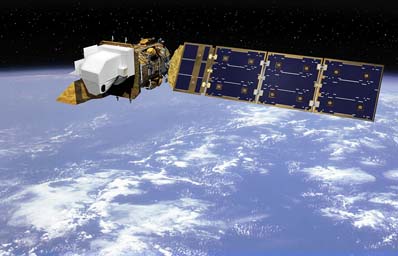 An artist's concept of LDCM. Credit: Orbital Sciences



Traveling at 16,760 miles per hour, or 4.7 miles per second, LDCM should be ready for service in about 100 days and renamed Landsat 8 to continue writing the scientific records of how Earth's land surface is changing through natural and manmade events.

"The Landsat program provides the nation with crucial, impartial data about its natural resources," said Matthew Larsen, associate director for climate and land use change at the U.S. Geological Survey. "Forest managers, for instance, use Landsat's recurring imagery to monitor the status of woodlands in near real-time. Landsat-based approaches also now are being used in most western states for cost-effective allocation of water for irrigation. This mission will continue that vital role."

The Landsat era took flight in 1972, beginning an uninterrupted, unparalleled record of the planet's surface and its changes from urban expansion, deforestation and natural disasters that scientists can mine for long-term and broad-scale studies and applications.

"We're not just taking pretty pictures, we are collecting data where we measure how much energy is reflected or emitted at these different wave-lengths, quantitatively. We do that in order to ensure we understand change when it occurs and what we're looking at and making consistant measurements," said Irons.

Carrying two instruments -- the Operational Land Imager built by Ball Aerospace and the Thermal Infrared Sensor built in-house at NASA's Goddard Space Flight Center -- the satellite will image 115-mile-wide swaths of Earth and repeat the same ground track every 16 days or about every 224 orbits.

The sensor pair will obtain high quantity and quality images than even previous Landsat spacecraft thanks to evolutionary advancements in instrument technology that enables this satellite to take longer looks at a parcel of land than the glimpses captured by predecessors.

"The greatest improvement we have made in the LDCM satellite is that the sensors are what's called push-broom sensors and not what was called whisk-broom sensors. Push-broom sensors have thousands of detectors that image the Earth as the satellite passes over the surface of the Earth. The older Landsat satellites use a whisk-broom technology which is many fewer detectors scanning back and forth with a mechanical scanner," said Del Jenstrom, LDCM deputy project manager.

"We collect data with a spatial resolution of 30 meters, that is, every picture element or pixel in a Landsat image represents an area approximately 100 feet by 100 feet. That's about the size of a baseball diamond," said Irons.

"So we are looking at collective change that occurs across the landscape at a broader scale. We're not so much looking in people's backyards, we look at their cities and their towns and the collective impact of people on the landscape."

The OLI will collect data in the visible, near infrared and shortwave infrared portions of the electromagnetic spectrum on seven heritage Landsat bands and adds two more with the specific purposes of measuring water quality and assisting in the detection of high, thin clouds previously difficult to see in Landsat images.

TIRS to give water resource managers the data they need about Earth's thermal energy to track how land and water are being used, especially monitoring water consumption in the arid western United States. LDCM will collect two segments of the thermal infrared spectrum instead of a single band like earlier satellites.

The most-recent Landsat, launched in 1999, suffers from a degraded instrument that operates with a 22 percent data gap in each image, producing photos with a ventian blind pattern. The other 78 percent of the image, however, is usable and requires photo mosaics with overlaps be generated.

The birth of this satellite came in 2005, to fill the need for Operational Land Imager data given the aging Landsat 7. Earlier plans for the government to purchase data from a commercially-operated satellite fell through and the option to place the instrument aboard the now-cancelled civil-military weather satellites was deemed too complex.

LDCM was created as a free-flying, government-run spacecraft. The Thermal Infrared Sensor was added to the mission in 2009.

The total cost for the satellite, its instruments and the launch vehicle amounts to $855 million.

"There's no other satellite program in the history of our country or any other country for that matter that comes close to having the types of information and historical continuity and coverage that the Landsat mission has," said Larsen.

"It advances our scientific understanding of the Earth's surface and provides comprehensive and impartial information about anywhere on the terrestrial surface of the Earth. This is critical for our ability as a nation, and for other nations, to manage our natural resources."

LDCM is the seventh Landsat to achieve orbit since the first in 1972.

"Since the launch of Landsat 1, we have seen -- and we have caused -- dramatic changes to the global land surface that continue today at rates unprecedented in human history. These changes are due to an increasing population, advancing technologies and climate change," said Irons.

Scientists hope there will be a Landsat 9 started soon, but no project has been initiated yet.

"We need to get on a continuous launch schedule," said Department of the Interior's Assistant Secretary for Water and Science, Anne Castle.