A 3-hour trip to orbit for MUOS and Atlas rocket
BY JUSTIN RAY
SPACEFLIGHT NOW
Posted: February 23, 2012


Friday's launch of the Atlas 5 rocket will be the third flight of the vehicle's 551 configuration, which is distinguished by the combination of a five-meter payload fairing, five solid rocket boosters and a single-engine Centaur upper stage, the most powerful version of the Atlas 5 currently available.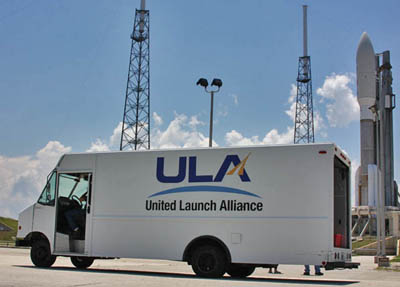 Credit: Justin Ray/Spaceflight Now



Depending on a payload's weight and desired orbit, mission planners add strap-on solid boosters to the United Launch Alliance-made rocket to incrementally increase the vehicle's performance.

Atlas 5 vehicles are capable of flying with as many as five boosters, an option that was employed to generate as much thrust as possible to launch NASA's New Horizons space probe bound for Pluto in 2006 and NASA's Juno to Jupiter last August. For this particular mission, the weight of MUOS drove the selection of the 551 and the plan to fire the Centaur upper stage three times instead of the usual two burns.

"Weighing nearly 15,000 pounds, MUOS 1 is the heaviest satellite launched to date by an Atlas launch vehicle. Our customers for this mission asked for a mission design that would launch this very heavy and capable satellite in a manner that would minimize the amount of energy (and propellant) that the satellite would have to consume to position itself into the final geosynchronous orbit," said Jim Sponnick, United Launch Alliance's vice president of mission operations.

"Considering all of the commodities and capabilities of the Centaur, our mission design team developed this three-burn mission profile to provide an optimal solution for the MUOS customer. The third burn accomplishes both perigee raising and a substantial reduction in the orbit inclination at an altitude of 15,000 nautical miles above the earth, which provides substantial performance benefits to the mission. The three burn mission design for MUOS provides 1,000 lbs greater lift capability than a conventional 2-burn geosynchronous transfer orbit."

Liftoff is targeted for 5:15 p.m. EST at the opening of a 44-minute launch window that runs to 5:59 p.m. EST. Follow the countdown with live updates and streaming video in our Mission Status Center.

The Russian RD-180 first stage main engine will ignite at T-minus 2.7 seconds, shooting a giant cloud of steam from the pad's main exhaust duct while undergoing a check to ensure its vital signs are healthy. The five strap-on solid rocket boosters are lit at T+plus 0.8 seconds, leading to liftoff at T+plus 1.1 seconds.

The combined power will send the 20-story Atlas vehicle thundering into the sky in a hurry. Its fast speed off the launch pad will be remarkably different than other Atlas 5 missions without solid boosters that appear majestically slow.

The Aerojet-made solid boosters will burn for about 90 seconds to assist the RD-180 in propelling the rocket. The SRB casings remain attached to the first stage for a few additional seconds before separating.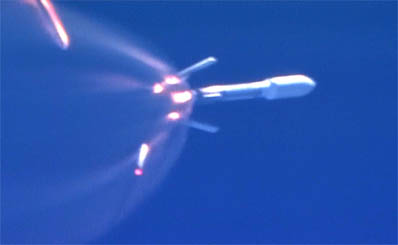 Credit: NASA TV



Once out of the discernible atmosphere, the bulbous nose cone encapsulating the MUOS payload can be shed at T+plus 3 minutes, 22 seconds. The fairing was made by Ruag Space of Switzerland.

The kerosene-fueled first stage will continue to fire until T+plus 4 minutes, 24 seconds. The bronze stage separates about six seconds later, leaving the hydrogen-fueled Centaur upper stage to ignite for a burn lasting nearly 8 minutes that will inject itself into a preliminary orbit of 90 by 337 nautical miles high, tiled 28 degrees to the equator.

Centaur completes its first burn over the central Atlantic Ocean and enters an 8-minute coast. The Pratt & Whitney Rocketdyne RL10 cryogenic engine then restarts for a firing to propel the spacecraft to the second step on its way to the planned orbit. This six-minute burn put the rocket into a 104 by 18,600 nautical mile orbit inclined 26 degrees.

Then begins a lengthy coast away from the planet for two-and-a-half hours, flying to a point about 15,000 nautical miles above the far eastern Indian Ocean where the final burn will occur.

One final push nearly two hours and 57 minutes into flight will raise the orbit's low point and reduce the inclination closer to the equator. The burn, lasting less than a minute, places the payload into a 1,870 by 19,323 nautical mile orbit at 19 degrees inclination.

The satellite separation from Centaur is expected at 8:16 p.m. EST (0116 GMT), given an on-time launch, to complete the ascent sequence.

If you will be away from your computer but would like to receive occasional updates, sign up for our Twitter feed to get text message updates sent to your cellphone. U.S. readers can also sign up from their phone by texting "follow spaceflightnow" to 40404. (Standard text messaging charges apply.)

And check out Spaceflight Now's Facebook page!