Will NASA retreat from Mars after string of successes?
BY STEPHEN CLARK
SPACEFLIGHT NOW
Posted: November 24, 2011


Budget battles and shuffling spending priorities unfolding in Washington could mean the Curiosity rover, a car-sized mobile robot promising a rich scientific bounty on Mars, will be the last in a line of wildly successful missions doing research on the Red Planet.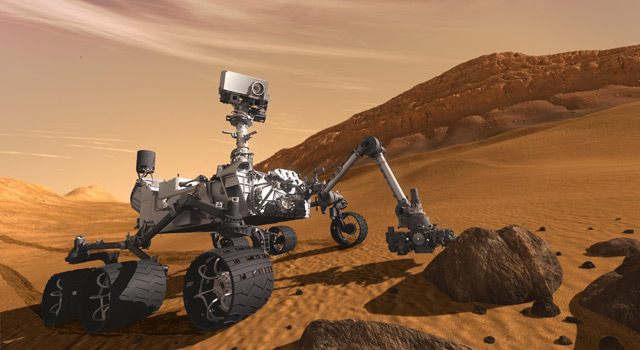 Artist's concept of the Mars Science Laboratory's Curiosity rover on Mars. Credit: NASA



The $2.5 billion Mars Science Laboratory mission is set to make unprecedented discoveries on the surface of Mars, carrying with it six wheels, a robot arm, stereo cameras and a powerful suite of sensors designed to trace the organic evolution of the Red Planet.

The mission's ultimate question is whether Mars was ever suitable for life in the past or present.

Curiosity follows a series of rover missions to Mars, starting with the Mars Pathfinder's landing in 1997 and continued by the twin Spirit and Opportunity rovers, which touched down in 2004 and proved the Red Planet was once abundant with water.

NASA will dispatch the MAVEN orbiter to study the Martian atmosphere in late 2013, but what's next after that mission is still up for debate.

Without more funding and a firm, renewed commitment to Mars from NASA, "MSL will be the last thing we put down on the ground and MAVEN will be the last orbiter we do unless it comes from the Discovery program," said Jim Green, director of NASA's planetary science division.

The Discovery program is focused on limited-cost planetary missions with narrow scientific objectives. NASA's flagship-class Mars missions usually aim for loftier goals, such as investigating the past or presence existence of life.

Recognizing brewing financial hardships, NASA and the European Space Agency agreed in 2009 to mount future Mars missions together. An orbiter is penciled in for launch in 2016, followed by a rover in 2018 to select and pick up Martian soil samples for a later mission to return to Earth.

The agreement was put in doubt earlier this year by a declining science budget and changing priorities in Washington.

With deadlines looming on construction contract decisions for the 2016 and 2018 missions, ESA is waiting on a commitment from NASA on exactly how much funding the U.S. government can contribute to the next phase of Mars exploration.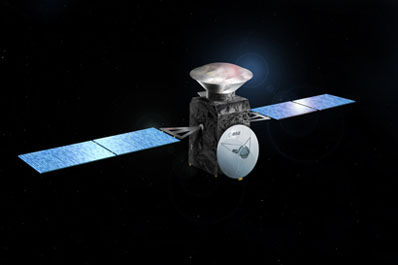 Artist's concept of the Mars Trace Gas Orbiter, which was supposed to be launched on an Atlas 5 rocket in 2016. The launch vehicle is now uncertain after NASA informed Europe it could not afford its commitment to the mission. Credit: ESA



"NASA's not been able to provide that, not because there's a problem with that in [NASA], but it's been the administration's approach that because a lot of discussions are going on in developing the 2013 budget, it's premature for us to make the level of commitment ESA would like for us to make," Green said.

After initially asking for a NASA commitment last spring, ESA now may not receive clarity on the Obama administration's proposed funding for the mission until February, when the White House releases its fiscal year 2013 budget request.

In the meantime, Europe has turned to Russia to replace some of NASA's promised contributions.

"That is unfortunate," Green told the NASA Advisory Council's planetary science subcommittee in October. "It makes us look like a bad partner."

Green said NASA had not given up on ESA.

Speaking to a House subcommittee on space and aeronautics Nov. 15, Green said NASA is proceeding "in good faith" in planning the 2016 and 2018 missions.

"By the time the president has determined his priorities and delivered his budget in Congress in February, our path forward will be clear," Green said.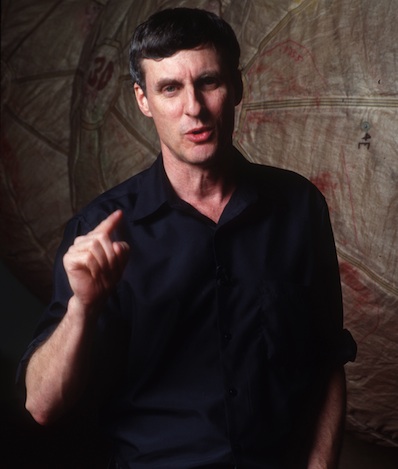 Steve Squyres, the new chairman of the NASA Advisory Council, led the science team for the Spirit and Opportunity rovers. He is a professor at Cornell University. Credit: NASA



Steve Squyres, the new chairman of the NASA Advisory Council, told the House subcommittee he fears the United States will lose crucial abilities in space if NASA retreats from flagship robotic missions.

"We're going to lose a fundamental capability," Squyres said. "Not only do we lose the science, but we simply cannot give up that technical capability, the ability we have to do things like orbiting Europa or landing and roving on Mars. That's something we know how to do in this country. I feel that the danger is severe."

Responding to a question from Rep. Donna Edwards, D-Md., Squyres said Sally Ericsson, a senior White House budget official, told him the Obama administration was not prepared to commit to the joint Mars missions with Europe.

With input from the White House and Congress, NASA is also reshaping the agency's internal priorities.

NASA Administrator Charlie Bolden, White House budget director Jack Lew and top lawmakers overseeing NASA agreed this fall on the agency's top three priorities: the Space Launch System and Orion spacecraft for human space exploration; the commercial crew program to supplant reliance on Russia's Soyuz capsule for trips to the space station; and the James Webb Space Telescope, an over-budget, behind-schedule successor to the Hubble Space Telescope.

Robotic exploration of Mars was left out.

"In order to keep the vitally important James Webb Space Telescope on track, NASA will need to find an additional $1.2 billion over the next five years from within its science and agency operations budget," Edwards said. "Decisions on how those science budget offsets will be made have significant implications for the future of the Mars program."

When first announced, the joint Mars initiative between NASA and ESA called for the launch of a methane-sniffing Mars Trace Gas Orbiter in January 2016, followed by the departure of two NASA-led and European-led rovers in May 2018.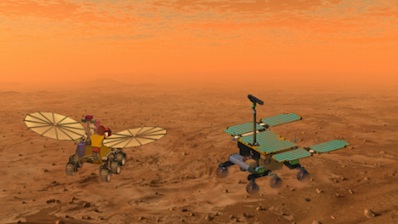 Artist's concept of the NASA MAX-C and European ExoMars rovers, which were supposed to travel to Mars and land together after launching on an Atlas rocket. Budget pressures in the United States have downscaled the mission to a single joint rover. Credit: ESA



The launches were to be provided by NASA using the Atlas 5 rocket.

In April, NASA told European space officials they could not afford a U.S. rover in 2018, instead proposing to combine forces to construct a single craft. The rover would satisfy long-standing European scientific goals while meeting NASA's objective of collecting rock samples for a future mission to return them to Earth.

NASA was responding to a National Research Council decadal survey report released in March, which urged NASA to develop the Mars Astrobiology Explorer-Cacher, or MAX-C, rover designed to select, gather and store Martian soil to be picked up by a future mission.

But the NRC panel directed the space agency to only build the rover if it costs NASA less than $2.5 billion, and NASA concluded the only way to afford the mission was to solicit additional contributions from Europe.

If the 2018 rover mission goes forward under the current agreement, NASA would supply the Atlas booster, a rocket-powered sky crane descent system, and sample collection gear, among other rover hardware and scientific instruments. Europe would have a significant, if not leading, role in building the rover itself.

ESA concurred with the change, but NASA was not able to assure Europe it would still hold up the rest of the deal, including the launch of the 2016 orbiter and major contributions and the rocket for the 2018 rover.

After a summer of uncertainty, NASA informed ESA it was not able to provide an Atlas rocket for the 2016 orbiter. The conclusion threw the program into disarray because the orbiter and rover missions are contained within a single program in Europe called ExoMars, exacerbating ESA's ability to cut one mission without affecting the other.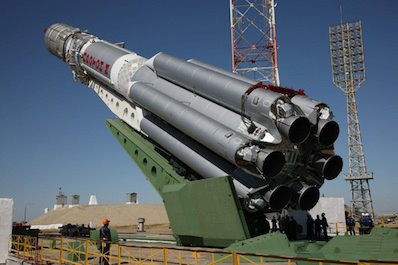 Europe is seeking a Proton rocket to launch its Mars Trace Gas Orbiter and landing demonstration probe after NASA could not pay for an Atlas 5 rocket to launch the mission. Credit: NASA



In hopes of keeping the ExoMars mission intact, ESA invited the Russian space agency to become a partner in the project in October. Europe wants a Russian Proton rocket to launch its 2016 orbiter and a landing demonstration probe before ESA sends its billion-dollar rover to Mars two years later, perhaps still on a NASA-provided Atlas rocket.

The 2016 orbiter is vital not only because of its science goals, but the spacecraft would also include a communications package to relay radio signals between the 2018 sample-caching rover and Earth.

Without the orbiter in place above Mars, a new communications system would need to be included on the MAX-C/ExoMars rover, potentially adding to its complexity and cost.

Parts for the European-built 2016 orbiter need to be ordered now to ensure it will be ready in time, but ESA needs a rocket to launch it after NASA's rocket arrangement fell through.

Reducing the scope of the ExoMars mission by deleting the 2016 orbiter would not necessarily save money on the program, which is battling its own funding difficulties within Europe. ESA member states have only committed 85 percent of the program's estimated cost to European nations, which stands at about 1 billion euros, or more than $1.3 billion.

Much like NASA needs significant financial help from Europe, ESA can't afford all it wants to do without a partner.

"We're hanging on by our fingernails to even have a 2018 mission because ESA needs a commitment from NASA that NASA cannot provide," Green said.