U.S. military's second X-37 space plane due for launch
BY STEPHEN CLARK
SPACEFLIGHT NOW
Posted: March 3, 2011


An Atlas 5 rocket crowned with a covert U.S. Air Force space plane rolled to a Florida launch pad Thursday to begin final preps for blastoff with a secret cache of military experiments.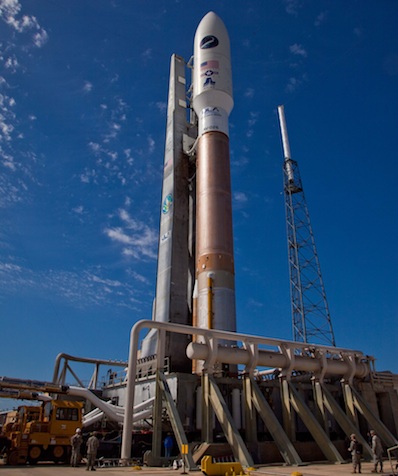 The Atlas 5 rolled to the launch pad Thursday afternoon. Credit: Pat Corkery/United Launch Alliance



The metallic gold-colored rocket, topped by a bulbous white nose cone, rolled from an integration building to the launch pad at Complex 41 Thursday afternoon.

Liftoff from Cape Canaveral is scheduled for a launch window opening at 2039 GMT (3:39 p.m. EST) Friday. The exact launch time will be announced around 8 a.m. EST Friday, according to the Air Force.

But breezy weather and cumulus clouds at Cape Canaveral threaten to thwart Friday's launch plans. There is a 70 percent the weather conditions will prohibit an on-time launch, according to Air Force meteorologists.

The outlook remains iffy over the weekend until a cold front pushes through the region, bringing more favorable conditions to the Space Coast by Monday.

When the 20-story launch blasts off, it will be hauling a stubby-winged spaceship called the Orbital Test Vehicle several hundred miles above Earth. Also known as the X-37B, the space plane is carrying a number of classified experiments inside its cargo bay, which is about the size of the bed of a pickup truck.

Resembling a mini-space shuttle, the OTV's purpose is shrouded in secrecy, but the vehicle itself is not classified. It features a powerful main engine to change its orbit, uses a solar array for power production and is covered in ceramic heat-resistant tiles to protect the craft during re-entry.

The craft could ferry into orbit materials science payloads, experimental reconnaissance sensors, innovative communications instruments, or a variety of other potential cargo.

Friday's launch will the start second flight of the Air Force's robotic space plane program, coming three months after an identical ship glided back to Earth and landed on a runway at Vandenberg Air Force Base, Calif.



The second X-37B space plane is enclosed inside the Atlas 5 rocket's nose fairing. Credit: U.S. Air Force
SEE FULL IMAGE GALLERY


The Dec. 3 return of the first X-37B craft was the first time an unmanned U.S. space vehicle fell back to Earth and made a precision landing on a runway.

This follow-up mission will attempt to achieve the same feat, but the OTV 2 flight will take advantage of lessons learned from the experience of the first X-37 sortie, according to Maj. Tracy Bunko, an Air Force spokesperson at the Pentagon.

"Like all flight test programs, OTV 2 will build on the on-orbit demonstration of OTV 1, so we're expanding and fine tuning our test parameters," Bunko told Spaceflight Now.

The X-37B stretches 29 feet long and has a wing span of 14 feet. It can weigh up to 11,000 pounds fueled for launch.

Built by Boeing's Phantom Works division, the space plane was initially conceived by NASA. The program was handed off to DARPA, the Pentagon's research and development unit, in 2004 after NASA funding dried up.

The Air Force took over in 2006 and brought the space plane to the launch pad last year. The first X-37B flight lifted off April 22 and spent more than 224 days in space.

The project is managed by the Air Force Rapid Capabilities Office, a top-level group reporting to a board of senior branch officials including the secretary of the Air Force, the Air Force chief of staff, and the undersecretary of defense for acquisition, technology, and logistics.

The office "expedites development and fielding of select Department of Defense combat support and weapon systems by leveraging defense-wide technology development efforts and existing operational capabilities," according to an Air Force fact sheet.

Many of the Rapid Capabilities Office's projects are implemented on accelerated timelines, the fact sheet said.

The spacecraft can stay in orbit for up to nine months and will return to Earth for landing at Vandenberg, the Air Force said.