Covert payload from last Atlas 5 unmasks itself in orbit
BY JUSTIN RAY
SPACEFLIGHT NOW
Posted: July 17, 2012


Shot into space under a cloak of secrecy last month, a bright new object spotted in space this week has confirmed that the most recent Atlas 5 rocket successfully dispatched a data-relay satellite for the National Reconnaissance Office.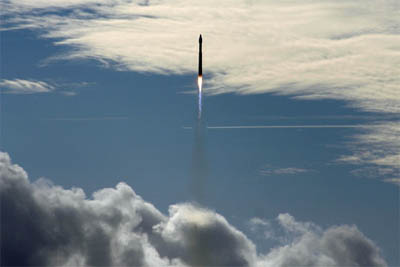 Credit: Justin Ray/Spaceflight Now



Unlike the NRO's other diverse constellations of imaging and surveillance spacecraft, the type of satellite carried aloft on the June 20 launch fulfills a a more mondane housekeeping role by re-transmitting information from those clandestine spy birds to operators.

The NRO is the government agency responsible for designing and operating the country's fleet of overhead reconnaissance assets for national security.

The United Launch Alliance-made rocket soared eastward from Cape Canaveral, targeting a geosynchronous transfer orbit that is the typical drop-off point for satellites destined to fly 22,300 miles above Earth. Although the booster's mission occurred in secret, officials later declared the launch had gone according to plan.

In the weeks since then, the satellite maneuvered itself into a high-flying perch where it can match the planet's rotation and become geosynchronous. A seasoned sky-watcher, Greg Roberts of Cape Town, South Africa, made the first visual observations of the spacecraft Monday night as it hovered above the Atlantic.

Respected satellite-tracker Ted Molczan, who keeps close tabs on all sorts of orbiting objects, believes the craft is undergoing initial checkout at a test location before eventually relocating to its operational zone over the Pacific.

It is believed that the satellite will replace an aging relay spacecraft launched atop an Atlas 2AS rocket from Cape Canaveral in October 2001.

A similar update occurred last year when a Delta 4 rocket deployed a replacement for another relay craft that sent up in December 2000. Both refresh missions occurred 11 years into the satellites' service lives.

The NRO has been using so-called Satellite Data System birds for decades to receive transmissions from low-orbiting surveillance craft and route the information back to ground stations. The SDS constellation enables the data to reach analysts much quicker than waiting for the spy satellites themselves to pass over the relatively few number of ground antennas.

Molczan explains the origins of the Satellite Data System:

"The first imagery intelligence satellites took photos on film, which had two drawbacks: the film had to be returned to Earth for processing, often resulting in unacceptable delays in obtaining intelligence; once the film ran out, the satellites became useless.

"The KH-11 electro-optical satellites, first launched in 1976, solved these problems by doing away with film, and taking their images electronically, much like modern digital cameras. Transmitting their imagery reduced the time required to obtain intelligence, but since KH-11 operates in low Earth orbit, it is seldom within range of ground stations. One solution would have been to store the data for later transmission, but that would have introduced significant delays. Instead, KH-11 was provided with a set of dedicated relay satellites, called SDS.

"At the 40,000 km apogee of their highly elliptical orbits, the SDS provided near-real time delivery of KH-11 imagery, over most of the northern hemisphere. The modern SDS constellation also includes geosynchronous satellites, which provide the same function."

It's the modern SDS network that last year's Delta 4 and last month's Atlas 5 rockets supported by launching replacements into geosynchronous orbit above the equator.

Hobbyists have routinely watched three geosynchronous SDS satellites over the years. The original was launched by the shuttle Atlantis in November 1990. The pair of Atlas 2AS boosters deployed two more in December 2000 and October 2001. Now they also have last year's and last month's to observe.

"Historically, geosynchronous SDS have been rare in terms of launches, but there has been a trend toward parity over the past two decades," Molczan said.

"Approximately seven SDS 1 satellites were launched in the 1970s and 1980s, all of which operated in highly elliptical orbits. They were replaced by the SDS 2 satellites, five of which were launched between 1989 and 1998, including the first to GEO: SDS 2-2, launched on STS-38 in 1990.

"The third generation SDS constellation consists of four satellites launched between 2000 and 2007, two of which are in highly elliptical orbit, and two in GEO.

"It is unclear whether the spacecraft launched in 2011 and 2012 refreshed the third generation, or introduced a fourth generation," Molczan added.