NASA's robotic return to the moon delayed to June
BY JUSTIN RAY
SPACEFLIGHT NOW
Posted: April 1, 2009


Given the delays of a military mission before NASA's use of the Atlas 5 rocket to dispatch a moon mapper and experimental impact probe, the space agency has delayed its lunar launch from May to June.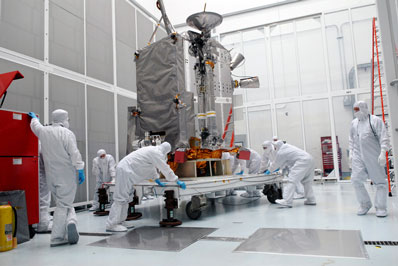 Credit: LRO undergoes launch preps. Credit: NASA-KSC



Liftoff of the Lunar Reconnaissance Orbiter and co-passenger LCROSS -- the Lunar Crater Observation and Sensing Satellite -- is slipping from May 21 to sometime in June. Project planners are evaluating trajectories and the science potential to determine whether to shoot for a lunar launch window opening June 2 or wait until the next period that starts June 17.

A United Launch Alliance Atlas 5 rocket will carry the spacecraft, but assembly of that two-stage booster atop a mobile launching platform can't begin until after an Air Force flight now scheduled for liftoff Friday night.

The military launch will put into Earth orbit the sophisticated Wideband Global SATCOM spacecraft to provide vital communications services to U.S. forces in Iraq and Afghanistan.

Atlas 5 rockets are put together one at a time inside the 30-story Vertical Integration Facility at Cape Canaveral's Complex 41, then rolled to the pad a day before launch. NASA's Atlas first stage and the Centaur upper stage have been delivered to a nearby facility for testing and storage until the assembly building is available.

The Air Force launch has encountered several delays, most recently a leaky valve during a countdown March 17. The repairs and analysis on that problem slipped the mission to Friday.

The latest rescheduling meant all of the slack in the schedule leading to NASA's launch had been used up. What's more, the lunar mission has tight 3- or 4-day launch windows only every couple of weeks.

In light of the situation, NASA has opted to forgo trying to make the late May opportunity.

"NASA felt that it wasn't the best thing to do to take a run at May 21 without having some vehicle processing contingency time available," a NASA spokesman said Wednesday.

LRO will orbit the moon to created detailed maps of the lunar terrain, mineral composition and natural resources. The mission is considered a key precursor to NASA's plans for human exploration of the moon in the next decade.

LCROSS will use the Atlas' Centaur upper stage to impact a permanently shadowed polar crater in an attempt to search for frozen water. Observations of the debris cloud created by the collision could determine whether such water ice is present on the moon.