Lunar mapper and military vehicle swap launch slots
BY STEPHEN CLARK
SPACEFLIGHT NOW
Posted: July 30, 2008;
Updated July 31 with additional details OTV from Pentagon


The launch of NASA's Lunar Reconnaissance Orbiter has been delayed until next February to make room on the Atlas 5 rocket's cramped East Coast manifest for a secretive Air Force space plane, government officials said this week.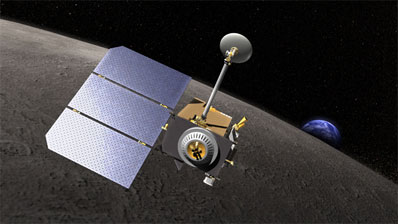 Artist's concept of LRO in orbit around the moon. Credit: NASA



The Air Force's X-37B, a prototype space plane designed to ferry small payloads to and from Earth orbit, will launch aboard a United Launch Alliance Atlas 5 rocket in December. The craft, also called the Orbital Test Vehicle, was previously scheduled to launch next February.

LRO had already suffered a one-month delay due to the late delivery of several science instruments, but things were looking good for launch in December, according to Benjy Neumann, deputy director for NASA's exploration advanced capabilities division.

"We got a request via ULA that the OTV mission, which was scheduled for February, had finished (thermal vacuum testing) and it was ready to go and it would like to earlier," Neumann said. "Would we be willing to accommodate it?"

Neumann said engineers estimated they had about three weeks of extra time in the schedule to launch in December.

But because LRO and the piggyback LCROSS lunar impactor must travel a precise trajectory to the moon, engineers have to calculate a new flight path about every 11 days. The calculations mean launch windows are broken up into shorter four-day periods.

NASA's launch contract with ULA originally stipulated 18 launch days in a 30-day period, but LRO would have only had eight chances to launch in December.

"Although we had days on the calendar, they weren't all days that we would be able to launch because of the trajectory calculation," Neumann said.

Then ULA proposed swapping LRO and the X-37B mission in the manifest, according to Neumann.


| | |
| --- | --- |
| | Credit: Air Force |
"At first, we pushed back on that and did not want to do it," Neumann said.

But NASA managers eventually agreed because it would relieve stress on the team preparing the spacecraft and give LRO a full slate of 18 launch days in February and March. The mission's current target launch date is Feb. 27.

NASA received ULA's request in early July, and the agency's assistant associate administrator for launch services approved the swap July 22.

"That was a much better situation because the Atlas 5 launch manifest for next year is full. If we stuck with December and missed our launch date ... we would end up delaying a year. That's what ULA told us," Neumann said.

"That seemed to be a really prudent decision, plus OTV was asking for it," Neumann said. "We felt they obviously had some kind of a need and we wanted to accommodate that as well."

The delay means LRO will miss President Bush's goal of sending a robotic probe to the moon by the end of 2008. The deadline was part of Bush's Vision for Space Exploration announced in 2004.

"There's no reason we're going to put any technical risk on a spacecraft just to meet that directive," Neumann said. "We take the directive seriously, but we didn't assume that there would never be a possibility that something could happen."

NASA informed the White House of the decision, and administration officials understand the reasons for the delay, Neumann said.

"I think the White House understood the calculation and understood the point. We have not heard of anyone being pedantic and saying, 'Hey, you said December and now you've missed it,'" Neumann said.

Officials were not able to estimate the cost of the delay, but the combined project's cost is about $7 million per month, according to Grey Hautaluoma, NASA spokesperson.

NASA's Lunar Precursor Robotic Program, which includes LRO and LCROSS, has enough funding reserves to cover the extra cost, according to Neumann.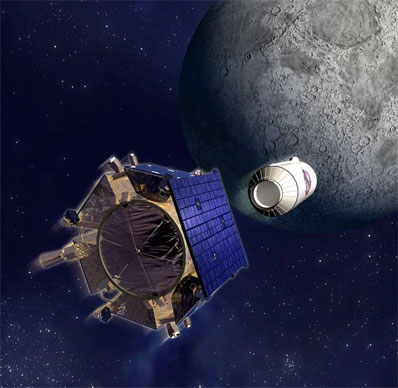 Artist's concept of LCROSS nearing impact with the moon. Credit: NASA



LRO is currently undergoing environmental testing at the Goddard Space Flight Center in Greenbelt, Md.

Vibration testing is nearly complete, and then the spacecraft will be prepped for acoustic, electromagnetic and thermal vacuum testing through October.

"They've been conducting functional tests at the same time and everything is fine," Neumann said.

The spacecraft is scheduled to be transported to the Kennedy Space Center in November, officials said.

LRO will use the 401 configuration of the Atlas 5 with four-meter fairing, no solid rocket boosters, and a single-engine Centaur upper stage outfitted for its unique mission to plunge into a crater near one of the moon's poles.

The Centaur's impact will be observed by LCROSS, a secondary payload designed to search for water ice in the debris field created by the upper stage.

LCROSS will have to target a new crater because of the delay until February, but scientists already have a lengthy list of interesting craters to choose from.

LCROSS has already completed assembly and environmental testing at a Northrop Grumman Corp. facility in Redondo Beach, Calif. The spacecraft will be stored there until it ships to KSC later this year, a company spokesperson said.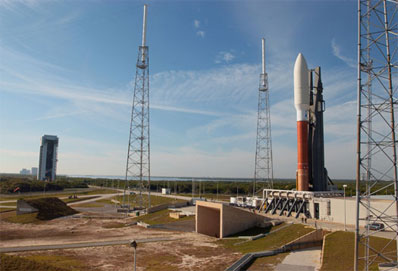 File image shows the Atlas 5 rocket configuration slated to launch the X-37B Orbital Test Vehicle. Credit: Pat Corkery/Lockheed Martin



The X-37B will launch aboard the 501 version of the Atlas 5. That configuration features a bulbous five-meter payload fairing enclosing the spacecraft and the Centaur upper stage. Images of this rocket configuration taken during a 2002 launch pad test can be seen here.

The X-37B is about one-quarter the length and width of a space shuttle orbiter. The reusable space plane is being manufactured by Boeing's Phantom Works division and will weigh about 11,000 pounds at launch, according to the Air Force.

The spacecraft has completed testing and was awaiting launch early next year. But the end-of-year opportunity became available and the Air Force decided to move up the launch, officials said.

"The X-37B space experimentation and test platform has recently successfully completed a series of environmental tests demonstrating availability for a December launch," the Air Force said in a written statement.

"She's ready to fly," an Air Force spokesman said.

The X-37B will fly a technology demonstration mission without significant payloads. It will fly in orbit for "an extended period of time," the Air Force said.

The X-37B will make an automated re-entry and land on a conventional runway at Vandenberg Air Force Base, Calif.

Subsequent missions could carry military science experiments or classified payloads.

A press release issued in late 2006 that announced the project can be read here.