Major satellite launch next on Cape Canaveral schedule
BY JUSTIN RAY
SPACEFLIGHT NOW
Posted: June 10, 2010


Now that last week's Falcon-mania has subsided at Cape Canaveral, attention turns to preparations for the Florida spaceport's next launch of the Atlas 5 rocket to place a crucial national security communications satellite into space.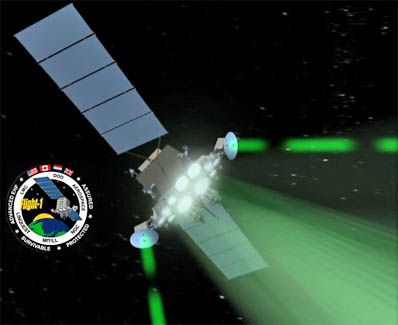 An artist's concept of AEHF 1. Credit: Lockheed Martin



United Launch Alliance technicians have erected the rocket's bronze first stage and the Centaur upper stage aboard the mobile launching platform that's parked inside the Complex 41 assembly building.

Sporting a large nose cone and three strap-on solid-fueled boosters, the vehicle will form one of the most powerful lifters in the U.S. inventory. It's known as the 531 configuration in the Atlas' modular family.

All that thrust will propel the Air Force's first Advanced Extremely High Frequency spacecraft into orbit on July 30 from the Complex 41 launch pad. The morning's window extends from 8:05 to 10:05 a.m. EDT (1205-1405 GMT).

Built by Lockheed Martin with help from Northrop Grumman, the AEHF 1 satellite begins a new generation of geosynchronous spacecraft that relay secure communications amongst the national leadership and battlefield commanders.

"Launching the first AEHF satellite will mark yet another revolution in assured military satellite communications by a government and industry team that has delivered unmatched capabilities for secure transmission of the highest priority military information," said Stuart Linsky, Northrop Grumman vice president for satellite communications.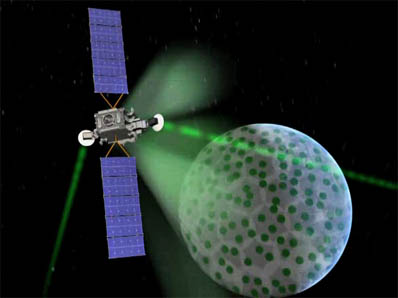 An artist's concept of the AEHF coverage patterns. Credit: Lockheed Martin



The new AEHF birds will replace the aging Milstar satellites in providing vital links that are dependable, jam-resistent and immune from interception.

"AEHF will play an integral role in our national security space architecture, and we look forward to providing this new capability to the warfighter," said Col. Michael Sarchet, commander of the Protected Satellite Communications Group at the U.S. Air Force's Space and Missile Systems Center.

"This sophisticated satellite was designed, built and tested by a joint government/industry team dedicated to providing secure, real-time connectivity to deployed forces around the globe."

Designers say one AEHF spacecraft has more capacity than Milstar's five-satellite constellation combined and its faster data rates will benefit tactical military communications, enabling higher quality maps, targeting data and live video to be transmitted without being detected by the enemy.

"Assured communications for our military services is absolutely essential wherever they may be deployed," Linsky said. "Capabilities provided by AEHF will give more warfighters access to the protected communications they need."

Two more AEHF satellites are built and progressing through factory testing. Their launches aboard Atlas 5 rockets are expected by 2012.

"We are very proud of our role in providing critical protected communications systems for the nation and have great confidence in the unprecedented new capabilities this vitally important satellite will provide to the warfighter," said Mike Davis, Lockheed Martin's AEHF vice president.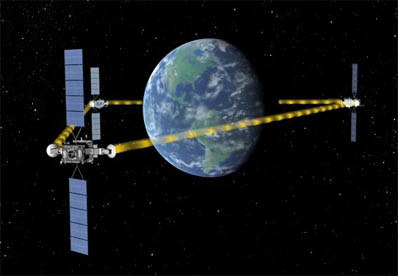 An artist's concept of the three AEHF satellites. Credit: Lockheed Martin



The Air Force said AEHF 1 arrived in Florida on May 24 to undergo the final preparations for flight. The craft will be checked out, then fueled and encapsulated within its launch shroud at a satellite processing facility. Delivery of the payload to the rocket's Vertical Integration Facility at Complex 41 for attachment atop the Centaur upper stage occurs a couple of weeks before liftoff.

Once the Atlas' initial assembly is finished -- albeit without the payload or nose cone yet -- the rocket will be temporarily transported to the launch pad at the end of June for a countdown dress rehearsal and fueling test. Afterwards, the mobile platform hauls the rocket back to hangar to receive the AEHF satellite.

This will be the 22nd launch for the Atlas 5 since 2002 and the ninth dedicated Defense Department mission. Atlas completed two civil and military flights earlier this year to deploy NASA's new Sun-watching observatory and the Air Force's X-37B experimental spaceplane.

See our Atlas archives for previous launch coverage.