With leaky valve replaced, Atlas ready to try again
BY JUSTIN RAY
SPACEFLIGHT NOW
Posted: March 30, 2009


An Atlas 5 rocket that will deploy a vital new communications satellite to support U.S military forces in Iraq and Afghanistan is aiming for a Friday evening launch from Cape Canaveral, now that a leaky liquid oxygen valve has been replaced.

"It's a critical mission. All eyes are on mission success," said Mark Wilkins, United Launch Alliance's vice president of the Atlas product line. "When we're ready, we'll be launching successfully."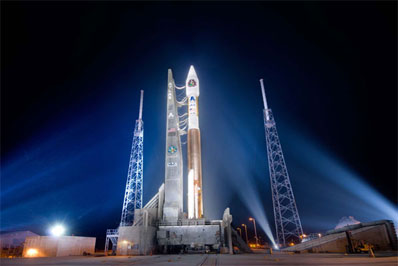 Photo credit: Pat Corkery/ULA



Friday's window for liftoff of the Wideband Global SATCOM spacecraft extends from 8:31 to 9:33 p.m. EDT.

An initial launch attempt March 17 was scrubbed when a leak developed as the rocket was being loaded with supercold liquid oxygen. Troubleshooting determined the oxidizer inlet valve on the Centaur upper stage's RL10 engine was the source of the leak.

"It was a little bit out of the blue to us when we started loading liquid oxygen on the vehicle," Wilkins recalled in an interview Monday.

"It was leaking less than a pound of LOX per minute at its max leak rate. It subsequently leaked less and then finally sealed up. And when we went back to ambient conditions with just helium on board, the valve was completely leak tight."

Although engineers say the leak would not have caused the launch to fail, they wanted to get their hands on the valve to understand why it was leaking.

"We feel very fortunate to find this on the ground. However, we believe it's very unlikely that the leakage that we saw would have had any effect on this mission. But what this really allows us to do is we have the hardware in hand that's displayed this discrepant condition and we can get it back on the bench and determine what caused it and do a very a thorough investigation, which would not be afforded to us if we would have saw this type of leakage as a flight observation," Wilkins said.

Earlier in the campaign leading up to launch, a countdown simulation was performed that involved loading the cryogenics aboard the rocket. The oxidizer inlet valve did exhibit a slight leak during that rehearsal but nothing like the leakage encountered in the real countdown March 17.

"This valve did leak a little bit during our wet dress rehearsal. When I say 'leak a little bit' I mean out-of-family to other valves. The leakage we saw on (the) day of launch was about 15 times what we saw at the wet dress rehearsal, so that explains why we immediately stood down to take this valve off the vehicle and take it back to the supplier so we could learn what caused this out-of-family condition," Wilkins said.

The rocket was rolled back to its 30-story vertical assembly building a day after the scrub. As engineers worked through their "fault tree" analysis to narrow down possible sources of the leak, workers removed the valve for shipment back to engine-maker Pratt & Whitney Rocketdyne for testing that was able to duplicate the problem.

"The fault tree and the subsequent bench-level testing showed it was leakage across the Teflon seal in the spherical ball while the valve was in the closed position," Wilkins said.

Although the leak has been pin-pointed, engineers aren't yet sure why the leak occurred.

"The actual root cause of the out-of-family leak rate is not known at this time. Testing is underway on (the valve) as we speak," Wilkins said. "When we did take the suspect valve back to the supplier, we did not find any obvious sign of damage or discrepancies with the part."

A new valve was installed on the rocket's engine last week. The RL10 powerplant, which has a long reliability record, will perform two firings during the upcoming launch to put the communications satellite payload into orbit.

The replacement valve has no prior evidence of leakage during testing or screening checks, giving officials confidence going into the next countdown. In addition, the new valve underwent leak and functional checks in ambient conditions after being installed.

"The valve passed all of those checks. We have sealed up the vehicle again in preparation for flight. The next test will, of course, be under cryogenic conditions on the day of launch, and we have a lot of instrumentation, a lot of data to make sure the valves are working properly."

Wilkins also said the new valve has a different design where the ball and the Teflon seal meet. "So it is different in that aspect."

Col. Michael Moran, commander of the Atlas Group at the Air Force's Space and Missile Systems Center, said the government team overseeing the launch is wrapping up its analysis and vetting work before clearing the rocket for liftoff.

A Flight Readiness Review now scheduled for Wednesday could grant approval to return the rocket to Cape Canaveral's Complex 41 pad Thursday morning in advance of a Friday evening liftoff.

"The Wideband Global SATCOM spacecraft is absolutely critical to meet the communications needs of forces worldwide. We will not commit to launch until we have the highest possible level of confidence in the success of the Atlas 5," Col. Moran said.

"I can say I'm very pleased with the progress ULA has made in resolving the issue. Our government team is also making excellent progress in completing our assessments and we certainly look forward to a successful launch."

Live reports on the countdown and launch can be seen on our status page: