Atlas 5 rocket puts up mobile communications satellite
BY JUSTIN RAY
SPACEFLIGHT NOW
Posted: April 14, 2008


Thundering out of Cape Canaveral on its first commercial flight in two years and carrying its heaviest payload ever, an Atlas 5 rocket on Monday afternoon successfully launched a mobile communications satellite to assist and entertain Americans on the go.



Credit: Ben Cooper/Spaceflight Now
SEE MORE LAUNCH IMAGES HERE


The 19-story rocket fired skyward from Complex 41 right on time at 4:12 p.m. EDT (2012 GMT) following a trouble-free countdown.

Heading eastward, the twin solid boosters burned for 90 seconds and the first stage main engine gave just over four minutes of propulsion as the rocket climbed to the edge of space. The Centaur upper stage then ignited to achieve an initial orbit.

After briefly coasting above the central Atlantic Ocean, the Centaur restarted its engine and propelled the ICO G1 spacecraft into a highly elliptical geosynchronous transfer orbit stretching approximately 22,300 statute miles on its high side and 115 miles at perigee, hitting the targeted altitude within a mile. The satellite separated from its launcher about 31 minutes after liftoff.

"The vehicle did exceptionally well at delivering the ICO satellite into its intended orbit," said Jim Sponnick, ULA vice president of Atlas programs.

Addressing the Atlas launch team following the ascent, Sponnick noted it was the second successful flight in a month's time.

"Ladies and gentleman of the Atlas team, on the 13th of March you all launched, successfully, the 13th Atlas 5 and the L-28 mission. Now, just one month and one day later, you've launched the 14th Atlas 5 mission on the 14th of April, and most importantly, successfully launched the ICO G1 satellite for our customers. Give yourselves a big round of applause. Congratulations!"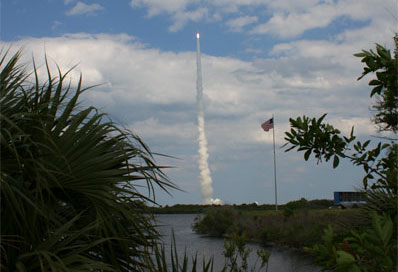 Credit: Chris Miller/Spaceflight Now
SEE MORE LAUNCH IMAGES HERE



A ground station in Australia picked up the first signals from the ICO G1 satellite shortly after it departed the rocket, confirming the craft's good health to start its orbital life.

"I can't express to you adequately...what every person in this room has done for our business. You've made our business," Tim Bryan, ICO's CEO, told the launch team.

"We can't wait to offer services. We'e going to get an alpha trial started in a few months, as soon as in-orbit testing is done...Wait until you see what we do with what you guys just launched."

The commercial buzz surrounding Monday's launch resembled the early flights of the Atlas 5 rocket, which carried into orbit television broadcasting and telecommunications satellites during its initial missions. But over the past couple of years, the Atlas 5 has been busy launching space probes for NASA and satellites for the U.S. military.

Weighing 14,625 pounds, the ICO G1 spacecraft was the heftiest payload ever launched by an Atlas rocket. Built by Space Systems/Loral, the craft stands over 27 feet tall, features a 39-foot-diameter mesh reflector antenna that will be unfurled in space and a pair of power-generating solar wings to span over 100 feet tip-to-tip once extended in orbit.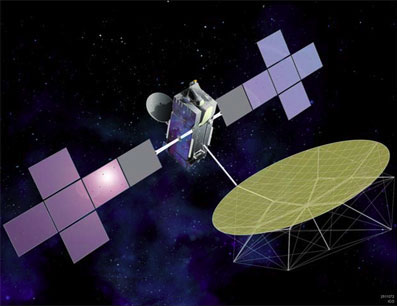 An artist's concept of the ICO G1 satellite deployed in space. Credit: Space Systems/Loral



The satellite and a network of ground repeaters will beam live television directly to cars across the United States, help drivers with directions through enhanced navigation and relay messages for emergency roadside assistance. ICO plans to start marketing this interactive media service next year.

"It's a mass consumer audience that we are going after, people who want full content and connectivity in a mobile environment," said Christopher Doherty, ICO's vice president for public relations.

"Mobile families, people who are driving the mini-vans and SUVs with kids in the back seat, we see a big opportunity in the RV market, same with boating, the taxicab and limo sector, truckers too."

Initially, customers with existing video display screens in cars and portable electronics can buy modem-like units with an antenna to receive the satellite transmissions. In the future, ICO foresees consumers purchasing devices with the technology already embedded.

Between 10 and 15 channels of live television is planned for the system, including a lineup of news, sports, kids and general entertainment programming.

"Unlike mobile television that goes to cell phones, which are kind of small screens, we think mobile video will really take off when people can see it on a larger screen and they'll be willing to watch more of it when it's a better quality experience," Doherty said.

Emergency messaging via the satellite will extend beyond the reach of current assistance systems, ICO says.

"Roadside assistance will be different because coverage will be nationwide since it's satellite-based. Today's systems are reliant on cellular networks, which cover 99 percent of the population but only about a two thirds of the geography. So in remote areas it will work," Doherty said.



Credit: Ben Cooper/Spaceflight Now
SEE MORE LAUNCH IMAGES HERE


And ICO promotes its "intelligent" navigation system that combines current features, such as traffic alerts and destination information, with the ability to pre-program activities along the route.

Pricing details for the user equipment aren't available yet, Doherty said, but subscription fees for the service are expected between $15 and $25 a month.

Extensive testing of the mobile services should start this summer in Las Vegas and Raleigh, North Carolina. The two distinctly different locales were strategically selected to determine how the satellite and ground repeater system works within the urban environment and tall buildings of Las Vegas and the hilly terrain of an American city like Raleigh, Doherty explained.

The ICO G1 satellite also has the capability to provide voice communications along with the mobile offerings.

"The satellite can do a variety of things," Doherty said. "It's actually the first commercial satellite to have what's called ground-based beam forming, both in the transmit and the receive directions. The satellite is specifically designed with a 12-meter reflector so that it can communicate to smaller mobile and portable devices.

"While the bundled service of navigation, television and emergency communication is what we are going to (test) once the satellite is up and running, because the beam-forming is based on the ground we can pretty much run any variety of technologies off this satellite."

The combined cost of the ICO G1 satellite, its development, the Atlas 5 rocket and insurance totals $500 million.