New Horizons hauled to the pad on eve of launch
BY WILLIAM HARWOOD
STORY WRITTEN FOR CBS NEWS "SPACE PLACE" & USED WITH PERMISSION
Posted: January 16, 2006


A Lockheed Martin Atlas 5 rocket carrying NASA's New Horizons spacecraft was hauled to the launch pad today for final preparations before blastoff Tuesday on a nine-year voyage to icy Pluto, gateway to the unexplored hinterlands of the solar system.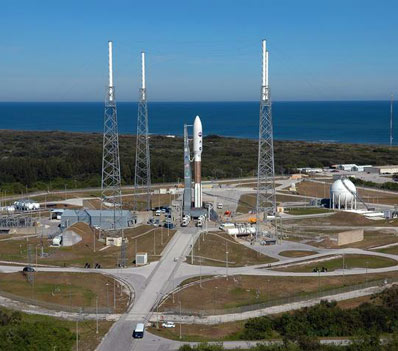 Credit: NASA-KSC



Mounted atop a mobile transporter, the towering 196-foot-tall Atlas 5 began the short move from its vertical processing facility to launch complex 41 at the Cape Canaveral Air Force Station at 10:30 a.m. EST and completed the trip in about 45 minutes.

If all goes well, the huge rocket will roar to life at 1:24 p.m. Tuesday, boosting the 1,054-pound nuclear-powered New Horizons probe to a record Earth-escape velocity of 10 miles per second. Forecasters are predicting an 80 percent chance of acceptable weather.

Passing the moon's orbit just nine hours after launch, New Horizons will swing past Jupiter in February 2007 for a velocity boosting flyby that will kick off an eight-year trek across the outer solar system.




Additional coverage for subscribers:


VIDEO: ATLAS 5 ROCKET ROLLS TO PAD WITH NEW HORIZONS PLAY


VIDEO: TIME-LAPSE VIDEO OF THE ROLLOUT PLAY


SUBSCRIBE NOW




New Horizons will be the fastest thing ever built by humans, but it will take it nine years to reach Pluto, which orbits the sun at an average distance of 3.7 billion miles. To put that in perspective, imagine the sun as a 30-inch-wide star at the south end of New York's Central Park. Earth, just three-tenths of an inch across, would be positioned about 270 feet away. Pluto would be a full two miles away at the far end of the park in Harlem.
"It's the last planet in our solar system to be explored and we're not going to stop there. It's to Pluto and beyond, as I like to say," said Hal Weaver, New Horizons project scientist. "Because Pluto is the gateway to this new region of the solar system that we didn't even know about more than about a decade ago, the Kuiper Belt.
"This is the remnant disk from the formation of the solar system about 4.6 billion years ago. We think a lot of secrets about the formation and evolution of the solar system will be found there and that's what New Horizons is hoping to teach us.
Weaver said "there are literally thousands of objects out there, probably on the order of maybe a handful that are Pluto size and probably a hundred thousand or so that are more than 100 kilometers in size, about 60 miles or so across. Probably most of the planets in the solar system are actually in the Kuiper Belt. This really is a new solar system."
A single radioisotope thermoelectric generator will provide the spacecraft's electrical power, delivering about 200 watts by the time New Horizons reaches Pluto. The probe's half-dozen instruments require just 2.3 to 6.3 watts each - less than the power of a typical night light - to snap pictures, probe the composition of the planet's surface and atmosphere and to characterize Pluto's interaction with the space environment.
But some 24 pounds of plutonium 238 dioxide is required to provide that power and that poses more of a risk during launch than usual.
NASA and the Department of Energy say there is a 1-in-350 chance of a launch mishap during the first 40 seconds of flight that could damage an RTG bad enough to cause a small amount of plutonium to be released in breathable form, which poses the primary health threat. While larger releases are possible, they require multiple worst-case failures and as such, are considered extremely unlikely.
Anti-nuclear activists challenge those results and argue any such risk outweighs the scientific payoff. But NASA officials say residents of the Florida space coast will not face any serious long-term health effects.
"You have a 1-in-200 chance you might have a launch accident of which half of those have the potential for a small release," said Randy Scott, a NASA manager overseeing the agency's emergency response team.
Asked what that might mean for a resident standing outside directly in the path of a radiological plume, "the dose rate would be about a third of what you would normally get from natural background radiation in a year," Scott said.
The major threat is a launch mishap in the first 40 seconds of flight when debris from a damaged RTG could fall back to the Cape Canaveral Air Force Station where impact on concrete or exposure to burning solid rocket propellant could cause a radiological release.
"At about 23 seconds, the rocket physically has cleared the beach," Scott said. "There's a potential for upper air winds to blow (debris) back, so they add a margin on there which brings it up to 40 seconds. So at T-plus 40 seconds, the rocket is over water, there's no chance for the RTG to come back onto land therefore we do not have a possibility of release."
Taking no chances, NASA, the Department of Energy, the Air Force, state and local officials have set up an emergency response team to monitor the air over the Air Force station during and after Tuesday's launch. If a mishap occurs, residents in the path of any potential plume will be informed and asked to take shelter.
"We assume there's a release until we can prove there's not," Scott said. "We take a very conservative approach to this. ... We would do a precautionary sheltering with the presumption that there was a release until we confirm there's not."
Sixteen three-person teams - six on site and the rest spread out across Brevard County - will be equipped with instruments to sniff out any plutonium that might be released in a launch mishap. In addition, 11 continuous air monitors will be in place at other sites and two mobile lab vans are available to analyze air sample filters.
"It really is a function of wind speed," Scott said. "The faster the wind is blowing, the more quickly we're going to be able to get the air that might have some plutonium in it ... to one of our air sampling locations. ... It would be on the order of minutes to a longer period of time before we would be able to make that assessment."
For his part, Weaver has no worries.
"We've already demonstrated over 30 years these things are relatively safe," he said. "As I jokingly said at a briefing we had last spring, I am a lot more nervous getting into my car with my (teenage) son and driving around with him. ... I've invited more than 200 people to this launch and I certainly wouldn't jeopardize any of them. And I had no qualms about telling them to come on down."


Additional coverage for subscribers:


VIDEO: SUNDAY'S PRE-LAUNCH NEWS BRIEFING DIAL-UP | BROADBAND


VIDEO: ANIMATED ATLAS 5 LAUNCH PREVIEW WITH NARRATION PLAY


VIDEO: NEW HORIZONS SCIENCE BRIEFING DIAL-UP | BROADBAND


VIDEO: SCIENCE INSTRUMENTS BRIEFING-PART 1 DIAL-UP | BROADBAND


VIDEO: SCIENCE INSTRUMENTS BRIEFING-PART 2 DIAL-UP | BROADBAND



VIDEO: NEW HORIZONS MOUNTED ATOP THE ATLAS 5 PLAY


VIDEO: SPACECRAFT TRAVELS TO ROCKET ASSEMBLY BUILDING PLAY


VIDEO: MISSION LOGO APPLIED TO THE ATLAS 5'S FAIRING PLAY


VIDEO: SPACECRAFT ENCAPSULED WITHIN ROCKET NOSE CONE PLAY


VIDEO: PLUTO NEW HORIZONS MOUNTED ATOP THIRD STAGE PLAY


VIDEO: BOEING DELIVERS THIRD STAGE DESPITE STRIKE PLAY


VIDEO: FINAL SRB ATTACHED TO THE ATLAS 5 ROCKET PLAY


VIDEO: SPACECRAFT UNDERGOES SPIN BALANCE TESTING PLAY


SUBSCRIBE NOW