BY JUSTIN RAY


Follow the preparations and launch of the Lockheed Martin Atlas 5 rocket carrying the Rainbow 1 communications satellite. Reload this page for the very latest on the mission.


Read our earlier status center coverage.






Gemini DVD now shipping
This three-disc DVD contains rare footage from the pioneering Gemini space missions of the 1960s. Now shipping from the Astronomy Now Store.


U.S. STORE

U.K. & WORLDWIDE STORE

Snapshots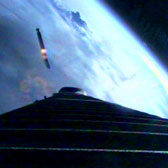 A camera aboard the Atlas 5 captures this stunning view as one of the Aerojet solid rocket boosters separates. Photo: ILS/Spaceflight Now



Mars DVD
Explore the Red Planet from the comfort of your home with this interactive DVD. Includes 3D glasses for viewing three-dimensional images of Mars.


U.S. STORE

U.K. & WORLDWIDE STORE