Inaugural Atlas 5 rocket moved to the launch pad
BY JUSTIN RAY
SPACEFLIGHT NOW
Posted: March 11, 2002


Lockheed Martin's first Atlas 5 rocket was rolled out to its Cape Canaveral launch pad Monday for fueling tests and a crucial countdown dress rehearsal.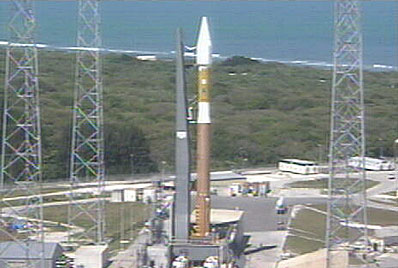 The first Atlas 5 rocket, designated AV-001, sits on the pad Monday at Complex 41.



Riding atop a mobile transporter, the 191-foot tall rocket made the 1,800-foot roll from its vertical assembly building to the open-air pad at Complex 41.

Lockheed Martin has installed a dummy satellite simulator and full nose cone atop of the Atlas 5 for the test, giving a realistic view of what the rocket will look like when it launches on the inaugural flight.

The schedule called for the Atlas first stage to be loaded with RP-1 propellant, a highly refined kerosene on Monday.

On Tuesday, the launch team will assemble for a full countdown that will include loading the first stage with super-cold liquid oxygen and the Centaur upper stage with its supply of liquid hydrogen and liquid oxygen.

If the tests go well, the rocket will be safed and then rolled back to its assembly building on Wednesday.

This is the first of three such dress rehearsals planned before launch.

Lockheed Martin delayed this initial countdown test by two weeks to deconflict the busy work schedules for the Atlas team, which successfully launched the first Atlas 3B rocket on February 21 and an Atlas 2A rocket last Friday.

Crews did roll the rocket to the pad last Wednesday, however, for RP-1 loading exercises and tests with the Air Force-controlled Eastern Range at the Cape. The vehicle was then returned to the hangar on Thursday.

The maiden Atlas 5 launch, originally scheduled for May 9, has slipped into June due to delays readying the rocket's paying cargo -- Eutelsat's Hot Bird-6 direct-to-home TV broadcasting satellite.