The AsiaSat 4 satellite
ASIASAT FACT SHEET
Posted: April 9, 2003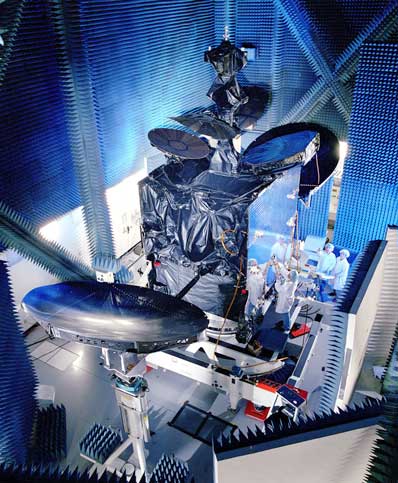 AsiaSat 4 in the factory. Photo: Boeing



Asia Satellite Telecommunications Company Limited (AsiaSat) announces that the Company's new pan-Asian satellite, AsiaSat 4, is scheduled for launch from Cape Canaveral, Florida, aboard an Atlas 3B rocket.

AsiaSat 4, a Boeing 601HP satellite, will be deployed at the orbital location of 122 degrees East longitude. The new satellite will be the most powerful member of AsiaSat's satellite fleet, carrying 28 C-band and 20 Ku-band transponders with a 15-year design life.

AsiaSat 4's pan-Asian C-band footprint will cover more than 40 countries and regions spanning from New Zealand to the Middle East. Its Ku-band coverage will consist of two high-power focused beams for East Asia and Australasia, as well as a new BSS (Broadcast Satellite Service) payload for Direct-to-Home (DTH) services in Hong Kong and the adjacent South China region.

AsiaSat 4 is designed to provide advanced satellite services including DTH television, broadband and IP solutions, and telecommunications services such as private networks for business and rural telephony in the Asia Pacific.

In addition, AsiaSat 4 will complement the company's two existing satellites, AsiaSat 2 and AsiaSat 3S, allowing customers to enjoy greater flexibility for regional coverage and comprehensive back up options.

AsiaSat is Asia's leading provider of high-quality satellite services to both the broadcast and telecommunications markets. AsiaSat's two in-orbit satellites, AsiaSat 2 and AsiaSat 3S, serve over 60 public and private television and radio broadcasters from around the world, offering some 120 analogue and digital television channels and 90 radio channels and reaching over 80 million households, with more than 300 million viewers across the Asia Pacific region. Many telecommunications customers use AsiaSat for services such as public telephone networks, private VSAT networks and high speed Internet and multimedia services. AsiaSat is a wholly owned subsidiary of Asia Satellite Telecommunications Holdings Limited, a company listed on both the Hong Kong and New York stock exchanges.