Navy spacecraft being prepped for December liftoff
BY JUSTIN RAY
SPACEFLIGHT NOW
Posted: November 18, 2003


A U.S. Navy communications satellite is undergoing final pre-launch activities at Cape Canaveral for launch next month aboard a Lockheed Martin Atlas 3B rocket.

The Ultra-High Frequency Follow-On F11 spacecraft, built by Boeing, was shipped from its manufacturing plant in El Segundo, California, to Florida's East Coast last week.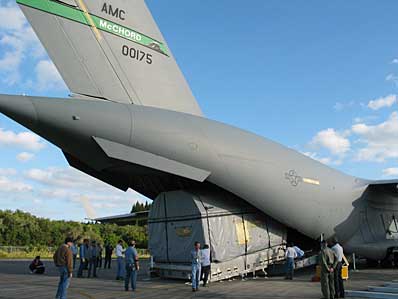 The UHF F11 spacecraft arrives at the Cape aboard a transport aircraft. Credit: Boeing



The craft will be tested, fueled and then encapsulated within the Atlas' nose cone at a processing facility before moving to pad 36B on December 5 for mating to the rocket.

Liftoff is scheduled for December 15 during a two-hour launch window opening at 9:38 p.m. EST.

The satellite will fly in geostationary orbit 22,300 miles above the planet. With a new ultra-high frequency digital receiver onboard, it will offer additional UHF channels and greater flexibility for communication services.

The UHF F11 is based on the Boeing 601-model satellite. It is the eleventh in a series of UHF Follow-On spacecraft launched by Atlas rockets since 1993, replacing older Navy satellites used to relay communications.

"The UHF mobile service is the backbone of military communications today, supporting warfighters on land, at sea and in the air," said Dave Ryan, vice president and general manager of Boeing Satellite Systems. "We're proud of the enhancements in this eleventh spacecraft, and confident that it is ready to provide additional communications capacity for our nation's armed forces."

The UHF Follow-On spacecraft were built under a contract originally awarded in July 1988 that now totals approximately $2.1 billion, according to Boeing. An agreement reached in 1999 led to the construction of this eleventh satellite to sustain the UHF fleet until the next generation of communications satellites would begin taking over.

At pad 36B, the Atlas 3B rocket completed a launch day dress rehearsal on October 23. The rocket is now awaiting the arrival of its payload to begin the final pre-launch campaign in early December.

This will mark the fourth flight of the Atlas 3 rocket, which is distinguished by the Russian-made RD-180 first stage main engine. The previous missions have been successful.

But before the UHF F11 launch, Lockheed Martin plans to fly an Atlas 2AS rocket from Vandenberg Air Force Base in California on December 2. The booster will deploy a classified National Reconnaissance Office payload into space.