Mobile communications satellite launched for Asia
BY JUSTIN RAY
SPACEFLIGHT NOW
Posted: March 13, 2004


Lockheed Martin's Atlas 3 rocket put on a late-night sky show Saturday, ripping a fiery trail to space to deploy the Mobile Broadcasting Satellite that will transmit video, music and news to the palm of your hand.


| | |
| --- | --- |
| | The Atlas 3 rocket lifts off with MBSAT. Photo: ILS |
After a clockwork countdown, the 170-foot tall rocket zoomed off Cape Canaveral's pad 36B at 12:40 a.m. EST (0540 GMT).

Night owls saw a spectacular ascent as the booster arced over the Atlantic and accelerated downrange with its flickering bluish flame. Space Coast residents at least 30 miles away felt the stiff rumble generated from the Russian-made RD-180 main engine blasting the Atlas 3 into the predawn darkness.

Three minutes after liftoff, the spent first stage was jettisoned and the single-engine Centaur upper stage ignited for a 9-minute firing to achieve a temporary orbit. After coasting across the ocean, the Centaur performed a second burn as it neared Africa to reach an elliptical geosynchronous transfer orbit with a high point 22,332 statute miles, a perigee of 114 statute miles and inclination of 24.82 degrees to the equator.

The MSAT satellite was safely released from its launcher 29 minutes into flight, capping the 70th consecutive successful Atlas launch. The remarkable string encompasses Atlas 1, 2, 3 and 5-families of rockets dating back to 1993.

"This is a landmark launch for the Atlas team," said Mark Albrecht, president of the Atlas marketing group, International Launch Services.

"The Atlas rocket has a perfect record over more than a decade, but we'll never get complacent. We still take it one launch at a time, and that discipline and dedication is what has given us the world's most reliable vehicle."

Atlas is shooting for the commercial launch industry's consecutive successful record that is currently held by the now-retired Ariane 4 rocket. The European-made vehicle accumulated 74 straight successes between 1995 and 2003 before it was removed from service in favor of the more powerful Ariane 5.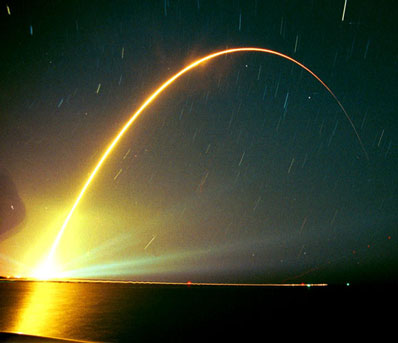 A 25-minute time-lapse exposure shows the Atlas 3 rocket streaking into the night. Photo: Ben Cooper



The beneficiary of Saturday's successful launch was the Mobile Broadcasting Satellite, dubbed MBSAT for short. Built by Space Systems/Loral of Palo Alto, California, the 9,133-pound spacecraft will maneuver itself into a circular geostationary orbit 22,300 miles high and park over the equator at 144 degrees East longitude.

Operated by Mobile Broadcasting Corp. of Tokyo and SK Telecom of Seoul, the craft will beam MPEG-4 video, CD-quality audio and data to mobile users equipped with palm-sized receivers, cellular phones and other portable devices across Japan and South Korea.

Users on the go can receive the programming -- whether they are traveling in cars, riding on trains or simply sitting in their offices.

"People can enjoy broadcasting services anytime, anywhere," said Masashi Suenaga, vice president of Mobile Broadcasting Corp.

Japanese customers are expecting about nine video choices including 24-hour news, sports and entertainment, 60 audio channels across a full-range of music genre and several data-cast services. Subscribers in Korea will receive fewer channels.

The world's first Digital Multimedia Broadcasting System works by uplinking the programming from a ground center to the orbiting MBSAT. The satellite then distributes the video, audio and data to its coverage zone using a large, 40-foot parabolic antenna.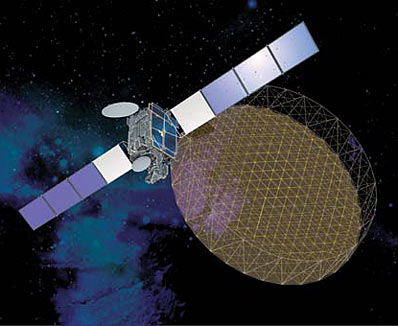 An artist's concept of the MBSAT spacecraft in orbit. Credit: MBSAT



"The MBSAT satellite will host one of the most cutting edge applications driving the satellite industry beyond basic broadcasting," said C. Patrick DeWitt, president, Space Systems/Loral.

Ground-based signal repeaters will fill the satellite reception gaps, which can be created by large buildings blocking the space transmissions.

MBSAT features two high-power transponders for direct broadcasting, with one transponder providing coverage for Japan and the other for Korea. Two additional transponders provide links to terrestrial repeater networks.

Once MBSAT arrives at its final orbital position and undergoes testing, the broadcasting services are expected to hit the marketplace in July.

Saturday's launch was the fifth for Lockheed Martin's Atlas 3 rocket fleet since debuting in 2000. Developed as a transitional vehicle between the older Atlas models and next-generation Atlas 5, the Atlas 3 has proved the reliability of the new Russian RD-180 engine and stretched Centaur upper stage used by the Atlas 5 family.

Now, Atlas 3 is being phased out in favor of Atlas 5. The Atlas 3 has just one additional launch scheduled for early next year carrying a classified U.S. National Reconnaissance Office spy satellite payload.

The next launch for the Atlas fleet will use the older Atlas 2AS vehicle to place the Japanese Superbird 6 communications satellite into orbit on April 15 from Cape Canaveral. That rocket is already assembled on pad 36A.


Video coverage for subscribers only:


VIDEO: ATLAS 3A ROCKET LIFTS OFF WITH MBSAT QT


VIDEO: THE LAUNCH AS SEEN THROUGH T+5 MINUTES QT


VIDEO: NARRATED ANIMATION OF THE LAUNCH SEQUENCE QT


VIDEO: OVERVIEW OF MBSAT SPACECRAFT AND MISSION QT


VIDEO: POST-LAUNCH COMMENTS FROM MANAGERS QT


ADDITIONAL VIDEO COVERAGE


SUBSCRIBE NOW