Atlas 2 rocket retires with remarkable record
BY JUSTIN RAY
SPACEFLIGHT NOW
Posted: August 31, 2004


Lockheed Martin's Atlas 2 family of boosters rocketed into retirement Tuesday, placing a classified U.S. national security satellite into space following a sunset sendoff from Cape Canaveral.

Riding 685,000 pounds of thrust from the liquid-fueled MA-5A main engine package and solid-propellant strap-on boosters, the 156-foot tall Atlas 2AS roared away from pad 36A at 7:17 p.m. EDT (2317 GMT).


| | |
| --- | --- |
| | The final Atlas 2AS rocket lifts off. Credit: International Launch Services |
After spending two extra months on the launch pad to fix a control unit and four straight days of scrubs due to technical glitches and bad weather, the fifth countdown was the charm. And Mother Nature cooperated on this day, giving the rocket clear blue skies for its ascent.

Virtually every Atlas from the Cape heads eastward to deliver satellites into equatorial orbits around the planet. But this mission was different, taking a northeasterly track that paralleled the U.S. eastern seaboard. The reason: Atop the rocket was a secret payload headed into a highly inclined, highly elliptical orbit, sometimes called a Molynia-style orbit.

Most space experts agree the rocket deployed a data relay satellite that will be used to route information from polar-orbiting photo reconnaissance spacecraft to ground receivers.

Early versions of these relay craft were launched starting in the mid-1970s, followed by a second-generation of satellites that were carried aloft on space shuttle missions in 1989 and 1992 and a Titan 4 rocket in 1996.

Tuesday's launch is believed to have been the second time an Atlas 2 rocket launched such a craft toward a Molynia-style orbit. A mission in early 1998 followed a similar northeast trajectory.

Military watchers suspect the data relay satellites have operated under the codename Quasar.

It is believed the government has two relay satellite constellations -- one flying in highly elliptical orbits and the other parked in geostationary orbit around the planet's equator.

The geostationary satellites probably take the place of the military relay mission previously handled by NASA's Tracking and Data Relay Satellite System. They probably relay information both from radar imaging satellites in low Earth orbit as well as signals intelligence satellites in geosynchronous orbit, creating a switchboard in the sky.

The secretive National Reconnaissance Office, the government agency responsible for the U.S. fleet of spy satellites, would not disclose any information about the craft launched Tuesday.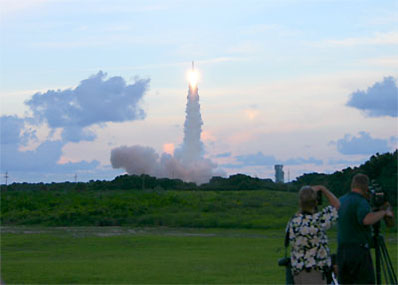 As seen from the Cape Canaveral press site, the Lockheed Martin Atlas 2AS vehicle launches just before sunset. Credit: Steven Young/Spaceflight Now



The Centaur upper stage released the hush-hush cargo over the South Pacific about 74 minutes after liftoff, marking the 73rd consecutive successful Atlas launch since 1993.

Tuesday's launch was a bittersweet moment for Atlas workers. As the solid boosters and first stage fired and dropped away during the first five minutes of flight, each jettison marked the closing of a chapter in Atlas history.

The ATK Thiokol-made solid motors were used for the last time after 30 missions in the past 11 years; and Rocketdyne-powered Atlas first stages had flown 576 times dating back to the program's inception in the 1950s.

But the Atlas program is transitioning entirely to its next-generation vehicle -- the Atlas 5. Powered by the Russian-designed RD-180 main engine and Aerojet-made solid boosters, the Atlas 5 was conceived by Lockheed Martin to be a series of rockets with different configurations to carry a wide range of payloads into space while being cheaper and easier to operate than heritage systems.

The Atlas 2 family completed its service life Tuesday the same way it began by achieving a successful outcome. Since December 1991, 63 launches of Atlas 2, 2A and 2AS-model vehicles have lofted satellites for commercial customers, the U.S. military and NASA with a flawless record.

"This is an awesome accomplishment, being the only U.S. expendable launch vehicle series to have had 100 percent success throughout its entire lifespan," said Mark Albrecht, president of the Atlas marketing firm International Launch Services. "The Atlas team is an incredible group of people who make mission success for our customers a way of life."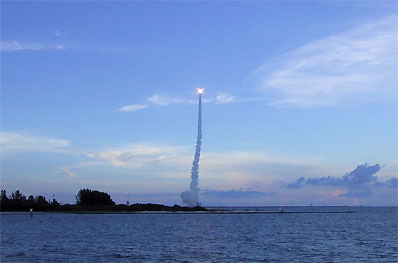 The Atlas rocket soared into clear skies as seen from the Jetty Park pier. Credit: Judy Ray/Spaceflight Now



Development of the Atlas 2 began in the late 1980s as an unmanned launcher for government and commercial satellites. The space shuttle Challenger accident prompted the U.S. military and others to look for an alternate route to deploy spacecraft, breathing new life into the Atlas program.

"It has been an incredible workhorse for the Atlas program, but it also served as a stepping stone into Atlas 5 for the evolution of the vehicle," launch director Adrian Laffitte added.

As the Atlas 2 series continued to fly, the program looked to build more powerful rockets to accommodate larger spacecraft being ordered. That led to Atlas 3, which built upon proven systems of Atlas 2 while incorporating the new Russian RD-180 powerplant.

The Atlas 3 has launched five times to date, successfully serving as a transition rocket from Atlas 2's reliable legacy to the next-generation Atlas 5, which has completed three missions.

Next up on the launch schedule is a commercial communications satellite deployment mission in early December using an Atlas 5. That will be followed in mid-January by the sixth and final Atlas 3 flight. It will carry another NRO payload.


Additional coverage for subscribers:


VIDEO: FINAL ATLAS 2AS ROCKET BLASTS OFF QT


VIDEO: LAUNCH TEAM SALUTES PAD 36A AFTER ITS LAST LAUNCH QT


VIDEO: NRO PAYLOAD IS DEPLOYED FROM CENTAUR UPPER STAGE QT



VIDEO: WEATHER SCRUBS MONDAY'S COUNTDOWN QT


VIDEO: PREVIEW THIS ATLAS LAUNCH WITH NARRATED ANIMATION QT


VIDEO: SUNDAY'S COUNTDOWN IS HALTED AT T-90 SECONDS QT


VIDEO: SATURDAY'S COUNTDOWN IS SCRUBBED QT


SUBSCRIBE NOW