West Coast Atlas rocket launch delayed to October
BY JUSTIN RAY
SPACEFLIGHT NOW
Posted: April 24, 2003

| | |
| --- | --- |
| | File image of the first Atlas 2AS rocket atop the SLC-3E pad at Vandenberg in December 1999. Photo: NASA |
The National Reconnaissance Office is targeting an autumn launch for a classified satellite cargo aboard an Atlas 2AS rocket from Vandenberg Air Force Base in California after problems scrubbed a planned mid-June blastoff date.

The Lockheed Martin-made Atlas booster stage and Centaur upper stage have been assembled on the SLC-3E pad for the mission, which had been targeted for June 16.

But undisclosed concerns with the clandestine payload to be propelled into Earth orbit prompted the postponement.

"We have issues with the spacecraft," NRO spokesman Art Haubold said Thursday.

Although a new launch date has not been established, officials are estimating the delay will last about four months.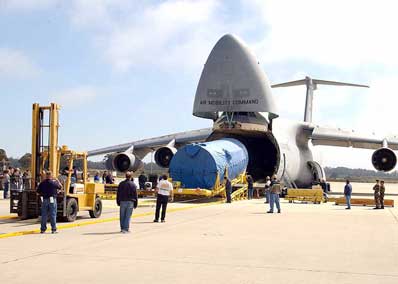 The Centaur stage arrives at Vandenberg for this launch aboard an Air Force cargo plane last month. Photo: U.S. Air Force



This is the third of three Atlas 2AS launches scheduled from Vandenberg. The first lofted the flagship of NASA's Earth Observing System -- the Terra spacecraft -- in December 1999. That was followed by an NRO mission performed in September 2001.

Although no additional flights are currently slated to use that pad, the NRO says a decision to shut down the pad has not been made.

Officials are keeping their options open, Haubold said.

The NRO has future launches booked on Boeing's new Delta 4 rocket from Vandenberg's SLC-6 pad starting within the next year.