Spanish satellite soars aboard Atlas 2AS rocket
BY JUSTIN RAY
SPACEFLIGHT NOW
Posted: September 18, 2002

| | |
| --- | --- |
| | The Atlas 2AS rocket lifts off. Photo: ILS |
Like clockwork, a Lockheed Martin Atlas 2AS rocket blasted off on schedule Wednesday, toting a Spanish telecommunications satellite high above Earth to rack up another successful launch.

With ideal weather and a ground liquid oxygen leak of no consequence, officials gave the "go" to count down for liftoff at 6:04 p.m. EDT (2204 GMT), the very opening of the day's launch window.

Riding the thrust of its liquid-fueled Rocketdyne MA-5A engines and strap-on ATK Thiokol solid boosters, the 522,500-pound rocket crept off Cape Canaveral's launch pad 36A and into a clear blue Florida sky.

Within 10 minutes, the Pratt & Whitney-powered Centaur upper stage and attached Hispasat 1D satellite payload had reached a temporary orbit around the planet. After taking a 14-minute break, the Centaur was in position to fire again, propelling its 7,165-pound cargo into a highly-elliptical supersynchronous transfer orbit.

Twenty-nine minutes after it began, the launch had a joyful conclusion for Lockheed Martin and its customers as Hispasat 1D was released to fly on its own. It was the 62nd consecutive successful Atlas launch dating back to 1993.
| | |
| --- | --- |
| | As seen from the Atlas 5 Spaceflight Operations Center, the rocket arcs over the Atlantic Ocean to boost Hispasat 1D into orbit. Photo: Justin Ray/Spaceflight Now |
"We'd just like to say this is a wonderful opportunity to congratulate the Atlas team for an incredible performance...62 out of 62 Atlases, absolute perfection," said Mark Albrecht, president of International Launch Services, the U.S./Russian firm that globally markets Atlas and Proton rockets. "I think the team has demonstrated one more time that they understand how to do this business; they are the best in this business."

"We're very happy to congratulate ILS and Hispasat for this successful launch," said Yves De LeSerre, executive vice president at Alcatel Space, which built Hispasat 1D. "I want to thank very deeply all the teams who have worked for that, the ILS team, the Hispasat team and the Alcatel Space team. I'm very grateful for the way in which those teams have cooperated, and that's certainly one major reason of this success."

"I'm very happy, once again (for) the work we have been doing with ILS and Alcatel, so I thank both of them for these three years of working, which have been successful today," added Hispasat CEO Jacinto Garcia Palacios. "For Hispasat it is a very important milestone in the development of the company, so thanks to all the teams, including the Hispasat team who have been working with all of you during these years."
| | |
| --- | --- |
| | An artist's illustration of Hispasat satellite in space. Photo: Hispasat |
Manufactured in France by Alcatel Space for Hispasat of Madrid, Spain, the craft will perform a series of maneuvers with its onboard engine to circularize the orbit to geostationary altitude. From that orbit 22,300 miles up, the satellite will match the Earth's rotation and seem parked over one spot -- 30 degrees West longitude above the Equator.

Built to last 15 years, the new craft will provide digital TV and data transmission services through its 28 Ku-band transponders. Its coverage area includes Europe, North Africa, the Middle East and a trans-Atlantic reach to parts of North and South America.

The satellite will join Hispasats 1A, 1B and 1C, and be ready to replace the aging 1A and 1B when they are expected to be retired late next year. Hispasat 1C was launched aboard an Atlas two years ago.
| | |
| --- | --- |
| | One of the two ground-lit solid rocket boosters is seen after jettison from the Atlas first stage. Photo: ILS TV/Spaceflight Now |
Officials said the cost of Hispasat 1D, the Atlas launch, insurance and satellite ground control systems is $194 million.

The launch was the 25th flight of an Atlas 2AS rocket, the Atlas 2-series vehicle with four strap-on solid rocket motors. Five more Atlas 2AS vehicles are left to fly over the next two years. All previous Atlas 2AS launches have been successful since debuting in December 1993.

For this launch, the image of an American flag and the words "United We Stand" were put on one of the solid rocket boosters in remembrance of last year's attack on America.

"At the request of one of our employees, Greg Lackore, he came to us and he suggested since we are launching close to September 11 we could put a flag on one of the solid rocket boosters," said Atlas Launch Director Adrian Laffitte. "That is to recognize and remember the events of September 11."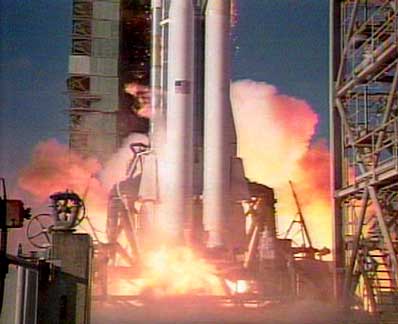 A view of the flag just as the solid rocket booster ignites on launch pad 36A. Photo: ILS TV/Spaceflight Now



Lockheed Martin has now launched four Atlas rockets this year and each mission used a different version of the Atlas family -- 2A, 2AS, 3B and 5.

The next Atlas mission is scheduled for the evening of November 20 when the final Atlas 2A rocket will launch NASA's Tracking and Data Relay Satellite-J, or TDRS-J.


Video coverage for subscribers only:


VIDEO: ATLAS 2AS LAUNCHES HISPASAT 1D QT or RV


VIDEO: OFFICIALS MAKE POST-LAUNCH COMMENTS QT or RV


VIDEO: AC-159 TOWER ROLLBACK QT or RV


SUBSCRIBE NOW






Flight data file
Vehicle: Atlas 2AS (AC-159)
Payload: Hispasat 1D
Launch date: Sept. 18, 2002
Launch window: 6:04-6:42 p.m. EDT (2204-2242 GMT)
Launch site: SLC-36A, Cape Canaveral AFS, Florida
Satellite broadcast: Telstar 5, Transponder 23, C-band



Pre-launch briefing
Launch timeline - Chart with times and descriptions of events to occur during the launch.



Ground track - See the trajectory the rocket will follow during its flight.



Atlas 2AS vehicle data - Overview of the rocket to be used in this launch.



Hispasat 1D - Description of this Spanish telecommunications satellite.



Atlas index - A directory of our previous Atlas launch coverage.



Hubble
Astronomy Now presents Hubble: the space telescope's view of the cosmos. A collection of the best images from the world's premier space observatory.


U.S. STORE

U.K. & WORLDWIDE STORE

Apollo 15 DVDs
Bring a unique piece of space history to your living room. Two- and six-disc Apollo 15 DVDs will be shipping soon.


U.S. STORE

U.K. & WORLDWIDE STORE