BY JUSTIN RAY


December 6, 2000 -- Follow the countdown and launch of a classified National Reconnaissance Office payload aboard a Lockheed Martin Atlas 2AS rocket. Reload this page for the very latest on the mission.





Photo gallery

Spaceflight Now looks back to last Tuesday's flight of the Lockheed Martin Atlas 2AS rocket with a secret satellite cargo with a gallery of spectacular launch photographs.


OPEN GALLERY

Video vault

The Lockheed Martin Atlas 2AS rocket lifts off from Cape Canaveral with a classified payload for the U.S. National Reconnaissance Office.
PLAY (381k, 30sec QuickTime file)




Flight data file
Vehicle: Atlas 2AS (AC-157)
Payload: Classified NRO
Launch date: Dec. 5, 2000
Launch window: 8:14-10:12 p.m. EST (0114-0312 GMT on 6th)
Launch site: SLC-36A, Cape Canaveral, Fla.



Pre-launch briefing
Launch timeline - Chart with times and descriptions of events to occur during the launch.



Atlas 2AS vehicle data - Overview of the rocket that will launch the classified NRO payload.



Ground track - See the trajectory the rocket will follow during its flight.



Atlas index - A directory of our previous Atlas launch coverage.



Snapshot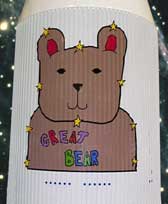 The special decal on the Atlas' nose cone. Learn more about the meaning of the "Great Bear" name given to this launch. Photo: NRO


Inside the blockhouse


Step inside the historic Complex 36 Blockhouse where the 120 members of the launch team control every countdown and liftoff of Atlas rockets from Cape Canaveral.
VIEW (286k QuickTime file)